*this post contains affiliate links, which means if you purchase anything through the links provided I will receive a commission at no extra cost to you!
Wat Samphran is the mystical, awe inspiring Dragon Temple located just outside of Bangkok city. The pink buddhist temple is one of the best things you can do during your time in Thailand's capital, but how can you visit Wat Samphran? Although not directly in Bangkok's city centre, getting to this magical temple is a lot easier than you would think. This guide includes exactly how to visit Wat Sam Phran, as well as what to expect, and what you should know before you go.
With a unique fusion of Thai and Chinese architecture, this is one of Bangkok's best kept secrets. Wat Sam Phran is a must for anyone planning their next trip to Thailand, and with this guide you'll find it ridiculously easy to visit. The best part is, there are barely any tourists there! Meaning you can enjoy Wat Sam Phran all to yourself, plus I've included the best photo spots for the dream shot of the gorgeous gilded dragon. 
THE HISTORY OF WAT SAM PHRAN
Wat Sam Phran, a mesmerizing temple nestled in Nakhon Pathom, Thailand, boasts a rich and enchanting history that dates back to the early 20th century. This dusty pink buddhist temple rises up to 80m, with the vibrant 17 story dragon sculpture wrapping around the exterior.
There isn't too much known about the temple's orgins, but it's said that its construction began in 1978 under the guidance of the temple's abbot, Luang Pho Uttama. The dragon symbolizes the ascent to enlightenment, and it's believed to protect the temple from evil spirits. Wat Sam Phran is not only the beautiful pink temple, but a temple complex with meditation areas, living quarters and food stalls.
In recent years Wat Sam Phran is known for the stunning and unique temple we see today, blending traditional Thai architectural elements along with Chinese influence. This awe-inspiring dragon sculpture makes it a must visit destination for travellers seeking both history and marvels of artistry when visiting Bangkok. 
Wat Sam Phran is located around 40km outside of Bangkok city in the west in the province of Nakhon Pathom, Thailand. Sam Phran is the district surrounding the temple, although Wat Sam Phran is located in the nearby jungle. If you're not sure how to visit Wat Sam Phran considering it's not in the heart of Bangkok, don't worry. The drive out to the temple takes between 40 minutes to an hour depending on the hectic Bangkok traffic, but once you're out of the city it's straight down the motorway for the majority of the journey. Making it surprisingly easy to visit!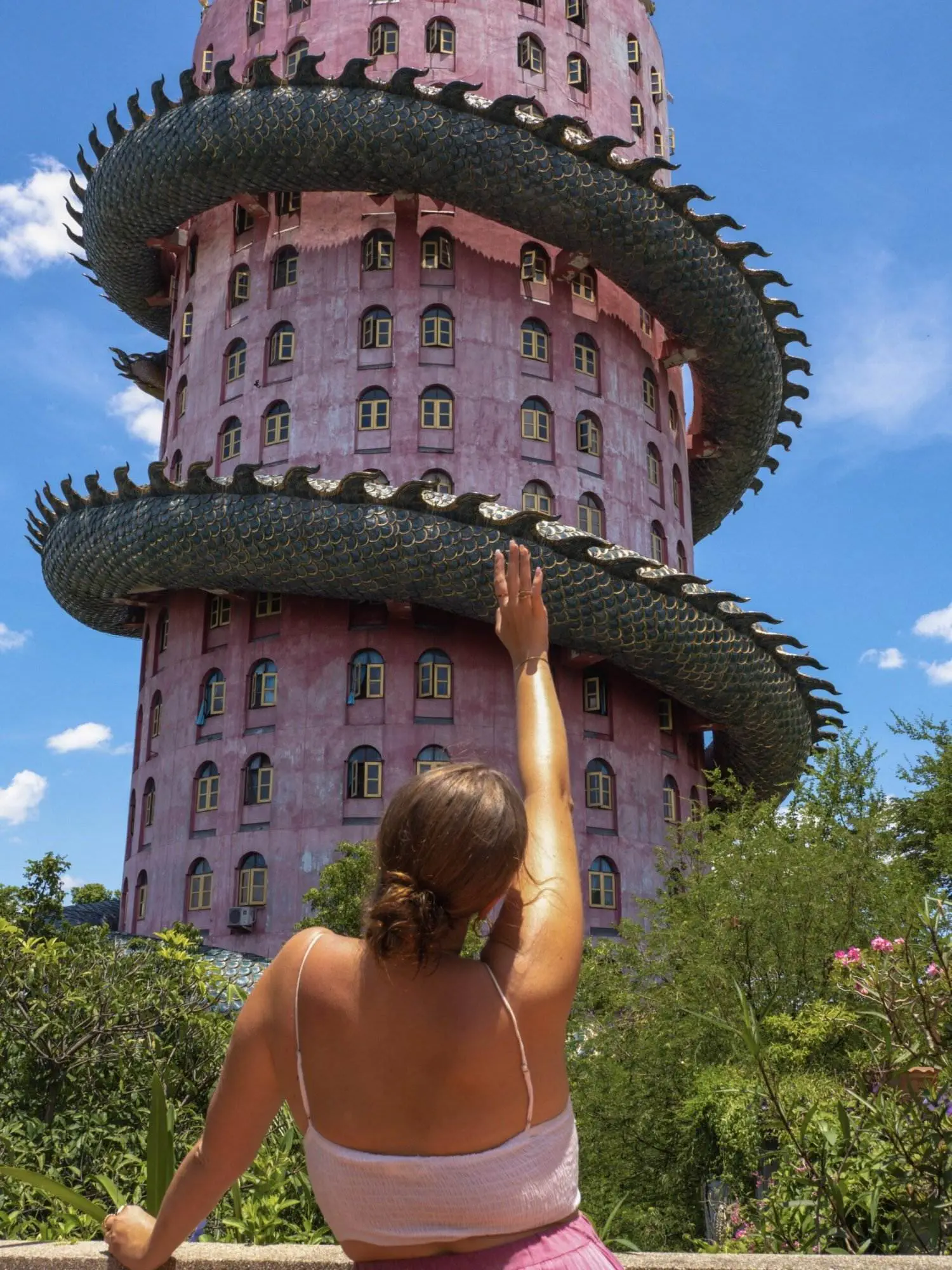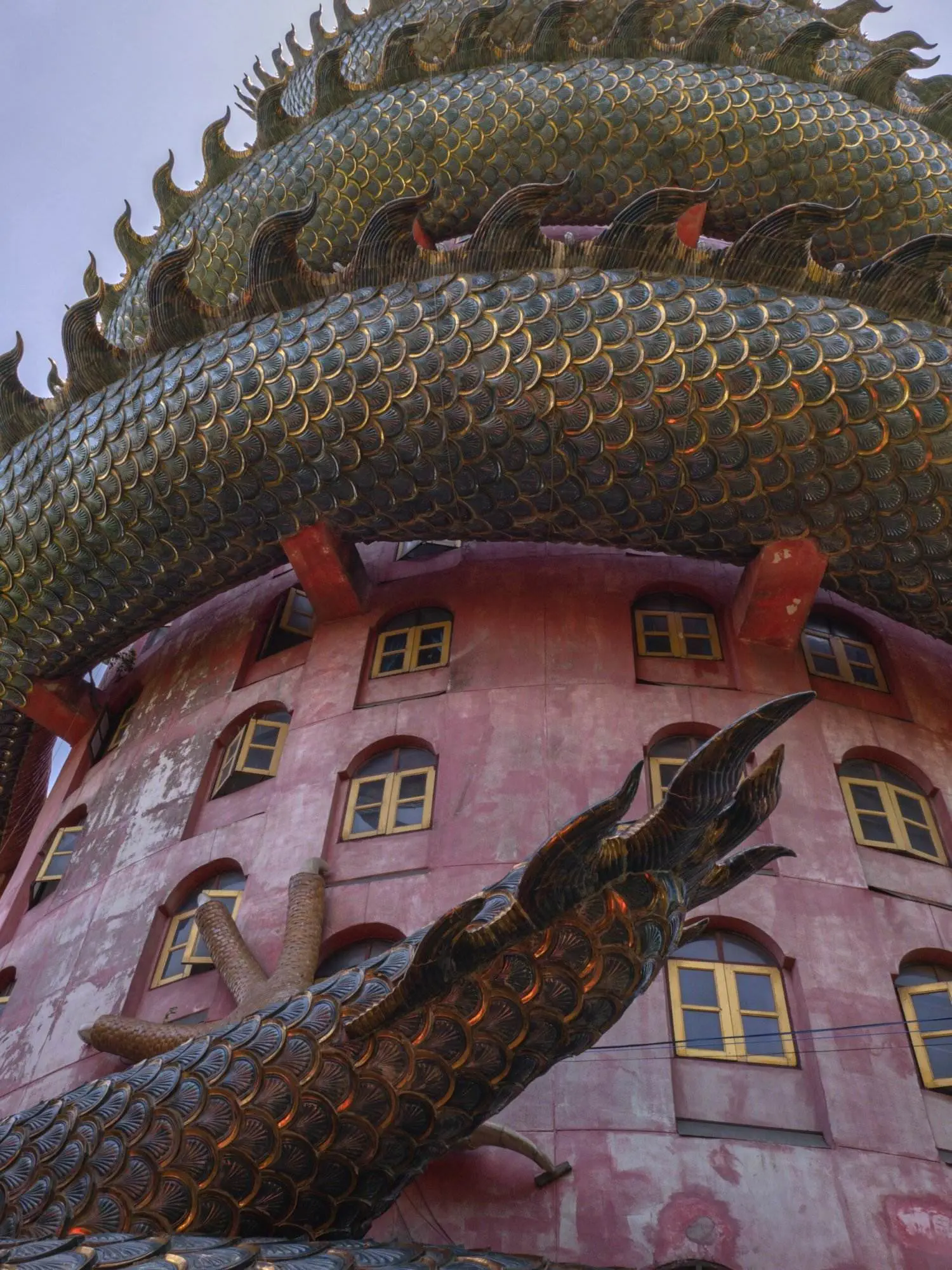 how to visit wat sam phran
The most convenient way to visit Wat Sam Phran from Bangkok is to get a Grab. Grab is a taxi service app similar to Uber and is the most commonly used ride share app used within South East Asia. The ride to the temple generally costs between 400 – 500 baht (£9 – £11) each way, and you can ask your driver to wait for you while you explore. 
It's best to have your driver wait as it can be difficult to find a Grab back to Bangkok from Wat Sam Phran. Generally drivers are more than happy to wait for you, as they would have to drive back to Bangkok anyway. Although they may ask for a small additional fee that you can negotiate. You can cut the cost of the ride by sharing the journey with others, or even try your luck sharing a ride back with people also visiting the temple (although don't rely on this). 
It's important to have cash on you as you may be asked to pay cash for the fare back into Bangkok city. I experienced this during my visit, even though I paid with card via the Grab app to reach Wat Sam Phran. Plus it's a good idea to have cash to leave a small donation at the temple or buy food from the food stalls.
Wat Sam Phran can also be reached from Bangkok by bus. To get the bus you have to jump on number 84, which will take you 70 minutes and cost 25 baht (£0.50). You can see the route of bus 84 here.
The bus drops you 4km down the road from the temple, so from there you can get a cheap Grab motorbike taxi to the entrance of Wat Sam Phran. Reaching the temple this way can be a little more tricky, so I definitely recommend having a SIM just in case. If you're looking for an easy, quick option I love eSims. I've used Airalo in over 15 countries and swear by it, you can check it out here. 
Wat Sam Phran's opening hours are 6am to 6pm 7 days a week. Even during the middle of the day the temple never gets too busy, so it's always pleasant to walk around and enjoy without too many people. 
The temple is free to enter, however you're encouraged to leave a donation when you visit the temple. There are a few donation boxes throughout the temple and you can find local women sat inside where you can leave a small bit of money. Around 50 – 150 baht (£1 – £3) is more than enough for your visit.
WHAT TO EXPECT VISITING WAT SAMPHRAN
There is a lot to explore at the temple and because it's out of Bangkok's city centre, Wat Sam Phran is almost always quiet with tourists. It's lovely to walk around through the jungle and on the ground level you can find plenty of statues and offerings. Around the grounds there are practicing monks that visit to pray, making the whole atmosphere very tranquil. 
A lot of people don't know this, but you can climb up the interior of the dragon to the roof of the temple. The dragon has fans inside to keep it a little cooler, but be prepared as it's pretty hot and there's 17 stories to climb. When you reach the top there are amazing views surrounding and a few lookout platforms to enjoy the views fully.
how much time do you need?
How much time do you need to visit Wat Sam Phran? Well, if you're planning on taking a grab you should allocate an hour each way, depending on traffic. To actually explore the temple and the complex surrounding takes between one to two hours. When visiting Wat Sam Phran it's best to dedicate half a day. You definitely don't need longer than this, and I recommend the morning so it's not too hot.
The best part of visiting is climbing up the 17 stories in interior of the dragon, up to Wat Sam Phran's rooftop. The roof boasts beautiful views of the surrounding jungle and buddha to the side of the temple. Here you can also get a closer look at the dragon's head. To climb up to the top takes about 10 minutes, so if you choose to skip this you can see the temple grounds within an hour.
Buddhist temples require men and women to have their shoulders and knees covered before entering. For women it's also required to cover any cleavage. I always recommend carrying some kind of lightweight scarf or shawl with you when you travel, that way you can wrap it around if you need to cover yourself. 
Some temples offer coverings you can borrow, however Wat Sam Phran does not, so make sure to have everything you need before you leave Bangkok and head out. 
Like any place of worship you must be respectful, which includes:
not climbing on any statues or monuments
keeping your shoes off in allocated areas a sign of respect
speaking quietly inside the temple and around the grounds
dressing appropriately for visiting a temple
respecting monks and people praying 
Little thoughtful pieces of etiquette like this makes not only your experience more special but locals who look after and visit Wat Sam Phran appreciate tourists who take care of where they visit.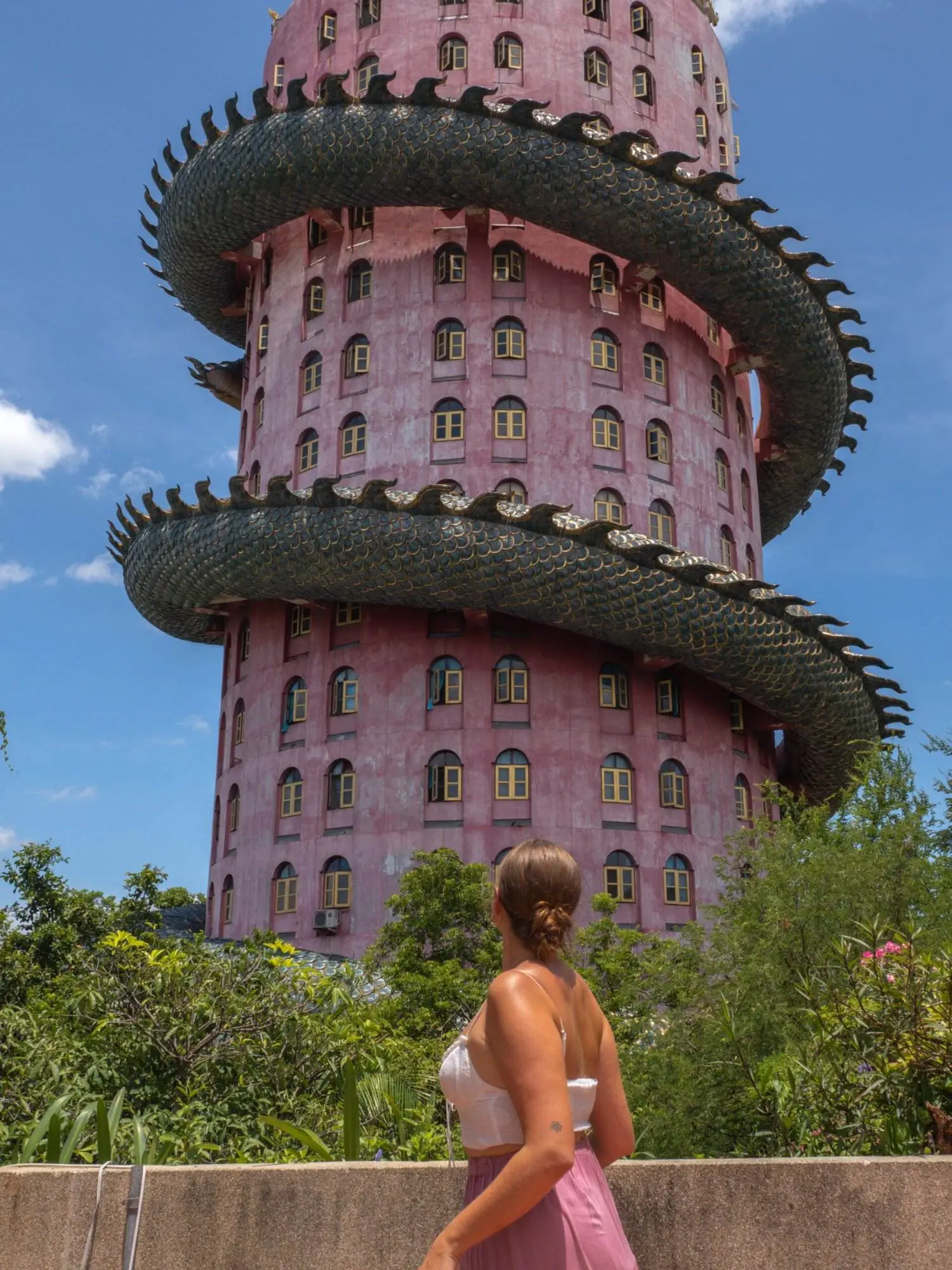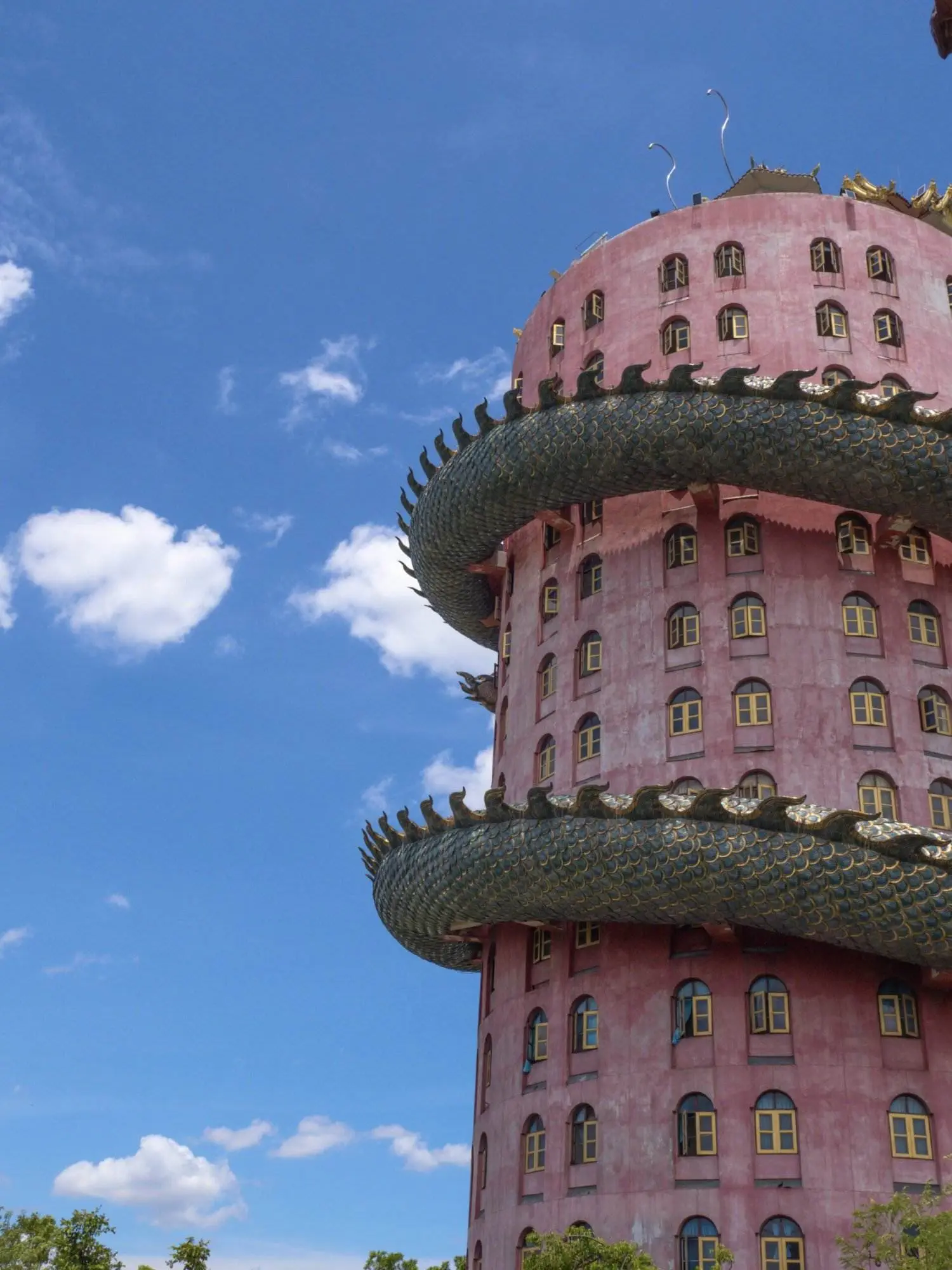 PHOTO TIPS AT WAT SAM PHRAN
Wat Sam Phran is a photo haven and there are so many perfect photo spots at this temple. The best spot to capture the dragon is at the Buddha statue just to the side of the temple. From here you get views a little higher up than ground level and it's above the tree line, making it perfect for photos. 
At the base of the temple you can fully see the intricate details of the scales and claws of the dragon. Remember to walk around the ground level as each angle will give you a different perspective of this hidden Thailand masterpiece.  
WHAT TO KNOW BEFORE GOING TO WAT SAM PHRAN
Here are a few things you should know before heading to Wat Sam Phran. Firstly, like most of Thailand it gets incredibly hot at the temple during the heat of the day, and because Wat Sam Phran is in the jungle it also gets very humid. Try and visit the temple in the morning before the heat kicks in.
This is especially important if you want to visit the Buddha for pictures. The Buddha is part of the temple complex so you have to leave your shoes off, and in the hot midday sun the rooftop gets incredibly hot for bare feet.
You should also know that because the temple can be quite quiet some of the food stalls aren't open all the time. During the busier times of the week like the weekends you tend to find more happening with the stalls, but it's best to bring a snack just in case. There are always stalls selling drinks though!