*this post contains affiliate links, which means if you purchase anything through the links provided I will receive a commission at no extra cost to you!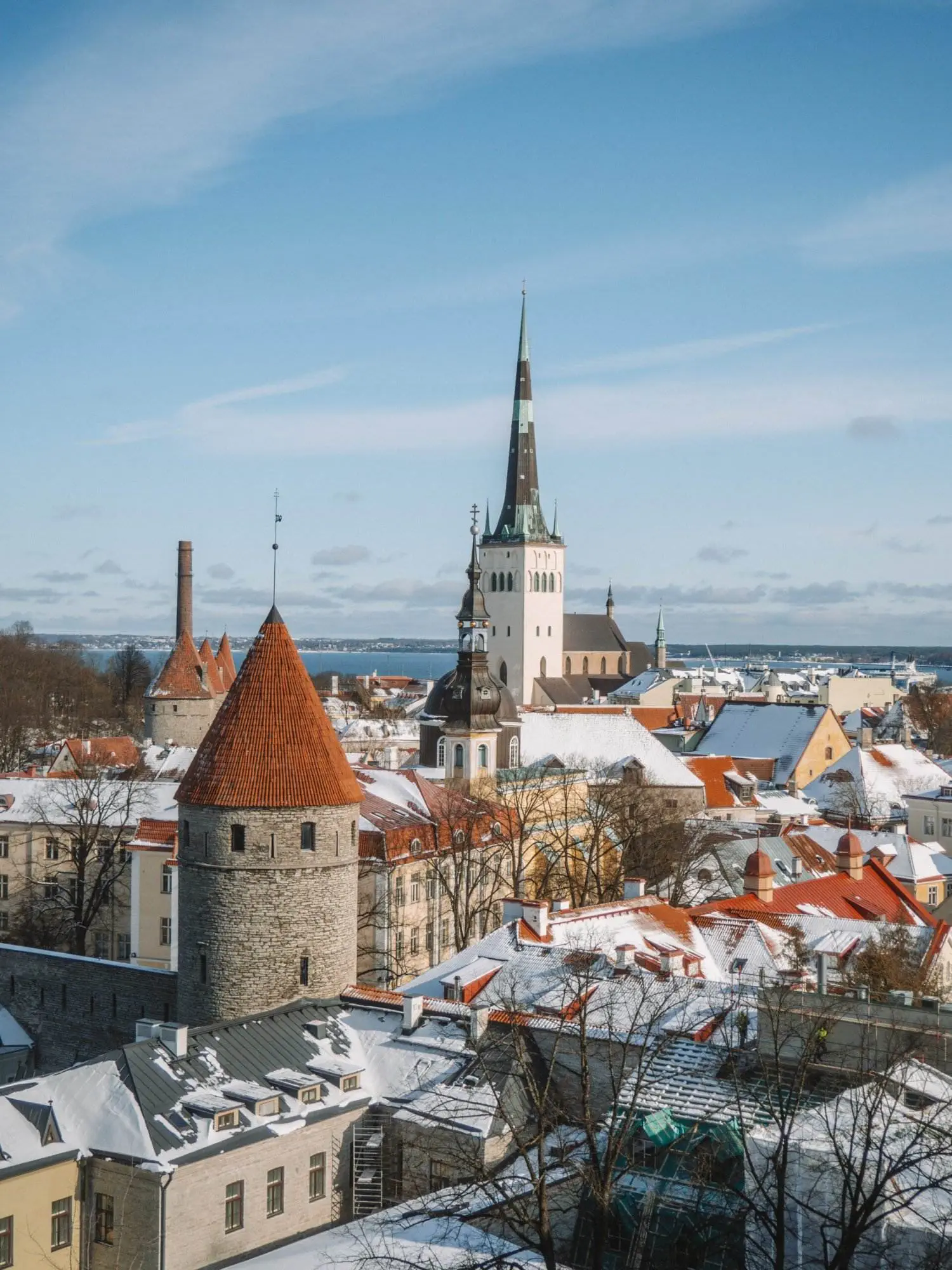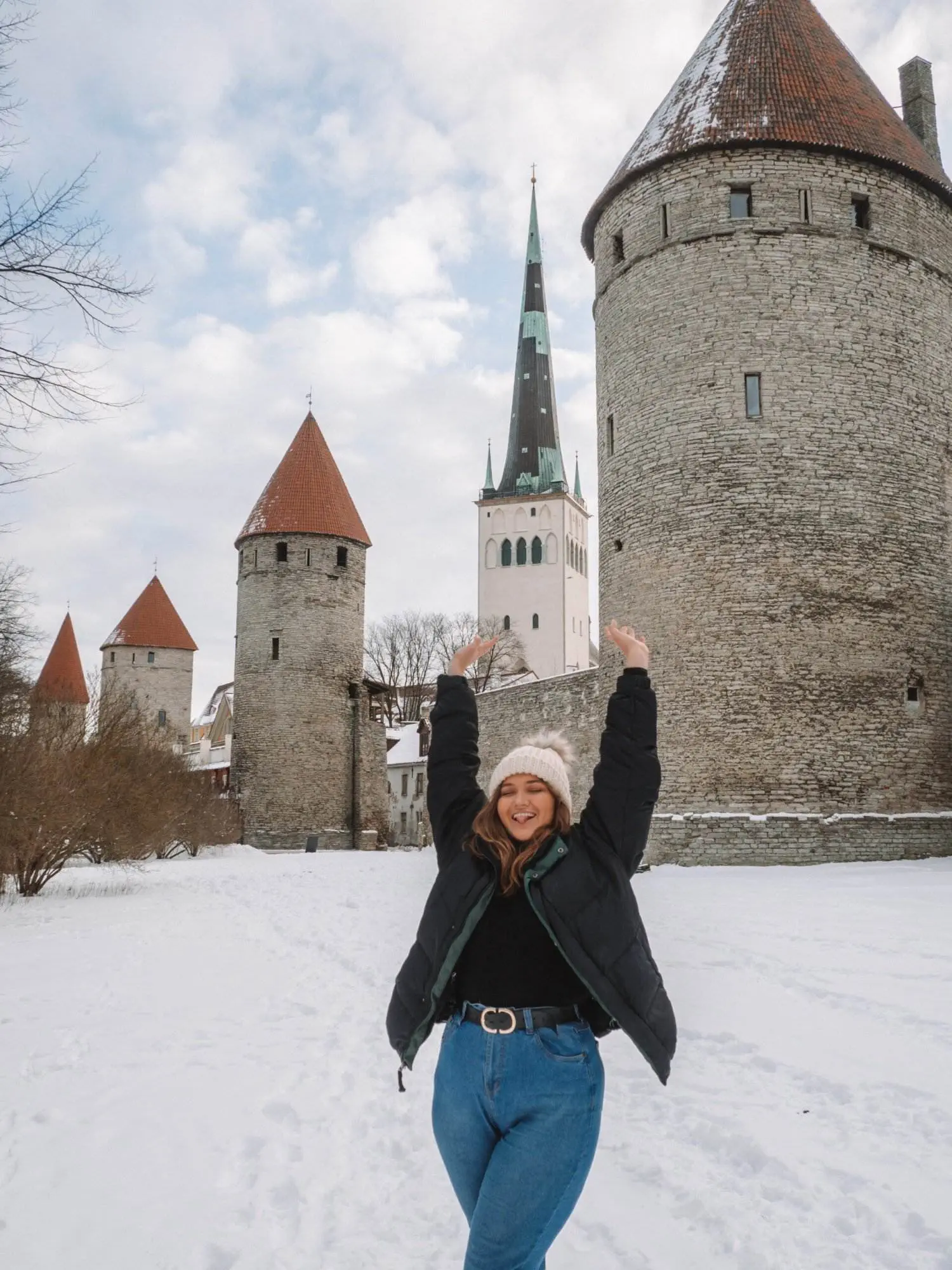 An unexpecting winter fairytale destination hidden in northern Europe is Tallinn, Estonia. Located right on the Baltic Sea, Estonia's capital is known as one of Europe's tech hubs, however, you could never guess that by looking at it. The walled, cobblestoned Old Town holds so much charm and beauty, that I fell in love almost instantly. Tallinn is one of the best winter city breaks in Europe and this travel guide includes everything you need for the perfect weekend.
Whether you're an avid history buff, a food enthusiast seeking culinary delights, or simply an explorer in search of unique experiences, Estonia's capital has something special in store for you. With picturesque medieval streets and cute cafes, it's a winter destination you might not yet have on your radar, however, it's quaintness captured my attention immediately. With affordable and easy flights direct into Tallinn, there's no excuse not to discover Estonia's capital in a weekend. 
Let's dive straight in to this weekend in Tallinn, Estonia travel guide!
Estonia is a country bordered by Russia and Latvia in the northeast of Europe. Known as one of the three Baltic states along with Latvia and Lithuania, Estonia has the smallest population with only 1.3 million people. Tallinn sits right on the Baltic Sea and has a population of 450,000. 
what is ESTONIA's currency?
Estonia is a part of the EU and uses the Euro! 
AirBaltic runs frequent flights to Tallinn from a lot of major cities across Europe including Amsterdam, Athens, Barcelona, Berlin, Lisbon, London, and the list goes on. FinnAir and WizzAir also run direct flights from across Europe.
Alternatively, it's very easy to get between the Baltic states by bus and from Riga, Latvia the journey is only 4 hours. Flixbus is the most popular bus company option in Europe and they run routes from neighbouring Latvia and Lithuania, along with countries further afield such as Poland. GetByBus and BusBud are two other sites to check out for bus options!
Getting from Helsinki, Finland is also very easy as there are direct ferries between the two cities that run throughout the day. The journey for this only takes 2 hours. To book the ferry check out DirectFerries for what times are available.
The Baltics are often labelled as a very affordable region in Europe, however after visiting all three of the Baltic States I would have to disagree. While Estonia is definitely cheaper than other, more touristy, parts of Europe, you can still expect to spend between €50 – €70 per day during your visit.
In saying that, Estonia is the cheapest out of the three Baltic states, Lithuania, Latvia and Estonia. So it ticks a lot of boxes for an affordable, unique getaway!
The great thing about Tallinn is there are plenty of free places to explore. The city is wonderful to walk around, which of course, is completely free. Along with free entry into some of the main attractions like Toompea Castle. Restaurant meals range between €15 – €25 per meal, while activities and entry fees are between free – €15.
While Tallinn is more expensive than you would expect, there are some great accommodation options that won't break the bank.  Firstly, a beautiful 4 star hotel that is incredibly reasonably priced, Hestia Hotel Barons Old Town. This hotel is right in the heart of everything in a renovated historic building. With a Booking.com Genuis discount, you can get rooms for as cheap as £65. 
Alternatively, Oasis Studios are just as affordable and offer you a bit more space during your weekend in Tallinn. These studios include a kitchen and other private amenities, all while still being in the heart of the Old Town. 
Finally, for some hostel options (for more hostel recommendations check out my blog with 150 hostels from around the world) the two recommendations are The Munk's Bunk and Old Town Munkenhof. Both of these hostels are greatly reviewed, with Munk's Bunk being a bit more lively, with its own bar attached. Perfect if you're looking to venture out and experience Tallinn's highly raved about nightlife. 
a weekend in tallinn, estonia:
travel guide
kohtuotsa viewing platform
The Kohtuotsa viewing platform is one of the most popular sightseeing spots in Tallinn for a great view over the Old Town. Here you get the best panoramic view over the red tiled roofs which, if you're lucky, will be beautifully dusted with snow. This viewpoint is free and has a few benches to sit on and enjoy the view. 
Even in the day Kohtuotsa never gets too busy, so you can get great photos when you're there!
Located two minutes away from Kohtuotsa by walking is the Patkuli Viewing Platform. This lookout is situated in one of the most ancient parts of the Old Town, with great views over the city and its walls, all the way down to the port. You can access the platform by walking from Kohtuotsa or up the 157 steps from Toompark, which is a gorgeous city park right outside Tallinn's Old Town.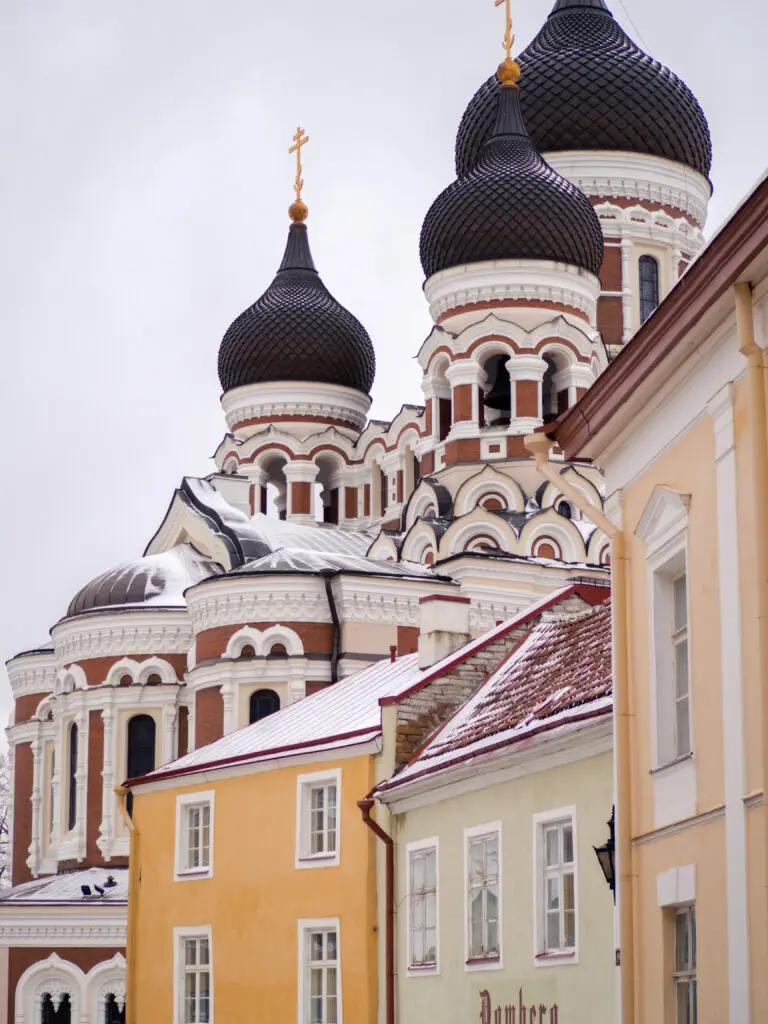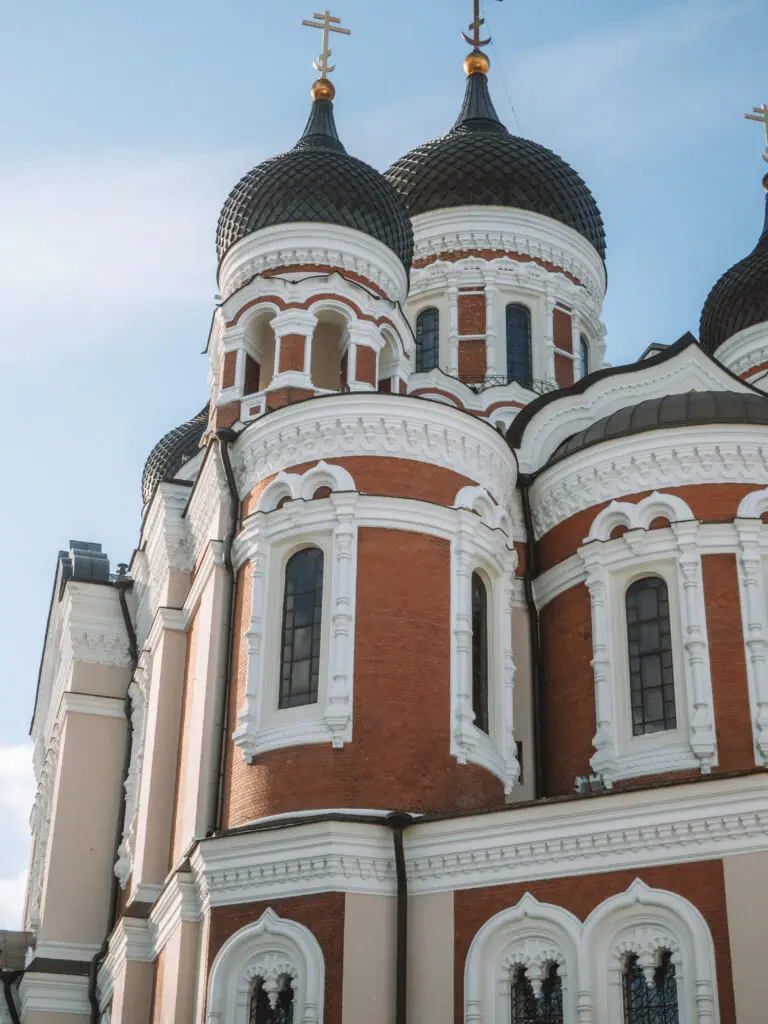 ALEXANDER NEVSKY CATHEDRAL
This spectacular onion domed Cathedral is located on Toompea Hill and can be seen from nearly every point across the Old Town. It's Estonia's main Russian Orthodox Cathedral and is by far the most opulent church in Tallinn. Built in 1900 the church was a symbol of the Tsarist Russian Empire's religious and political dominance over the Baltic region. Nowadays the church is a stunning piece of architecture which is a must visit on your weekend in Tallinn. All roads in the Old Town seem to lead up to Toompea Hill so it's easy to find and is also the perfect spot to sit and relax if the weather allows it. 
The Cathedral is open 8 am – 7 pm daily and entry is free. However please note that photos are prohibited.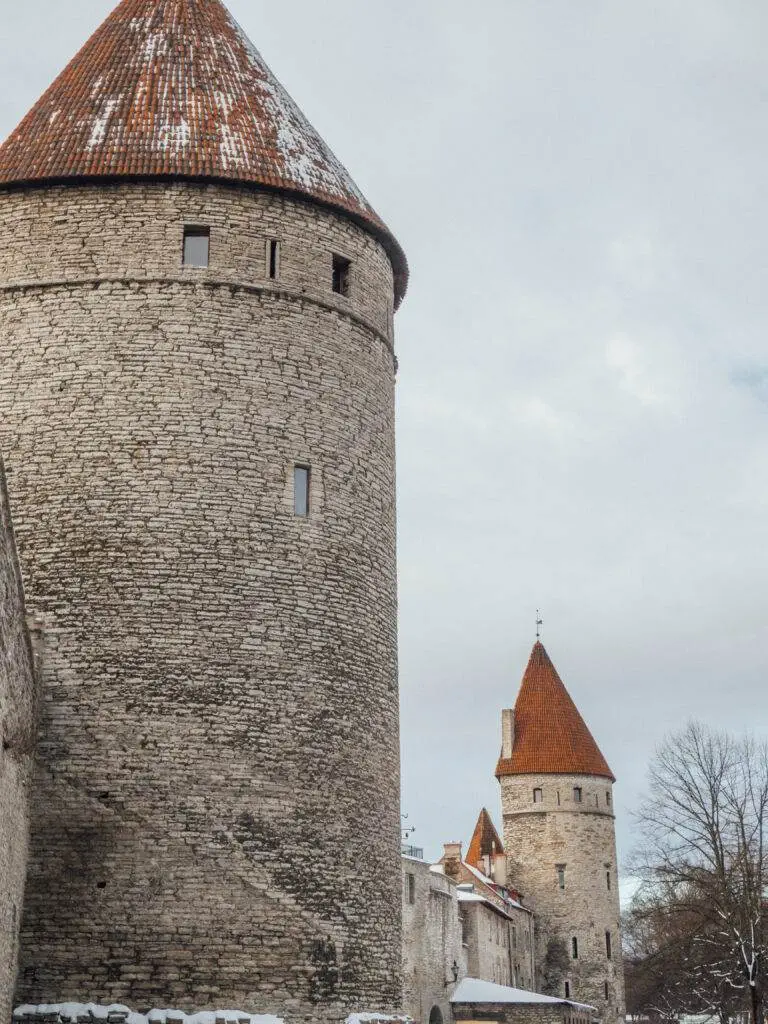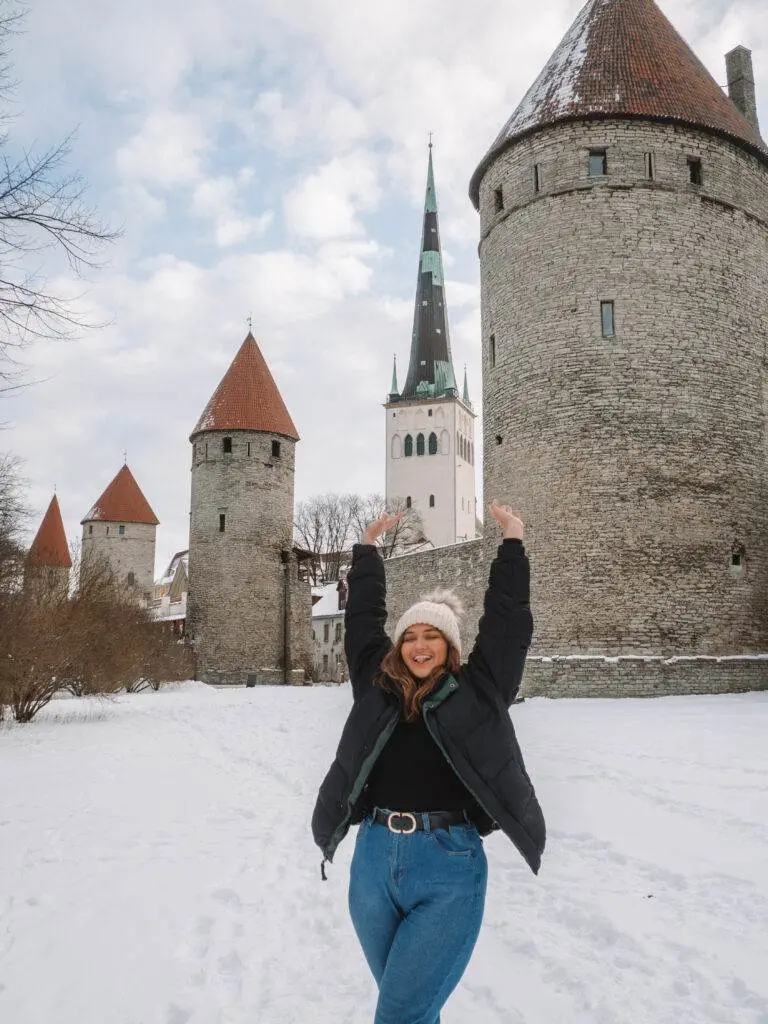 TORNIDE VÄLJAK (TOWER'S SQUARE)
Tallinn is one of Europe's best preserved Medieval fortifications, with nearly 2km of its original city walls surrounding the Old Town. Tower's Square is located just outside the city walls, and here the park provides stunning close up views of the Watch Towers. This is a great spot for a walk and in the summer, picnics! 
Catherine's Alley, formally known as Monk's Alley, is a small street tucked away in Tallinn's Old Town. The street was built more than 700 years ago and is lined with 15th-17th century buildings. The passage is lovely to stroll through and still retains a lot of its medieval charm. Now the street is home to eclectic shops and workshops, including ceramics, hats, glass and more.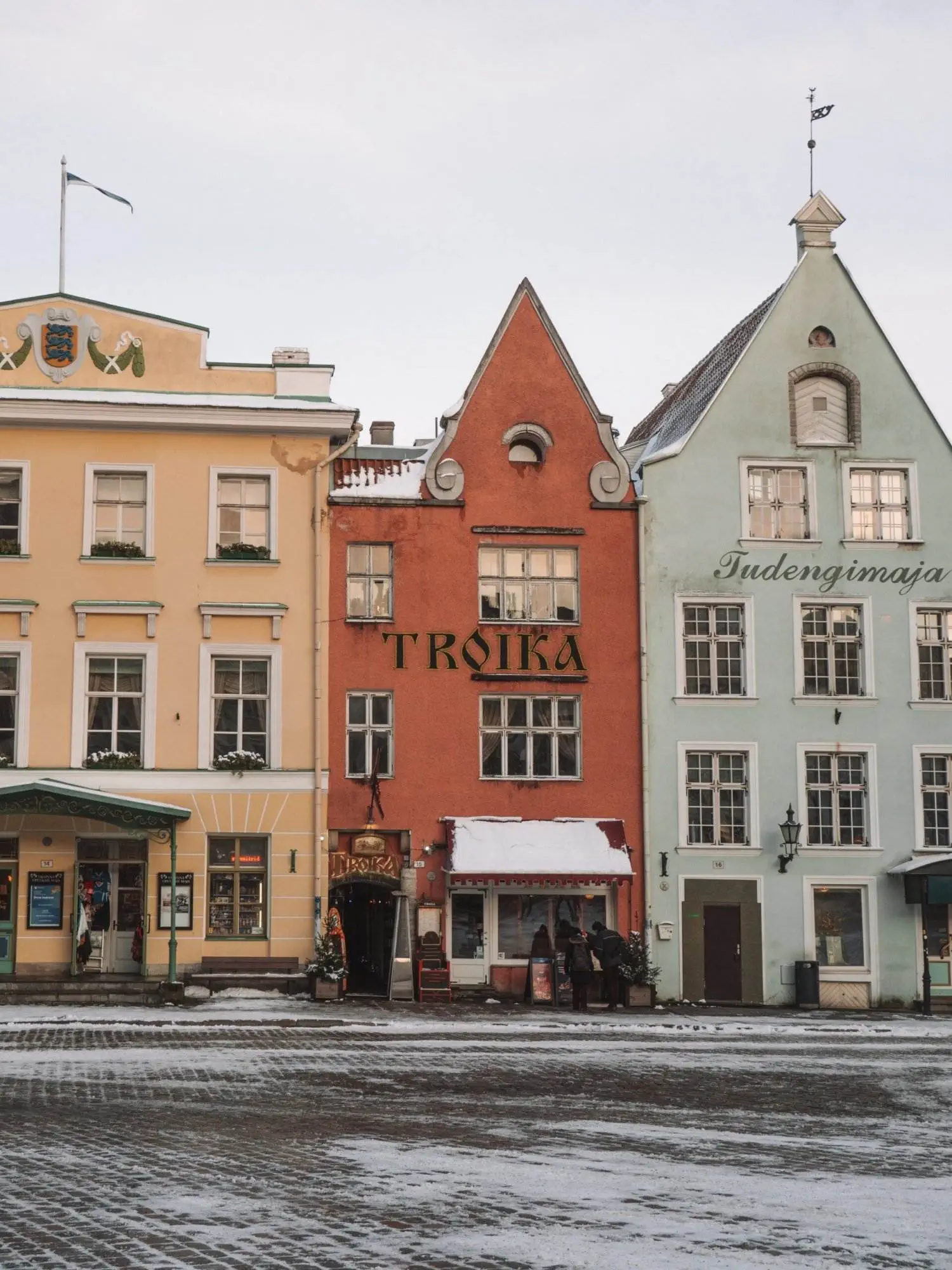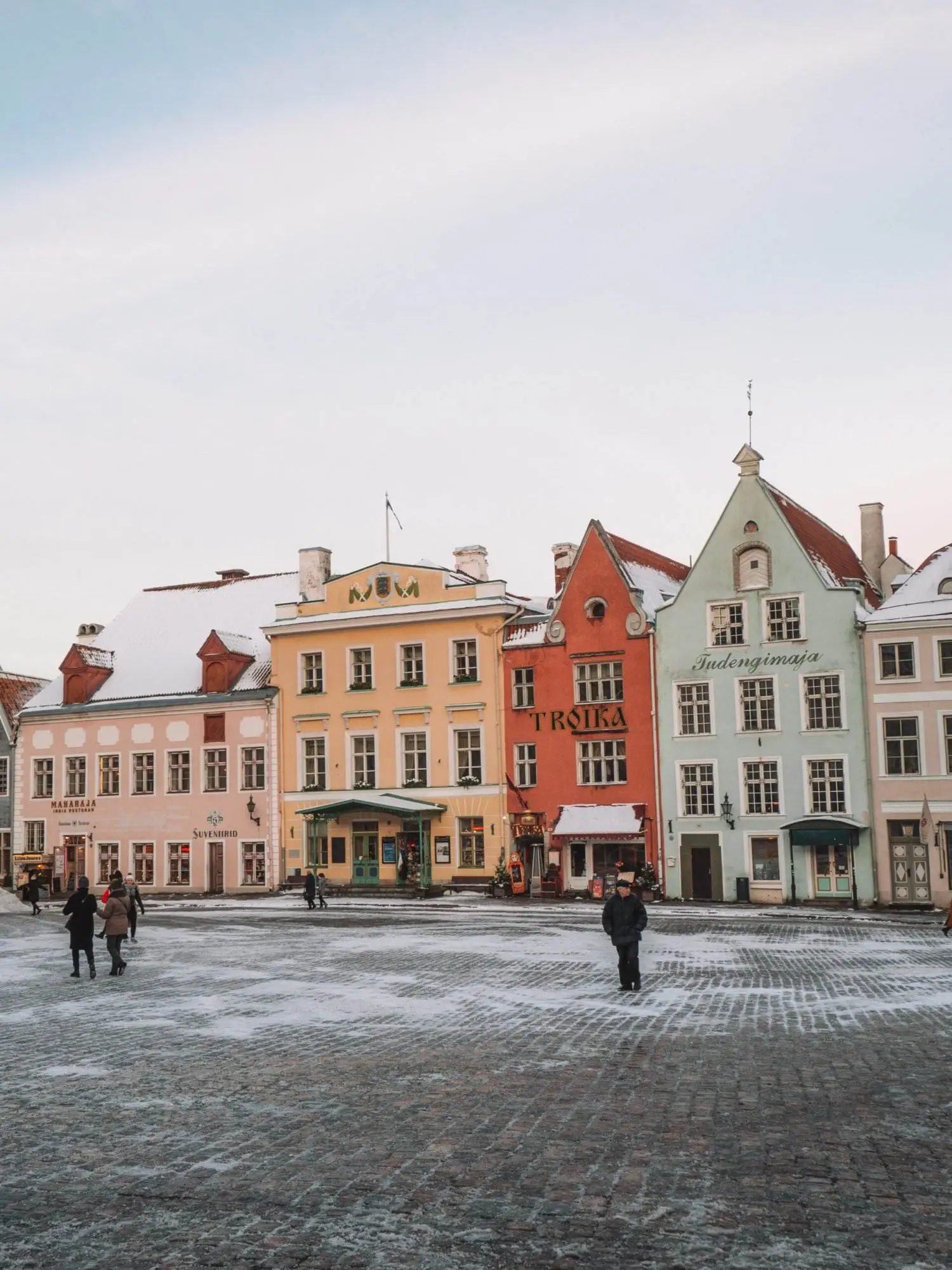 In the heart of the Old Town lies Town Hall Square, the hub of the city. Here you can find a variety of different restaurants, bars, souvenir shops, currency exchanges, etc. During the winter months leading up to Christmas, the Square also hosts very charming Christmas markets that look incredible. 
The multicoloured pastel buildings make it seem like you're in a fairytale, especially with the dusting of snow covering the rooftops. If you do plan on eating in or around the Square, be wary of paying 'tourist prices. The Old Town is small enough that you can easily wander for a few minutes and find something a little cheaper if you're on a smaller budget. 
To discover a little more about Tallinn and its history, architecture and hidden gems, definitely join the daily afternoon walking tour. This highly reviewed walking tour is on every day at 3:15 pm, starting in the Town Hall Square. Check out where you can book here. 
I always recommend joining a walking tour on any city break, as I think it gives a great base level knowledge about a new place, along with some local recommendations. It also shows some hidden gems you could have missed!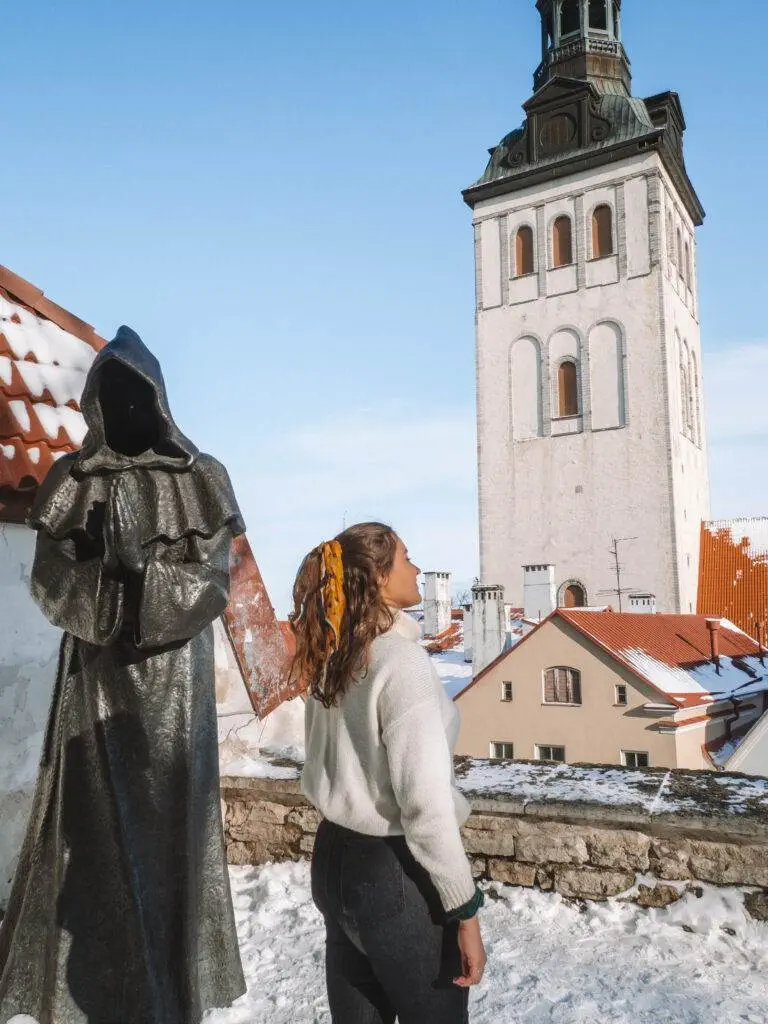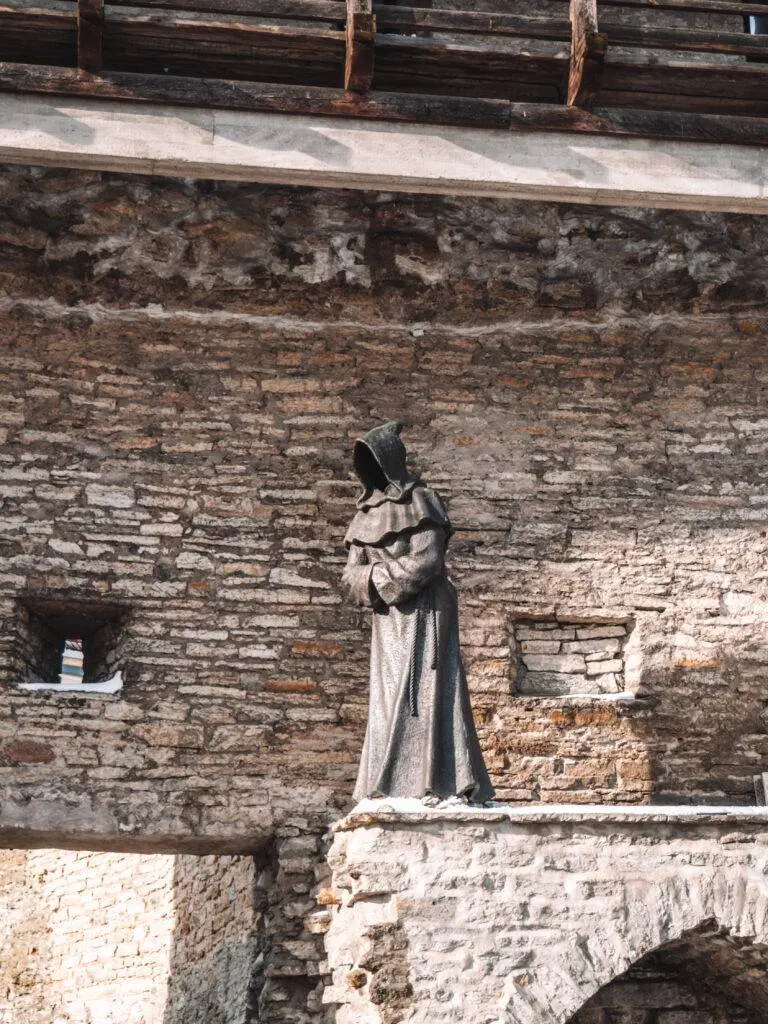 The Danish King's Garden holds a lot of stories and legends and is home to the three Faceless Monks. Ambrosiy the waiting monk, Claudius the watching monk and Bartholomeus the praying monk. The old legend is that the Danish flag was born in Tallinn in the garden as it descended from the sky during the Danish invasion and helped King Valdemar II (the Danish King) win the battle. While this legend may not be factually correct, the Danish King's Garden is another great photo spot for your weekend trip. 
The Garden is free to walk around and during the summer months they have outdoor tables and chairs for the restaurants in the Garden grounds. 
Toompea Castle was built in the 18th century atop the crumbling eastern wing of the 13th and 14th century fortress originally in its place. The Castle is exquisitely designed in a late Baroque façade and is free to explore. In addition to free entry, there are free guided tours that can be taken in Estonian, English and Russian. 
The castle is now home to the Riigikogu (Estonia's Parliament) and sessions of Parliament can be watched from the public gallery. 
Tallinn is a great hub for delicious food, here are some places to check out during your time:
night out recommendations
Tallinn is a hub for nightlife and there are a lot of great bars to check out. To round off everything you need to know about this amazing city, here are some great bars and pubs to add to the Tallinn weekend travel guide.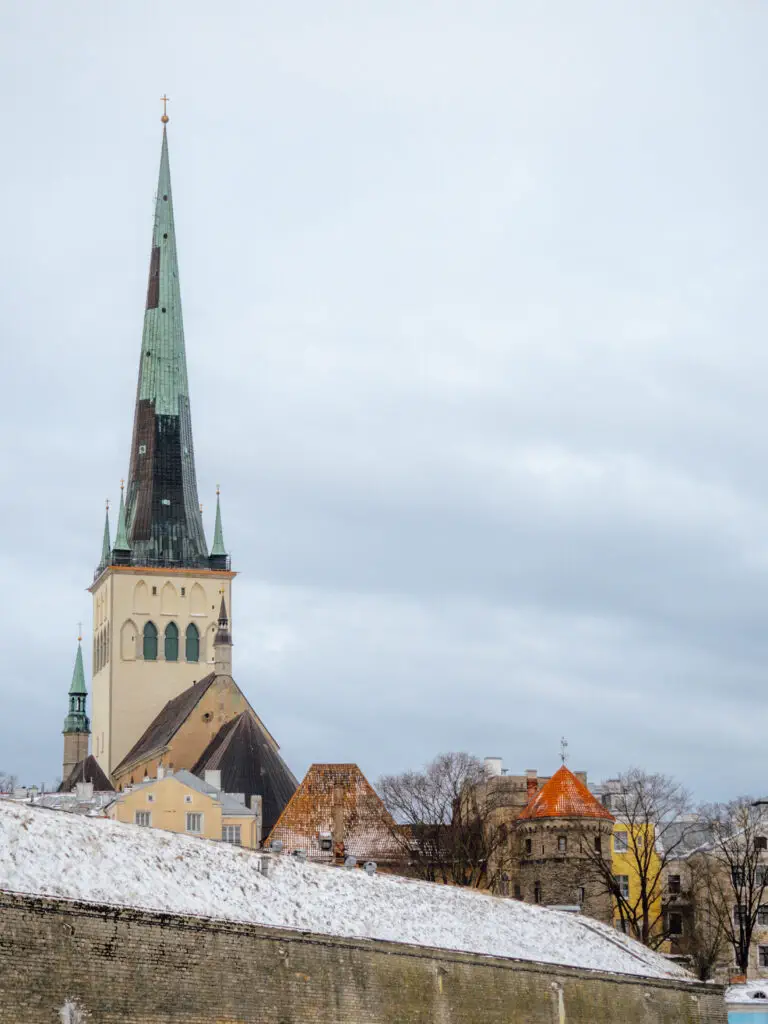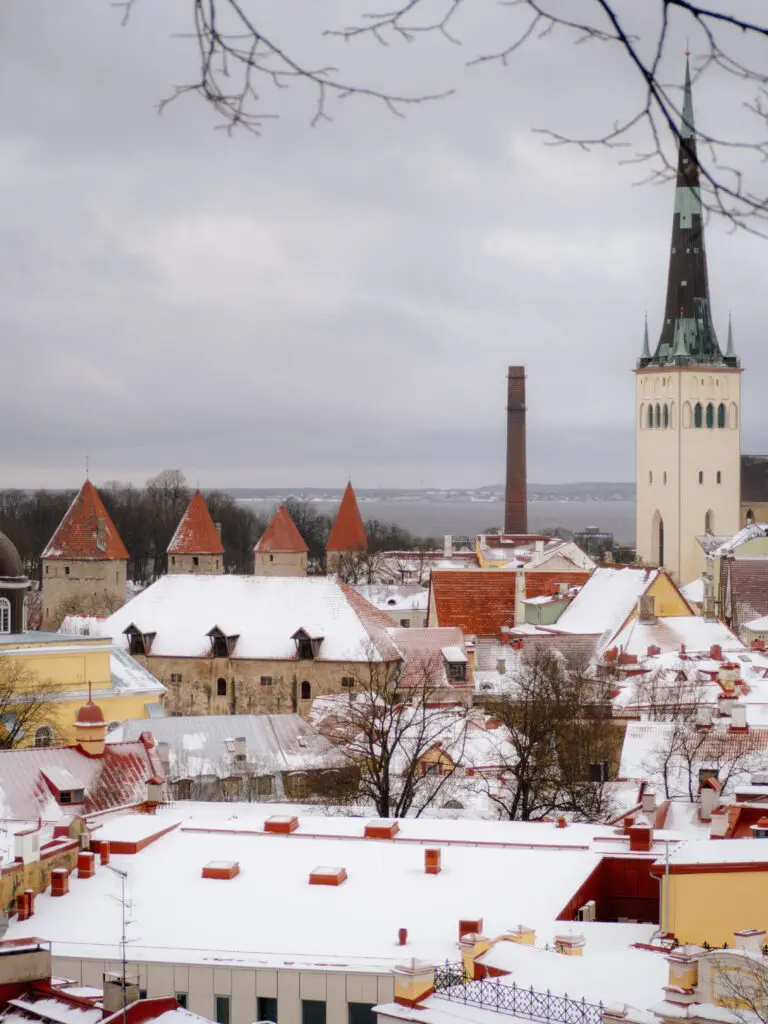 The best day experience to do during your weekend in Tallinn is to visit a husky park. During my visit I joined a tour with Prangli Travel to visit a husky farm in Kōrvemaa, about 45 minutes away from Tallinn. I could not have asked for a better day. There had been a fresh snowfall the night before so the landscape was beautifully white and crisp while the sun was glistening down across the countryside. 
The experience takes the majority of the day and you first get introduced to the plethora of huskies who live at the park, which was around 21 when I visited. During the winter months when there is high snowfall they also offer a tour that includes dog sledding through the countryside. Unfortunately when I visited the snow wasn't thick enough to do this, however, the experience was still completely worth it. Instead of dogsledding I joined their cross-country hike tour. You're allocated 1 – 2 dogs, depending on how comfortable you are with them as they are fairly strong, and walk through the gorgeous Estonian countryside. It is a great introduction to life outside the city and is one of the most unique experiences you can do from Tallinn. 
The walk is around 4km through beautiful forests and wide open fields. With the fresh snow it's one of the most picture perfect winter sights, making it an unmissable activity for your weekend in Tallinn. At the end of the tour enjoy some warm drinks and a light snack before heading back into the city. Arriving back to Tallinn around 4/5 pm. 
Check out the Husky Park and Cani-Cross hike tour here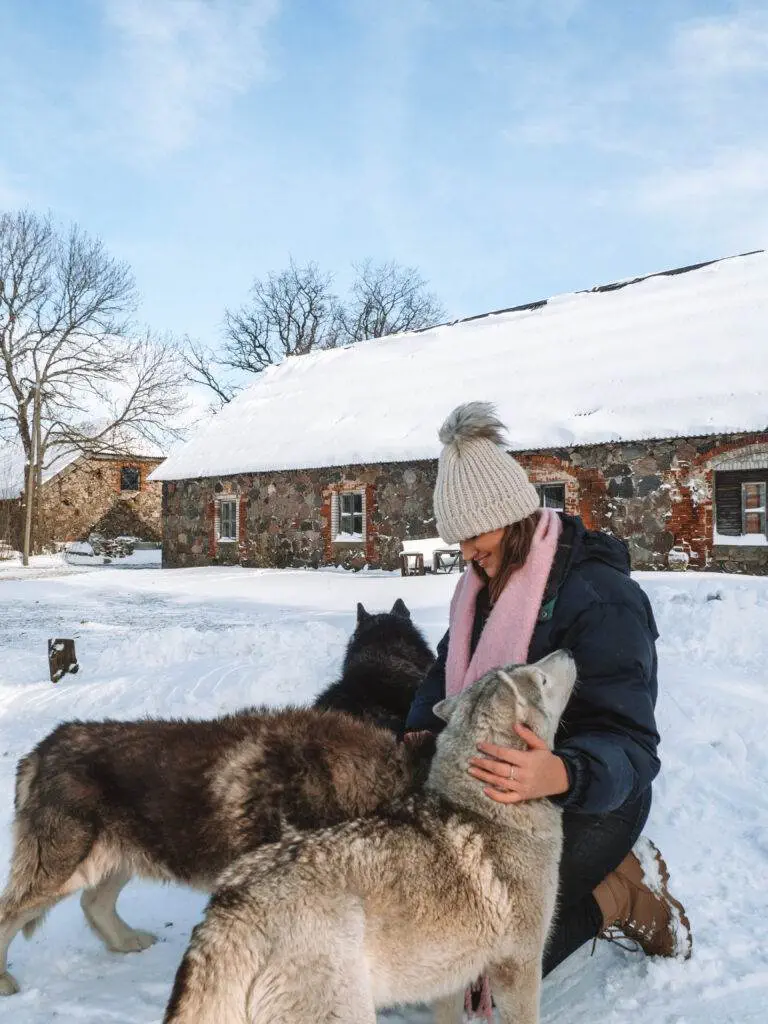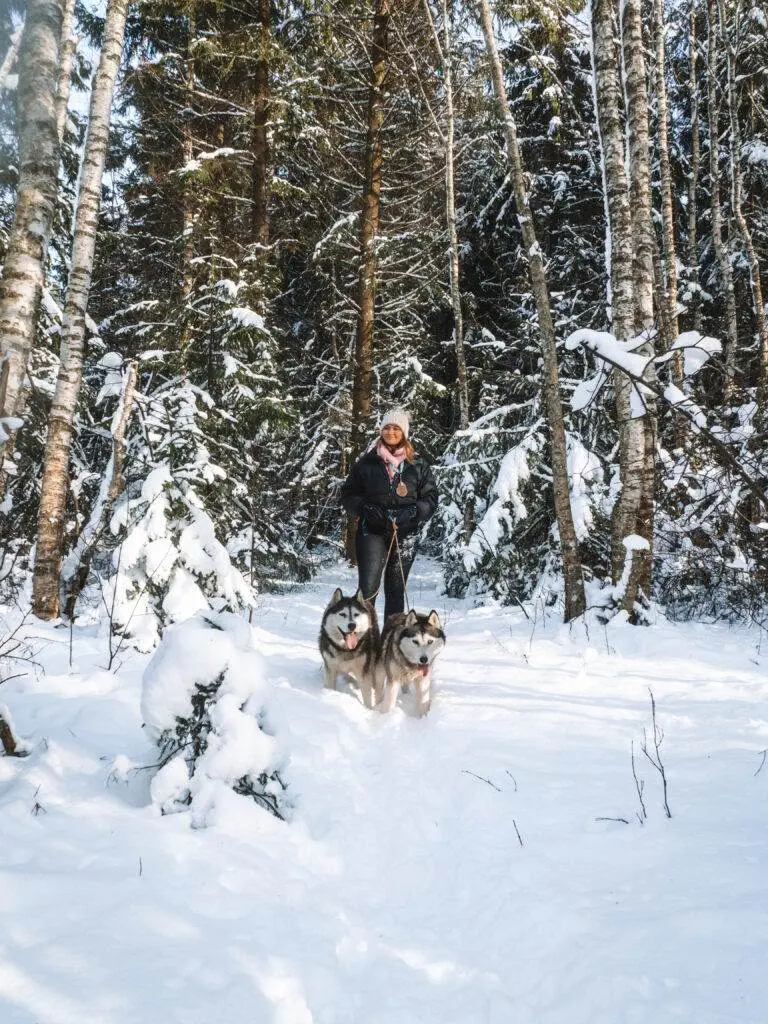 ENJOY THE PERFECT WEEKEND
Tallinn is quite easily one of the best unsuspecting gems in Europe for a weekend away that is great for culture, food, scenery and just something a little different to the usual European getaways. It's a great choice all year round, but especially perfect for those fairytale winter adventures you might be in search of. 
To read about some more off the beaten path recommendations, here are five affordable and underrated European destinations you should check out.