*this post contains affiliate links, which means if you purchase anything through the links provided I will receive a commission at no extra cost to you!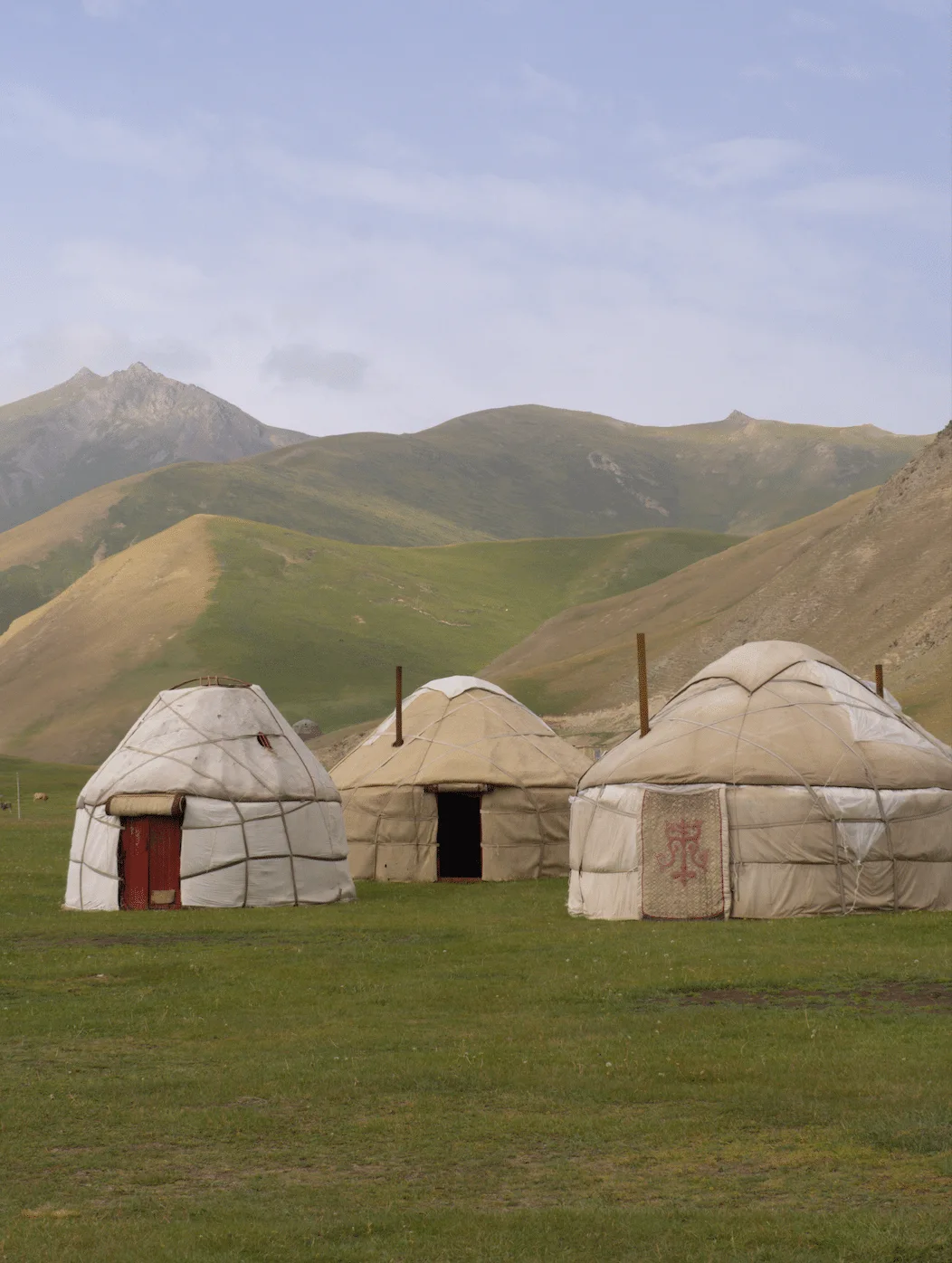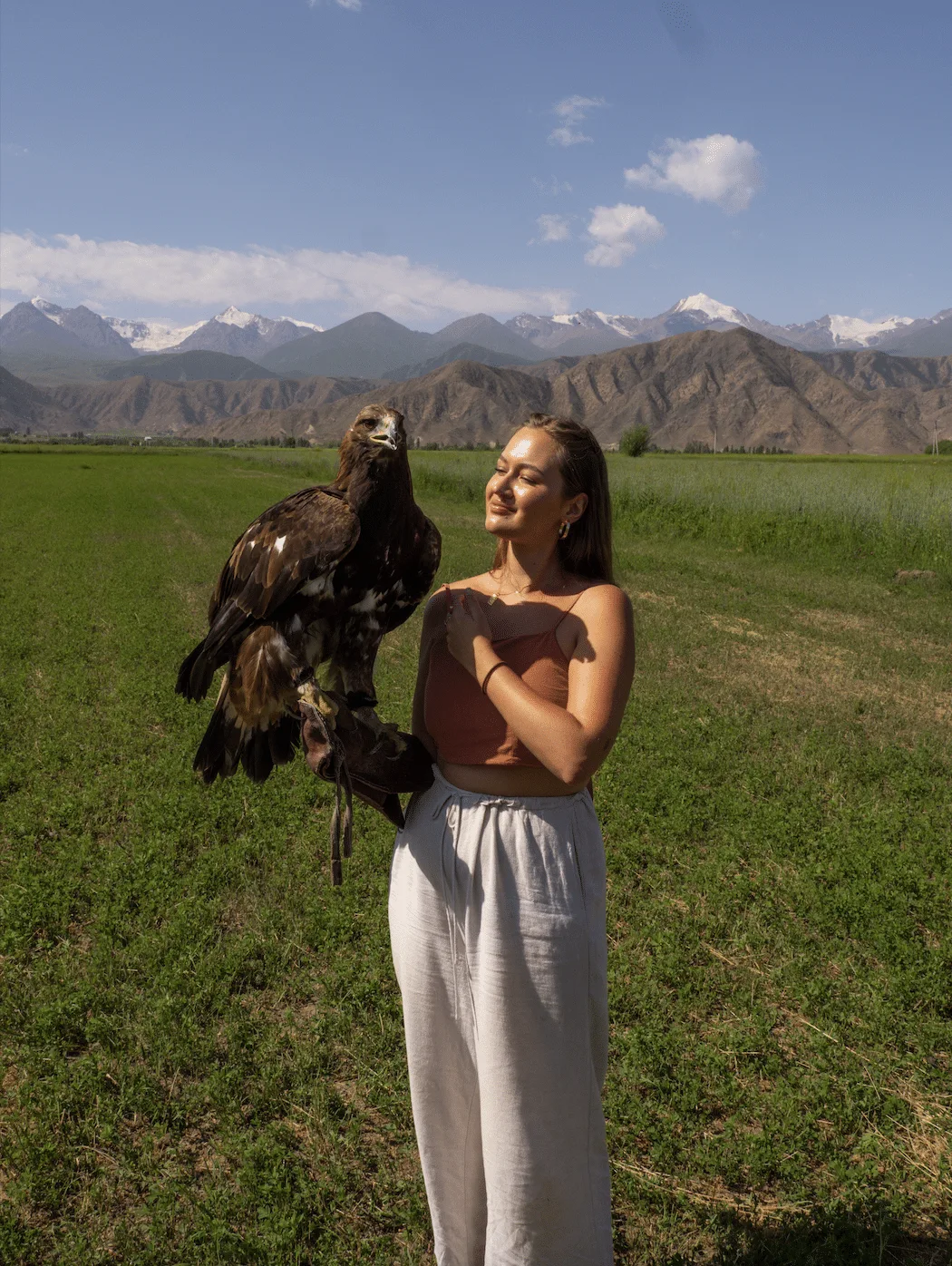 Kyrgyzstan is a small landlocked country tucked away in Central Asia, and before this year I hadn't heard too much about it, let alone known of someone travelling there. I had seen a few things here and there about the stunning nature that could be found in Kyrgyzstan, and it intrigued me to visit somewhere completely foreign to anywhere else I've ever been before. So, on a very spontaneous whim I decided to book a flight and meet a friend out there, with not too much knowledge of where to go or what to do. For two weeks we drove a 4×4 through the rugged and wild wilderness of the country and I can easily say it exceeded all my expectations by a mile. This post is the unmissable Kyrgyzstan itinerary for a perfect two week trip.
Kyrgyzstan completely blew me away and is a country full of untouched nature and friendly locals, with the perfect level of raw adventure that will leave you wanting more. From the crystal clear alpine lakes of Song Kul, the snowcapped mountains, family run yurt camps in the green rolling hills of Tash Rabat and horse treks above 4000m, Kyrgyzstan is the best introduction to Central Asia. 
This all inclusive itinerary is the best overview of the country, with a mix of sceneries and activities, perfectly satiating your need for adventure and something wildly exciting. Kyrgyzstan has so much to offer regarding nature and their unique culture, and this two week itinerary will cover all the best bits for your trip. 
Kyrgyzstan is a small country nestled in the centre of Central Asia. The Kyrgyz Republic has been a crossroads throughout history for great civilisations such as the Silk Road and other commercial routes, and now has a population of a little over 6.5 million. With their Soviet history, the locals generally speak both Kyrgyz and Russian, and a lot also speak basic English too. 
Kyrgyzstan is nestled between a few large mountain ranges, including Tien Shan and Pamir, and the mountains consist of 90% of the land. While places like Bishkek feel very metropolitan, a lot of the country still holds true to its Nomadic lifestyle, which is one of the main reasons Kyrgyzstan feels so special. With many people still living in the mountains, Kyrgyzstan is a place where you'll be eager to discover the off the beaten track to fully immerse yourself into the Kyrgyz lifestyle, and this itinerary does just that!
what is kyrgyzstan's currency?
Kyrgyzstan uses their own currency, Som. In all the major cities we went to there were ATMs for cash withdrawals, however, some banks don't accept Mastercard, only VISA, which was a little annoying. While travelling the more remote parts of the country, there is no way to get cash, so it's always a good idea to have enough for at least a few days. 
Some of the cities, especially Bishkek, they also accept USD. You can also bring some USD cash to exchange, however, I didn't do this and didn't have any issues with solely relying on cash withdrawals. 
HOW TO GET TO KYRGYZSTAN?
From London it's actually pretty easy to fly to Kyrgyzstan. I flew with Pegasus Airlines from London Stansted to Bishkek via Istanbul. The flight to Istanbul takes around 4 and a half hours and from Istanbul to Bishkek is around 4. For my flight I paid £515 return, which included a checked bag.
I didn't really know what to expect when first arriving in Kyrgyzstan. I was travelling with a friend so didn't feel like I was jumping into things totally alone, however after embarking on this trip I can easily say that Kyrgyzstan is incredibly safe to travel. People are unbelievably kind and very hospitable, even if there is sometimes a language barrier. 
Most people who worked at the guesthouses spoke a basic level of English, especially the younger members of the family, so it was never an issue for us. However, I would recommend having Kyrgyz and Russian downloaded on Google Translate so you can use it offline while you're there. It came in very handy when we had to translate menus too. 
Kyrgyzstan's capital, Bishkek, felt safe and relatively clean. It did feel pretty busy and surprisingly this is where people knew the least English (on average), but I was very comfortable walking around alone and at night time, with no hint of a problem at any point.
Overall Kyrgyzstan is one of the safest I felt travelling and I would happily return solo to explore more.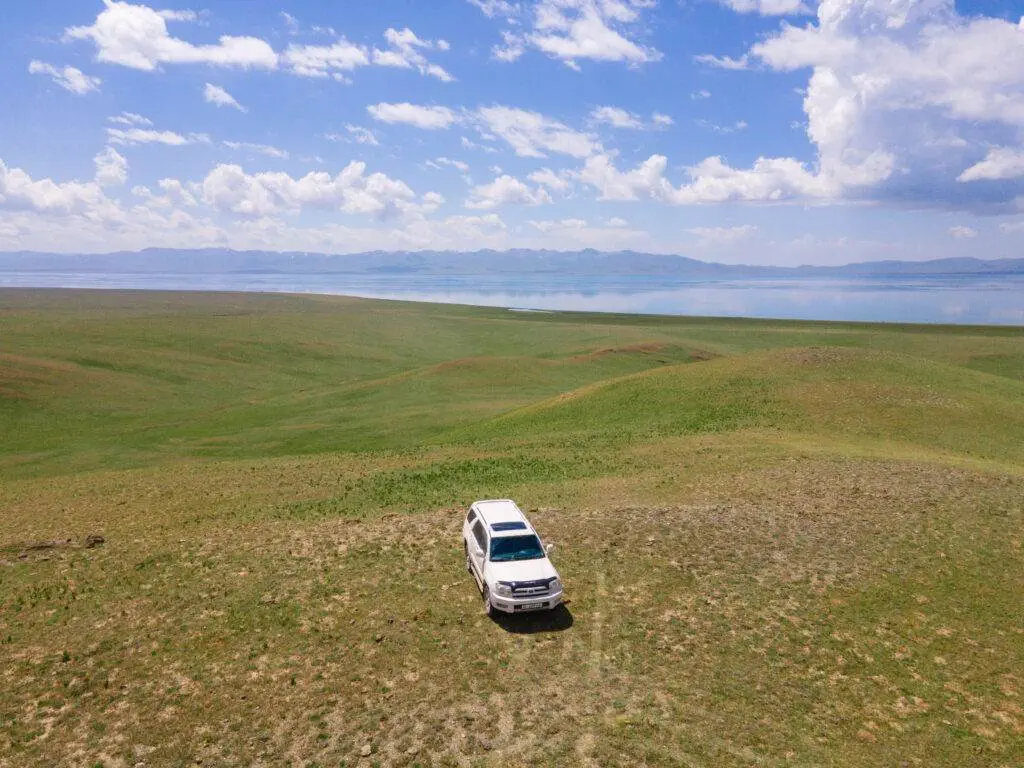 hiring a car in kyrgyzstan
For the two weeks in Kyrgyzstan my friend and I rented a 4×4. This is by far the best way to get around the country as public transport can be unreliable and it gives you an opportunity to cover a lot more ground during your time. In the busy summer months 4x4s book out quickly, so it's best to organise this before you arrive.
We booked our car through Pamir Jeep Rentals. The car was comfortable and served its purpose well. We paid $60 per day for the car, so for the two weeks it was $900 total/$450 USD each. Renting a car was definitely the most expensive part of the trip, but definitely necessary and gave us ultimate freedom to enjoy this itinerary fully. 
We met a few different groups that were travelling via hitchhiking, which is a very viable way of getting around as it's super common for locals to do this. There are only a few main roads throughout the country, so if you spot someone going in the general direction they will probably be heading to your destination. If you choose to do this remember to give a small contribution to petrol, especially if locals pick you up. 
KYRGYZSTAN ITINERARY: THE PERFECT 2 WEEK TRIP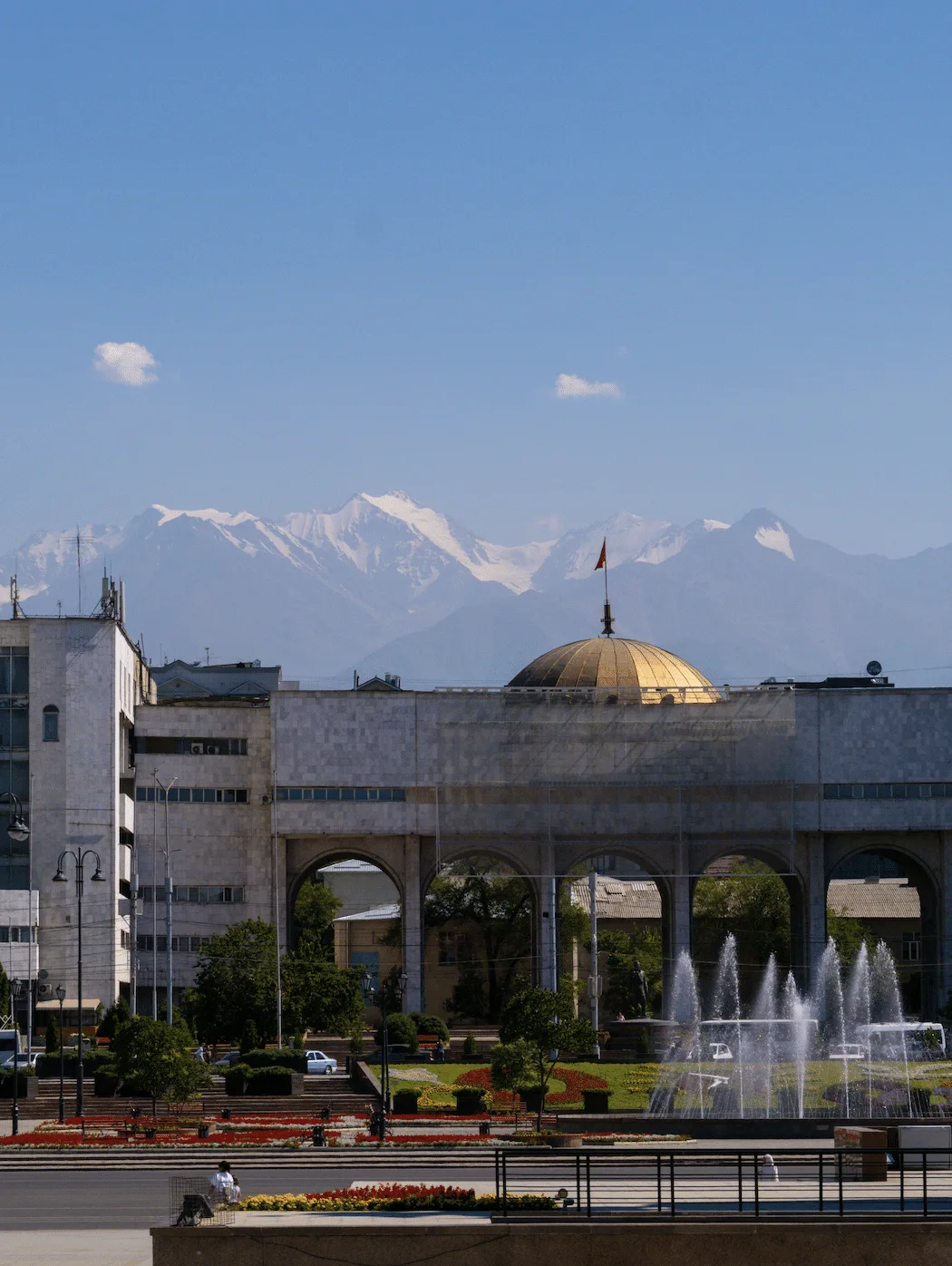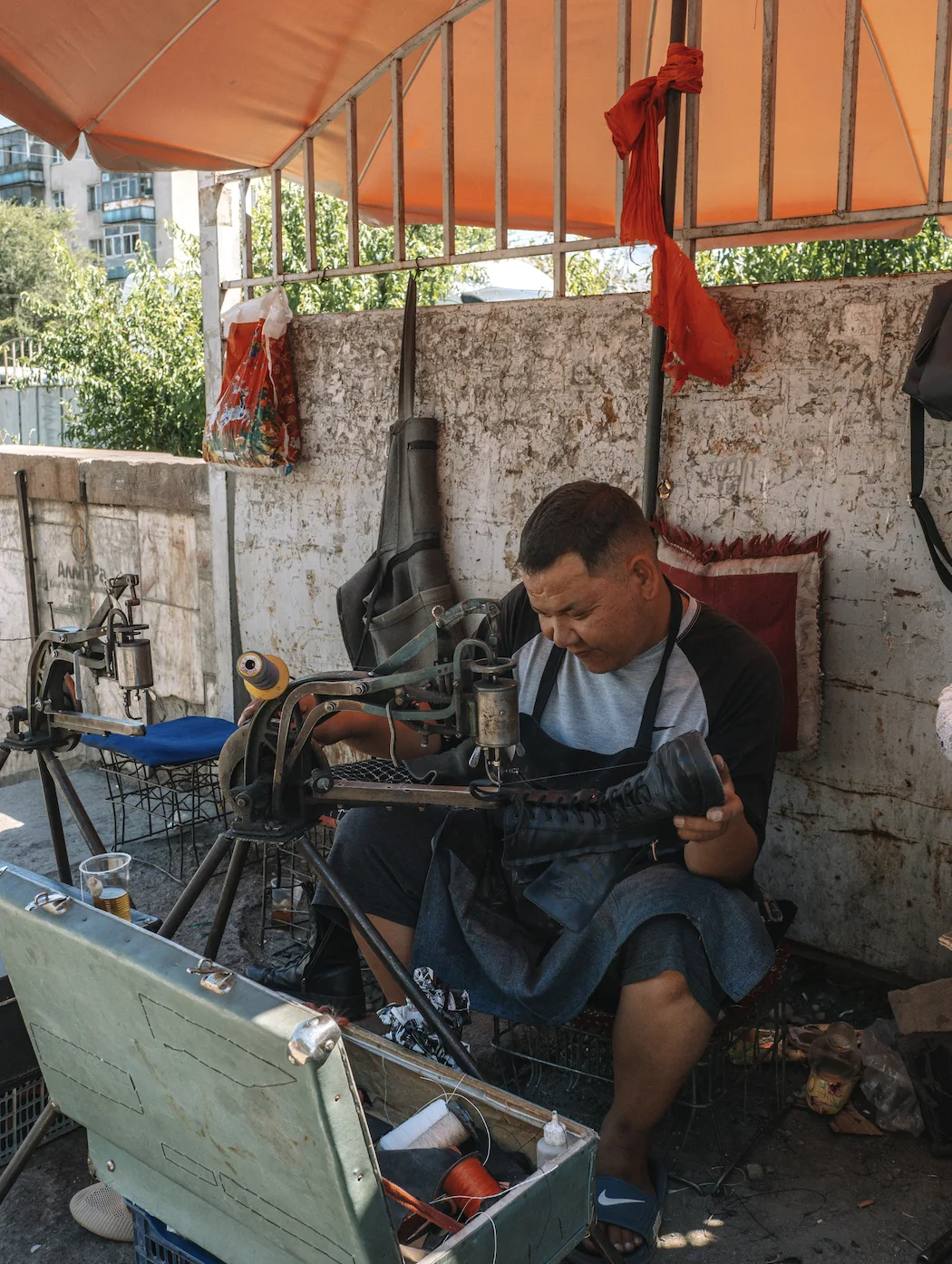 To start off your perfect two week Kyrgyzstan itinerary you'll most likely land in the capital, Bishkek. Kyrgyzstan's capital only has a population of a little under 1 million, however, the city feels very busy, with everything very spread out from each other. I don't recommend spending too much time in Bishkek as it gets stifling hot in the summer months and there isn't particularly a lot to do in the city.
To fill your time in Bishkek you can either opt to stay in the city and explore some of the interesting Soviet sites, or take a day trip out of Bishkek. If you choose to stay and explore what Bishkek has to offer I recommend these spots:
Ala Too Square
State History Museum
Victory Square
Osh Bazaar
Osh Bazaar is a great place to wander around and gives a good introduction to Kyrgyz life, with interesting stalls selling food, spices, clothing and more. 
If you would prefer to get straight out into nature, Bishkek is a great base for a few different day trips. Namely Ala Archa National Park and Kegeti Gorge Waterfall. Ala Archa National Park is only around an hour drive from the city and is the perfect spot for hiking through the Tian Shan mountains or setting up a picnic. It's the closest day trip you can do from Bishkek and is very easy to get to. To get to Ala Archa you can hire a taxi from Bishkek or if you have your car, drive there. There are also day tours that take you to the National Park, like this one here.
Kegeti Gorge Waterfall is closer to 2 and a half hours away from the city and it's best to drive there. However, the views and walk are absolutely gorgeous.
During my time in Bishkek I stayed at Golden Hotel, which is not too far from the centre but a really great, affordable option. The rooms were clean with spacious bathrooms, and there was free breakfast included during the stay. The hotel also has a staff member on reception 24 hours a day, which was perfect for me as I checked in at 4 am! 
For some delicious food not too far from Golden Hotel, definitely check out Navat Teahouse and Five Resto. 
The first stop to make on your itinerary is one of the most iconic symbols of Kyrgyzstan, Burana Tower. This tower is an old mosque minaret that used to be one of the key stops on the Silk Road. Originally it used to stand at 45m high, but due to war and earthquakes, the tower is only 25m tall now. 
From Bishkek, Burana Tower is only around 1 and a half to two hours away, depending on traffic leaving the city. The reason this tower is so important is it stands as the earliest architectural wonder of Central Asia. Built during the 11th century, Burana Tower was used as a template for later minarets such as Bukhara in Uzbekistan. 
You can explore the tower and climb up inside for 85 Som (£0.75). At the top there are panoramic 360 degree views of the surrounding mountains and landscapes, although the climb up is completely dark and very steep! Burana Tower is also home to Balbal statues, which are some of the only artefacts depicting ancient nomadic life. These Balbal statues date back as early as the 6th century.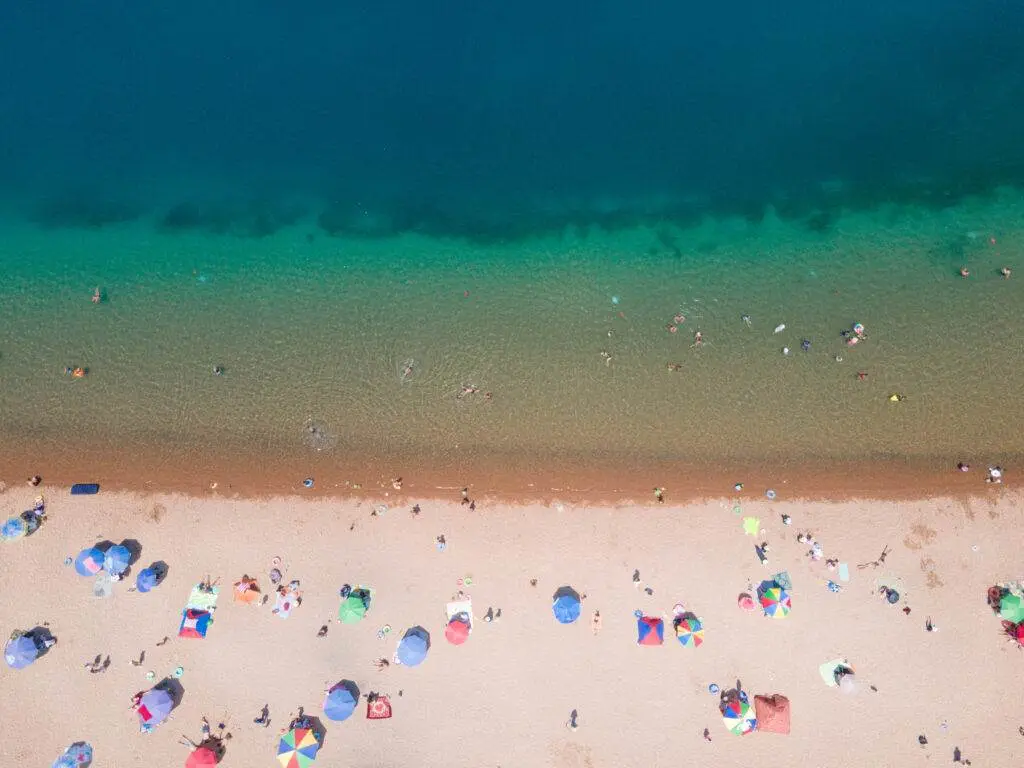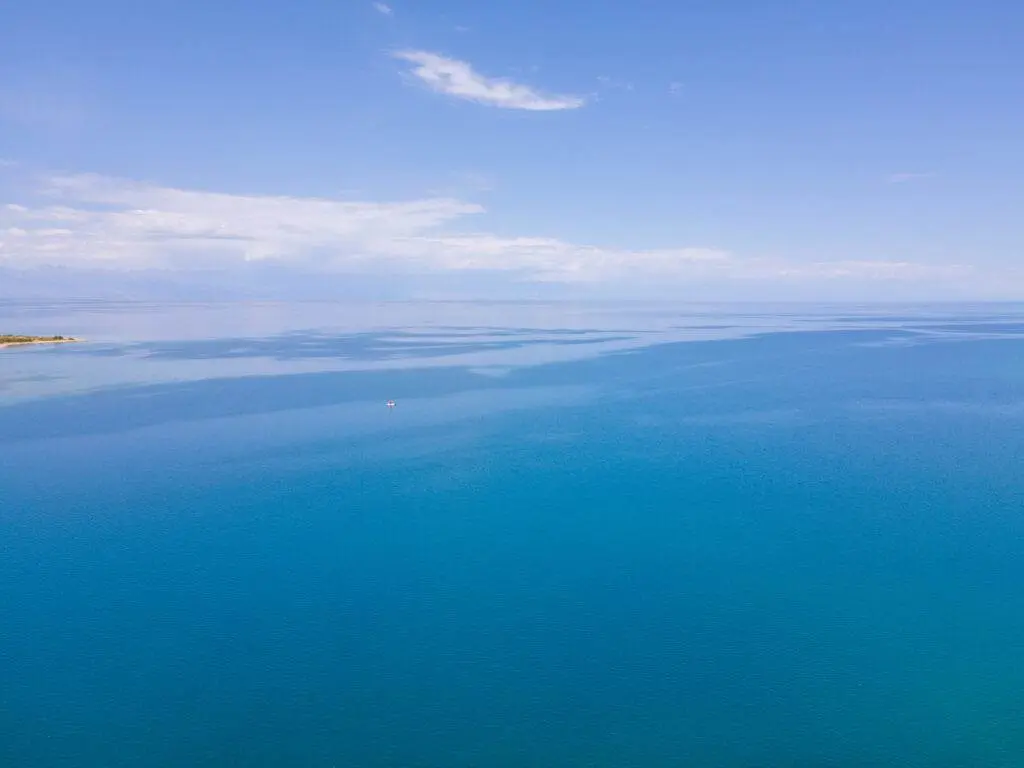 The second stop on the Kyrgyzstan itinerary is Issyk Kul, which is around 4 hours away from Bishkek. Issyk Kul is the second largest saline lake and the seventh deepest lake in the world. The lake sits in the northeastern part of the country and is nestled between a unique mix of snow capped mountains and dry desert. Issyk Kul is the perfect first stop on the itinerary as it's a great introduction to Kyrgyzstan's untouched scenery, and I recommend staying in the southern part of the lake in a small village called Bokonbayevo.
Bokonbayevo is the largest village on the south side of the lake and is the perfect place to stay for a mix of both culture and relaxation. The town is only a short drive from the local beach, Yurtochnyy Gordon Ton, where locals go in the summer months to swim and enjoy Issyk Kul's water. The lake water is incredibly fresh, which is perfect for those hot days, and when it's clear you can see out to the snow capped mountains in the distance.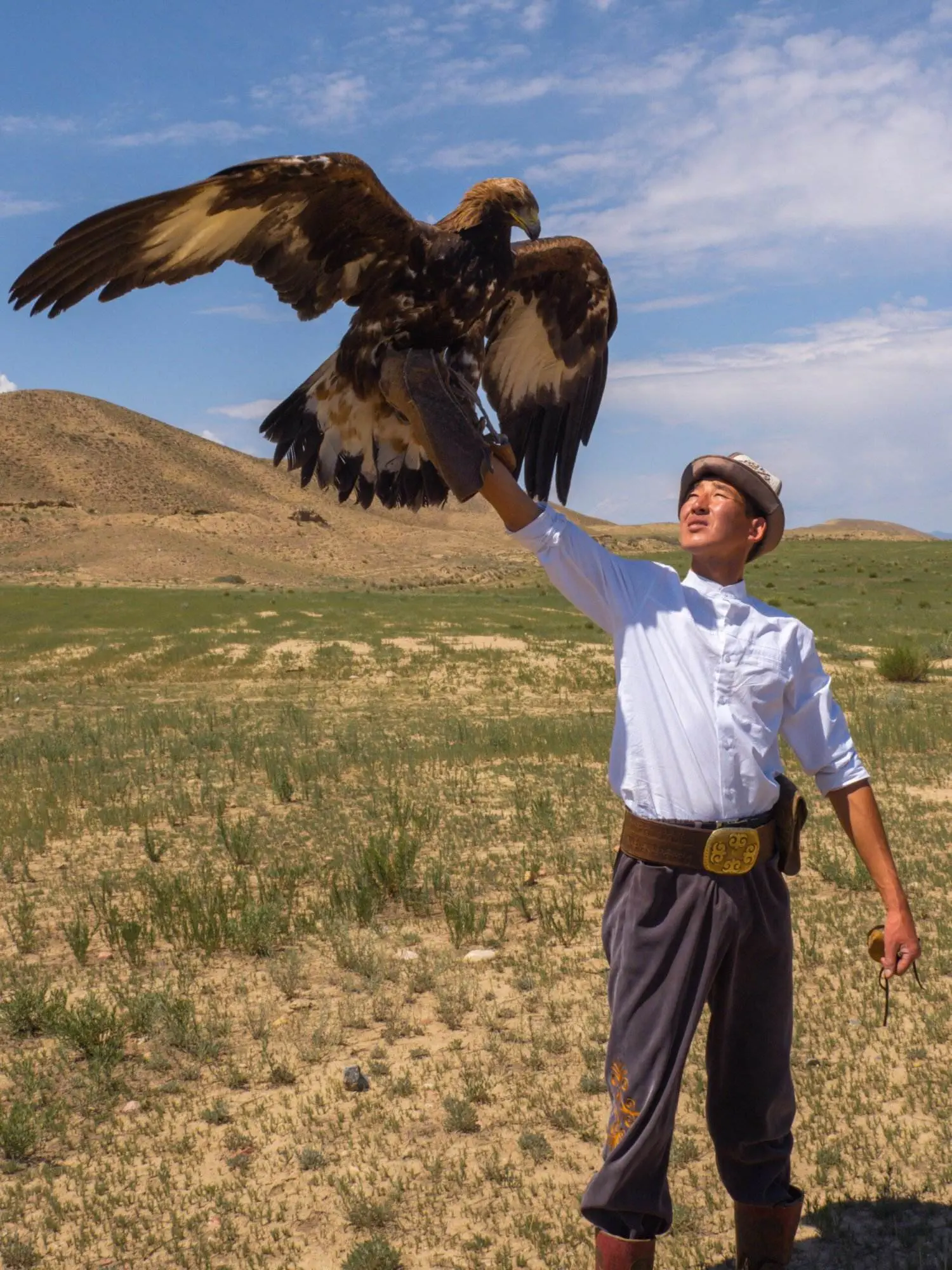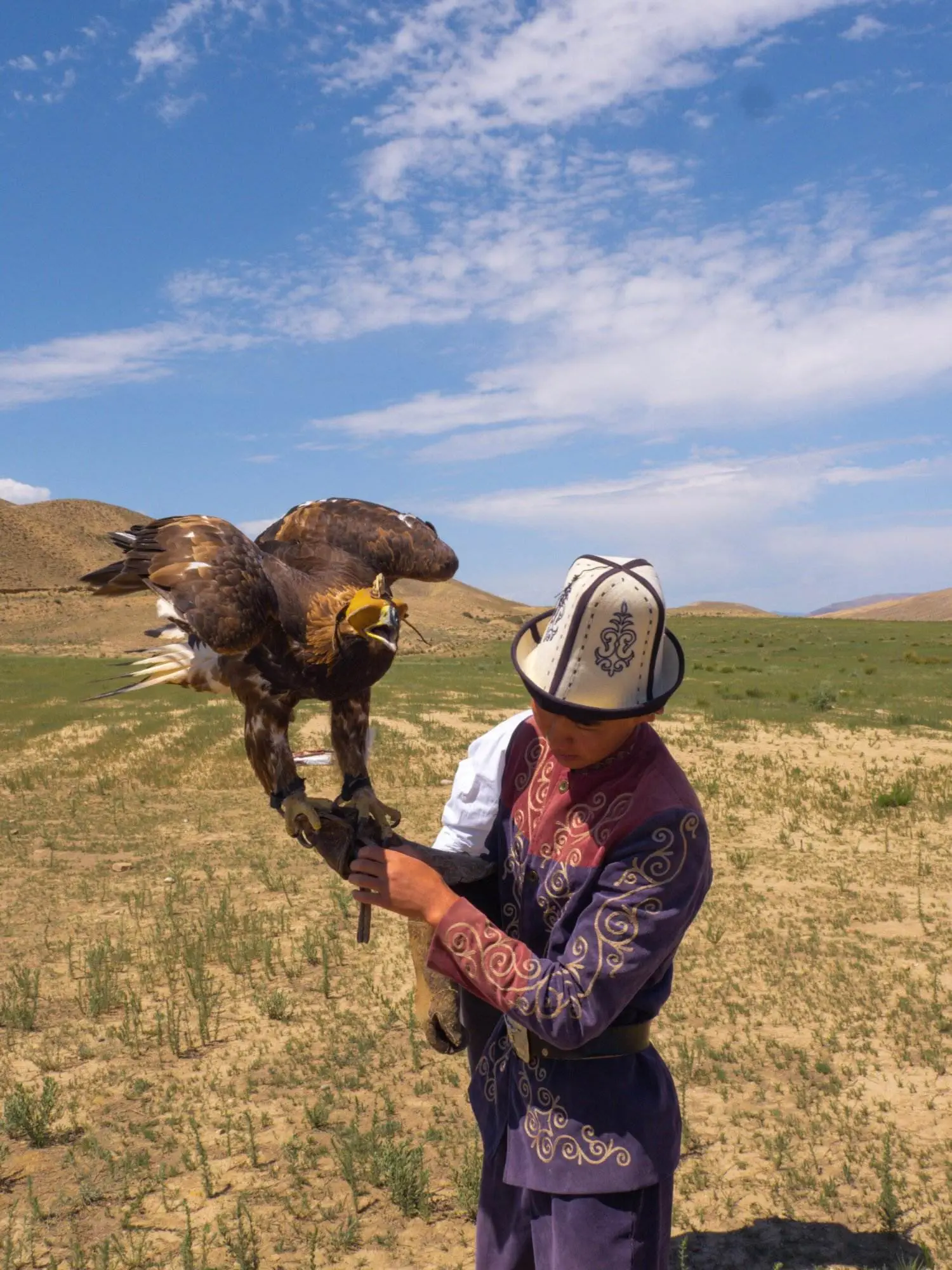 One of the best activities to do in Bokonbayevo is an eagle hunting show. Eagle hunting is a century old tradition in Kyrgyz culture. In the summer families train the eagles and then hunt rabbits, foxes and even deer in the winter. This excursion was organised through the guesthouse I stayed in, Guesthouse Gulmira. The show includes watching how locals train the eagles, holding the birds and even do a little bit of archery. The family who owned the birds took great care in sharing how important eagle hunting is in Kyrgyz culture, which made the experience feel even more memorable. The whole experience is only about an hour and a half, costing 1200 som (£10).
During the summer months you can also visit the Nomad Games, which is an exhibition of Kyrgyz culture including throat singing, yurt building competitions and Kok Boru, which is a game similar to polo except the 'ball' is a headless dead goat. This only happens in the summer months and was on during July when I visited. This is hosted 30 minutes away from Bokonbayevo in the small settlement of Kyzyl Too.
Where to stay in bokonbayevo
In Bokonbayevo I stayed in Guesthouse Gulmira, which was a lovely family run accommodation that helped organise activities like eagle hunting and also included free breakfast as well as dinner for an additional price. The accommodation offers both yurts in their garden and normal rooms indoors, both are very comfortable options.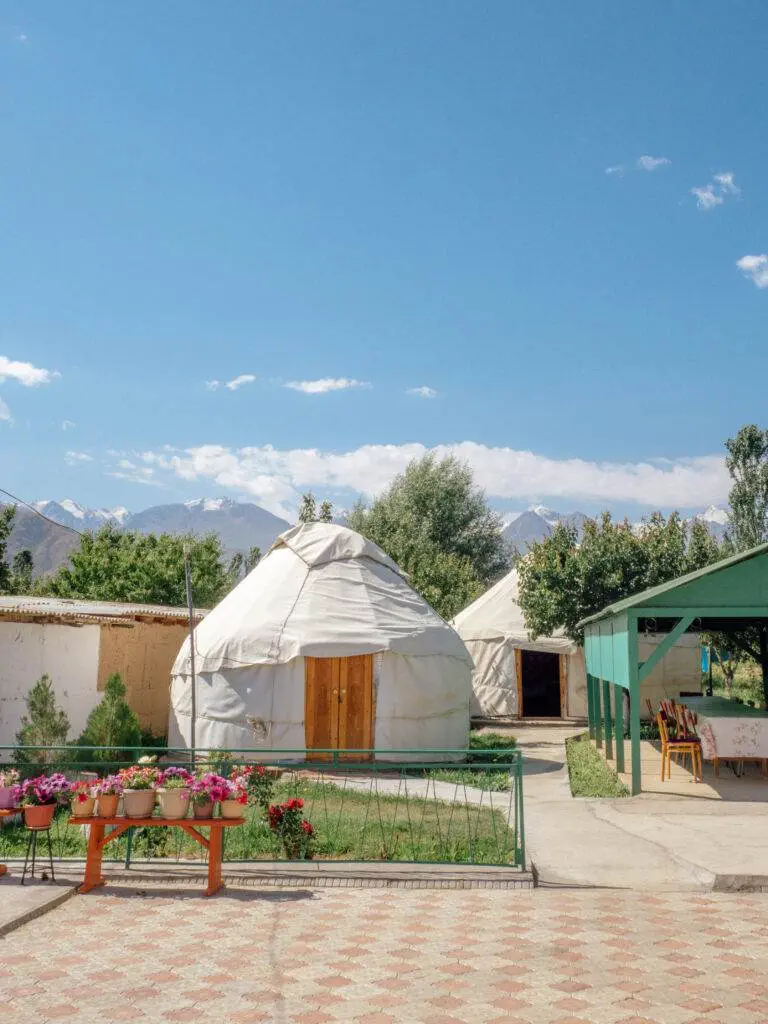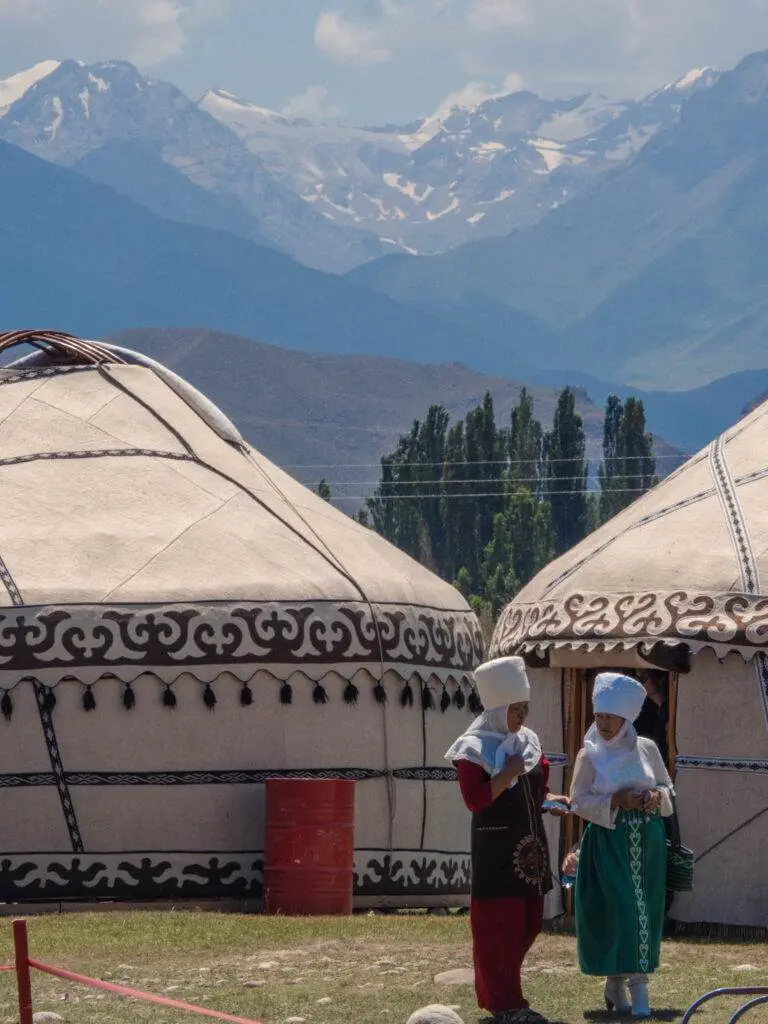 The next destination for your two week Kyrgyzstan itinerary is Jyrgalan. This destination is right in the east of Kyrgyzstan, close to the Chinese border. Jyrgalan is a small village with a population of only 1,000 and was one of my favourite stops from the two weeks in Kyrgyzstan. The scenery felt very similar to Switzerland, with rolling green hills, snow capped mountains in the distance and fresh alpine streams running through the village. Not to mention herds of wild horses roaming around and yurts sat atop green hills. It was something straight out of a postcard.
To get to Jyrgalan from Bokonbayevo is around 4 hours, although, allow extra time as the southern road along Issyk Kul is still under construction and takes longer than you'd expect. To get to Jyrgalan you have to drive through Karakol, which is one of the larger cities in Kyrgyzstan. Here is the perfect place to pick up supplies for your time in Jyrgalan as there aren't any supermarkets, ATMs or petrol stations close by.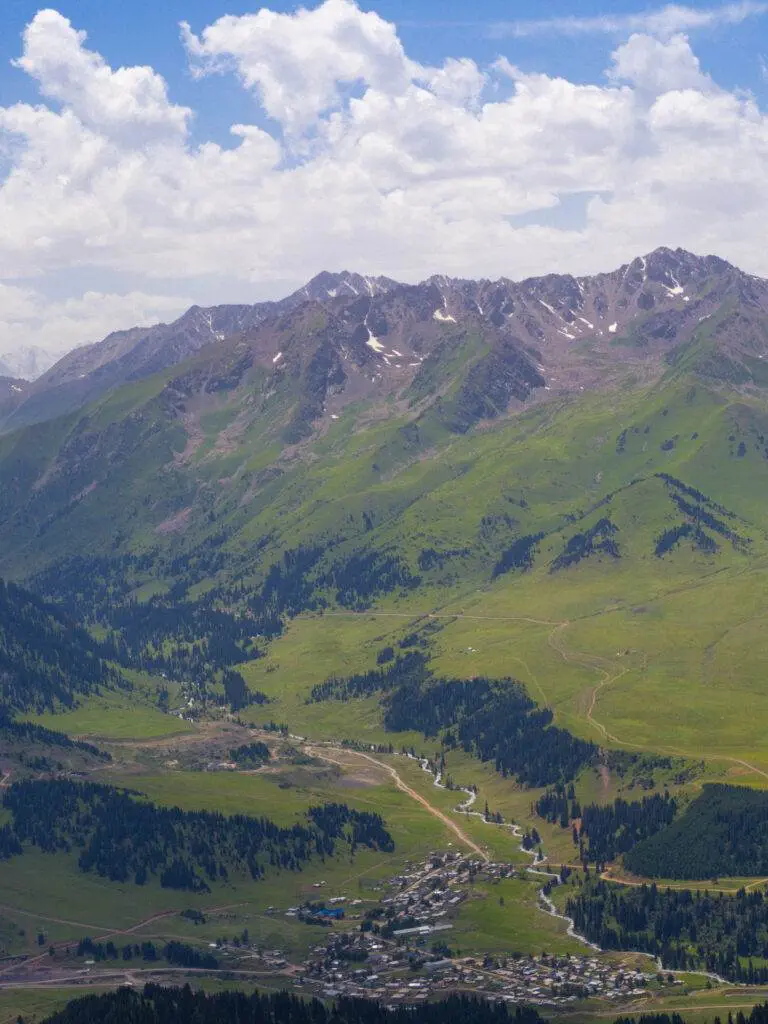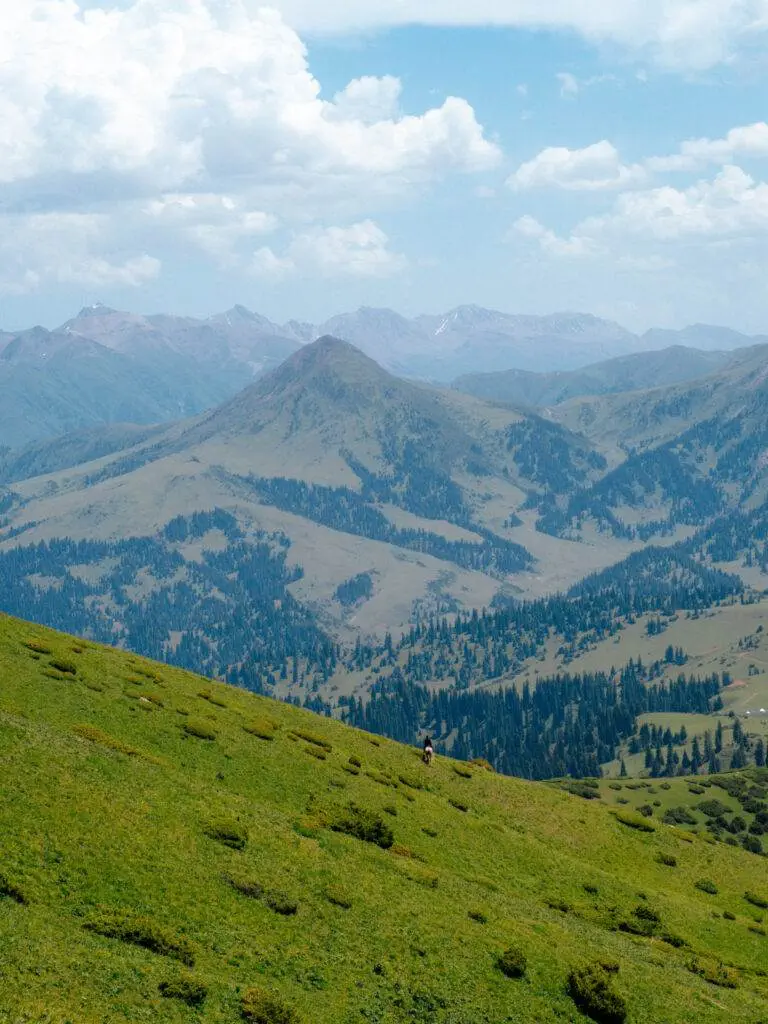 Jyrgalan is the perfect place for hiking and two full days will give you a chance to do two day hikes. The first one I recommend is Turnaly-Köl Panorama, which is 13km and reaches an elevation of 2862m, with an elevation gain of 734m. The hike is very steep to begin with, but the views are absolutely phenomenal all the way up. At the top you get 360 degree views of the surrounding mountains and as you descend you'll walk through green meadows, spotting herds of wild horses. In total, the hike is around 5 hours.
The second hike option is Kök-Bel Waterfall, which is 12km and a lot easier than Turnaly-Köl Panorama. You can actually drive most of this hike if you wanted to, which would cut down the walk to only an hour return journey.
The last hiking option is Eki-Chat Yurt Camp. This is the longest day hike, being 17km and with an elevation gain of 500m. We didn't have time to do this hike, however you can choose to do it in a single day or break it up and turn it into a two day journey, staying overnight in the yurt camp. 
where to stay in jyrgalan
During my time in Jyrgalan I stayed in Mine Hostel. The hostel was small but was really clean and comfortable, with a big kitchen for cooking. They also did free breakfast every morning and you could opt for their dinner which cost 500 som (£4.50). The owner of this hostel was great and super helpful, he can also point out the best routes for hiking. 
If you're looking for more hostel options, you can also check out my hostel recommendations and reviews blog post with over 150 hostels from across the world.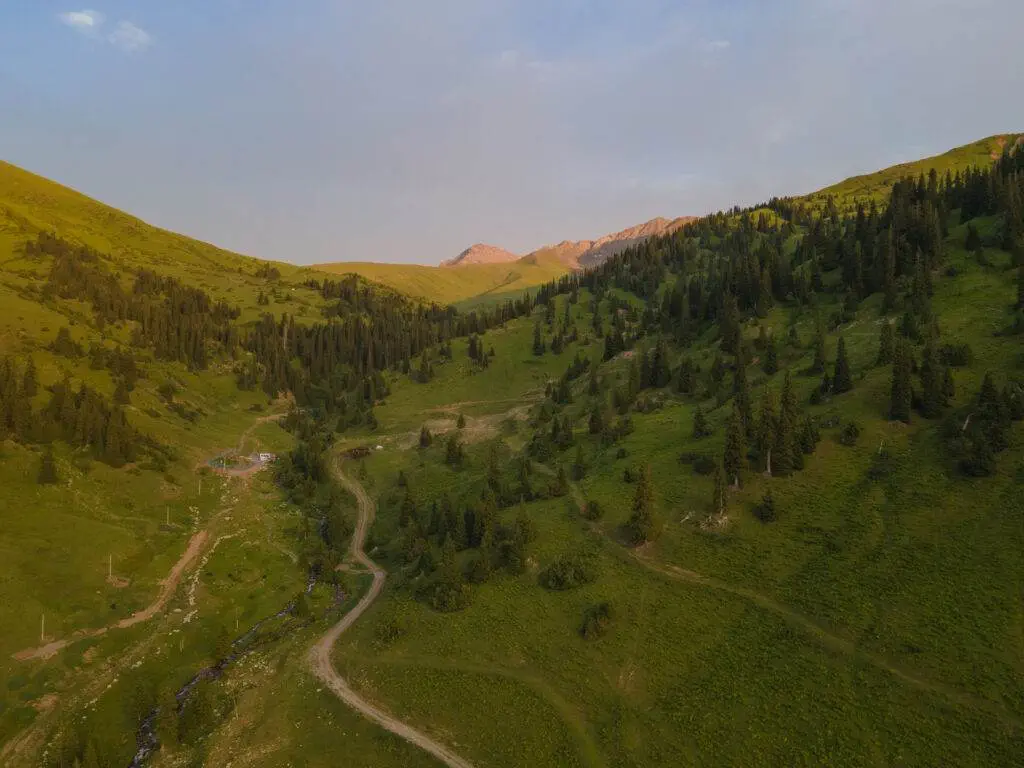 Naryn is the next stop on the Kyrgyz itinerary. To get to Naryn from Jyrgalan is a long drive and takes 8-10 hours, passing back through the southern part of Issyk Kul. Naryn is another one of the bigger cities in Kyrgyzstan and it's a good base for the night before heading back into the wilderness of the country the following day. 
Although the drive is long it is incredibly scenic and there are a few spots you can stop off at during the drive to break up the day. As you drive past Issyk Kul, definitely stop off at Fairytale Canyon. You can do a quick walk through a small part of the canyon, there are also some longer trails deeper into the canyon too, however, this would depend on how much time you have. 
In Naryn I stayed in Kezgin Guesthouse, which had some of the best food I ate from the whole trip! The guesthouse was very comfortable with a super friendly family who owned it. While it was a little far out the centre, it was less than a 10 minute drive to get into the heart of Naryn. I definitely recommend staying here, especially for their complimentary breakfast.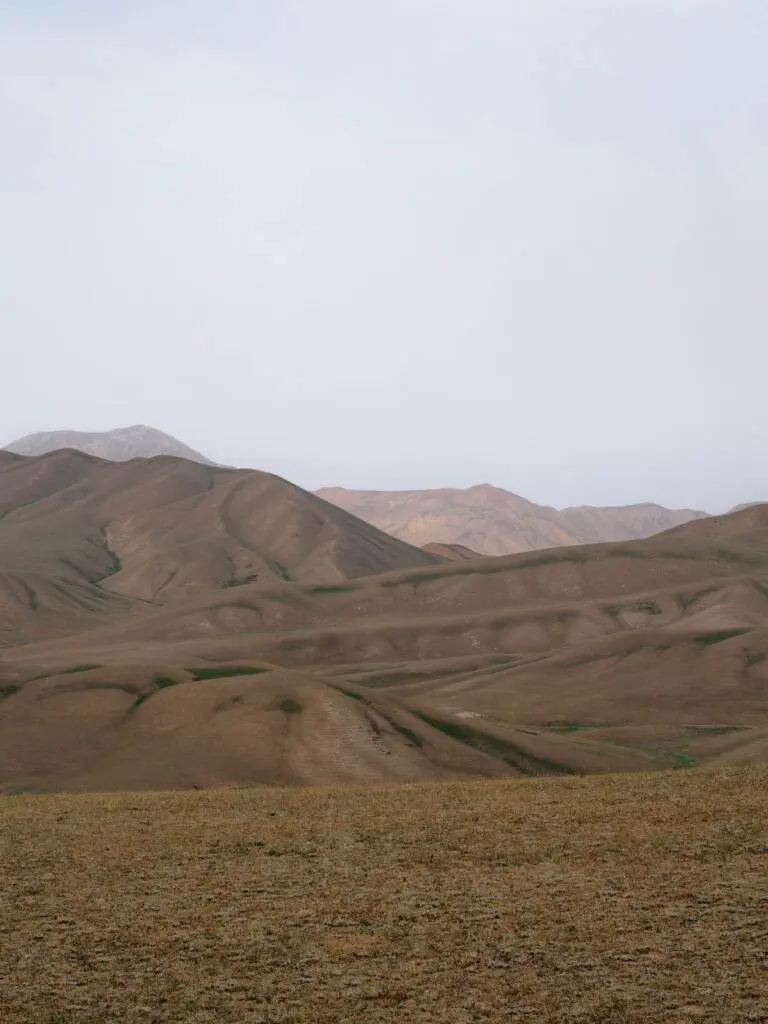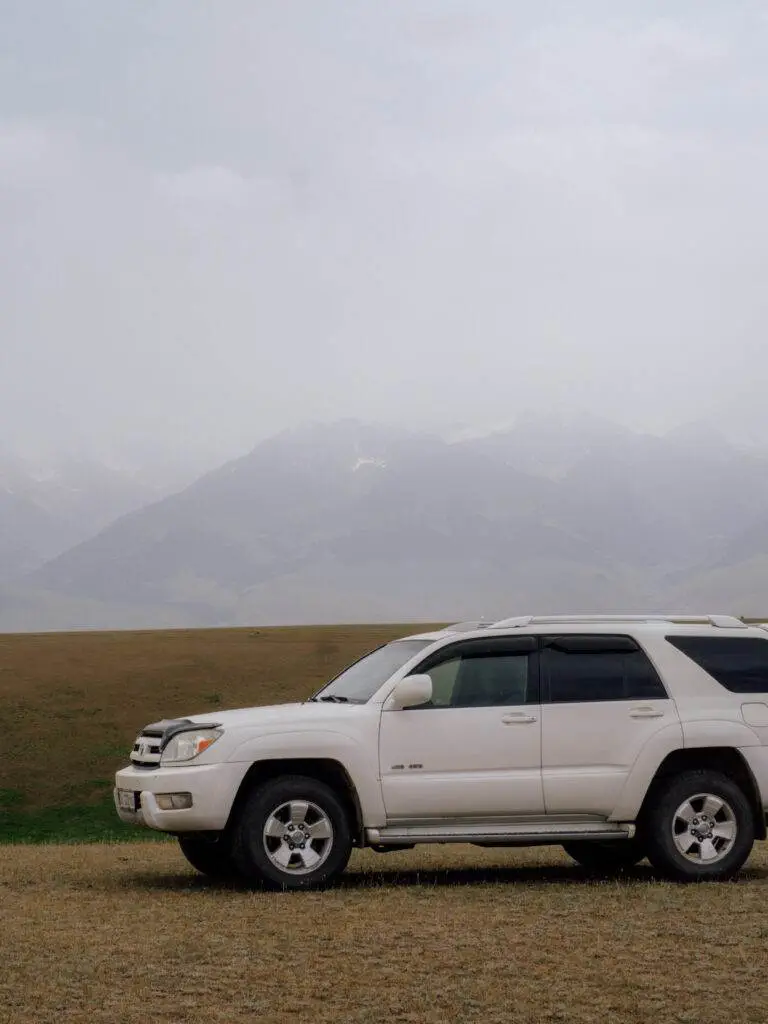 Tash Rabat is exactly what you think of when you think about Kyrgyzstan. Remote yurts in the middle of pure wilderness with soaring mountains surrounding. Tash Rabat is 3200m above sea level, located in the south of the country close to the Chinese border. This small settlement was another key location along the Silk Road and is a perfect addition to your two weeks in Kyrgyzstan.
From Naryn it's only a short drive to Tash Rabat, around an hour and a half. Like Jyrgalan you'll have to stock up on supplies beforehand, as Tash Rabat is only small settlements of yurt camps and nothing else, including no phone reception. You can either buy what you need in Naryn or drive through At-Bashi, which is a small town on the way that has some beautiful scenery surrounding. 
In Tash Rabat you can visit Stone Rabat, which is an incredibly well preserved caravanserai used during the 15th century on the Silk Road. To enter you have to pay a fee of 100 som (£0.90).
One of the best activities from the whole trip was the horse trek we did in Tash Rabat. This was organised through the yurt camp we stayed in and it cost 2000 som (£17). The horse trek takes around 5 hours and you visit a viewpoint 4000m above sea level. The viewpoint overlooks Chatyr Kol Lake, a lake close to the Chinese border. To visit this lake you have to have a pre organised permit as it's within 50km of the Chinese border, so doing this horse trek was the perfect way to see the Chatyr Kol without needing the permit. 
where to stay in tash rabat
We didn't book any accommodation prior to arriving in Tash Rabat. Once you arrive there are several different yurt camps along the one road that you can pick from that all offer very similar deals. We picked the second option along the road as it had the most 'functioning' looking toilet stalls (although don't expect more than just a hole in the ground).
The yurt camps cook you breakfast included in the price and you can pay an additional fee for lunch and dinner too.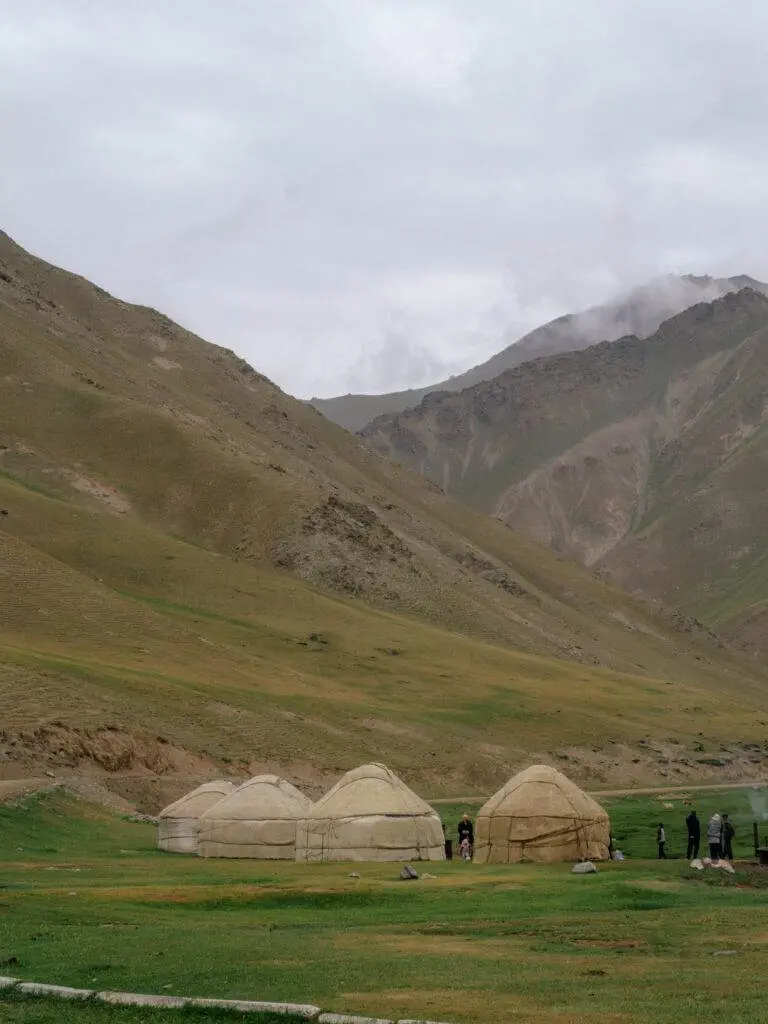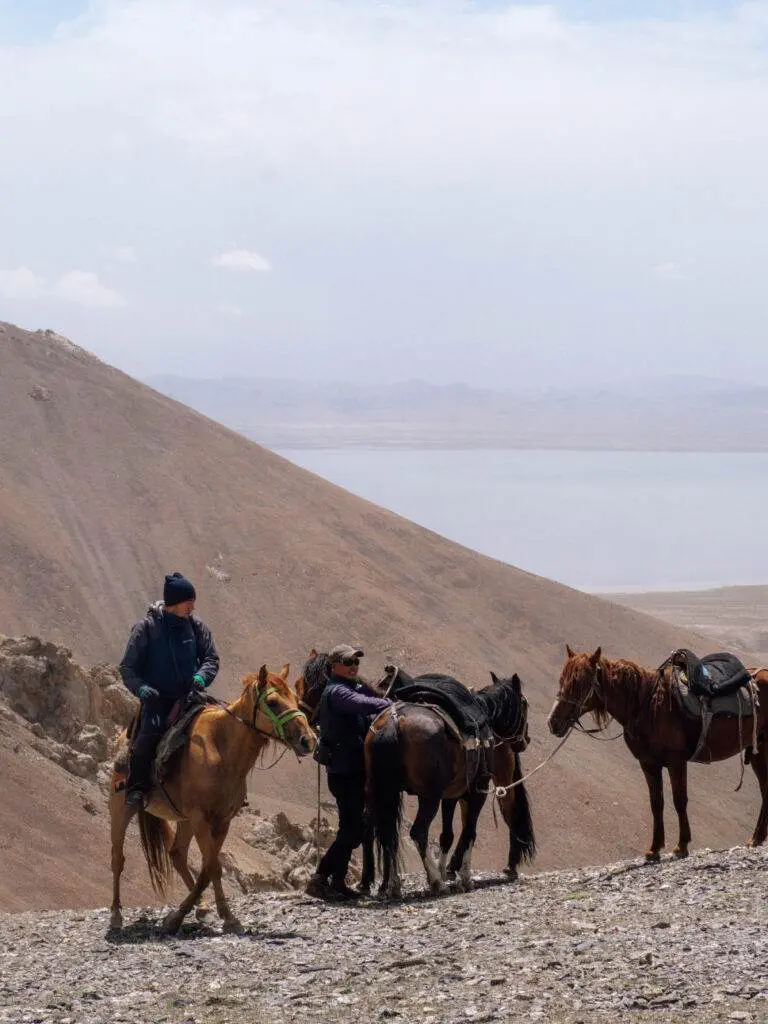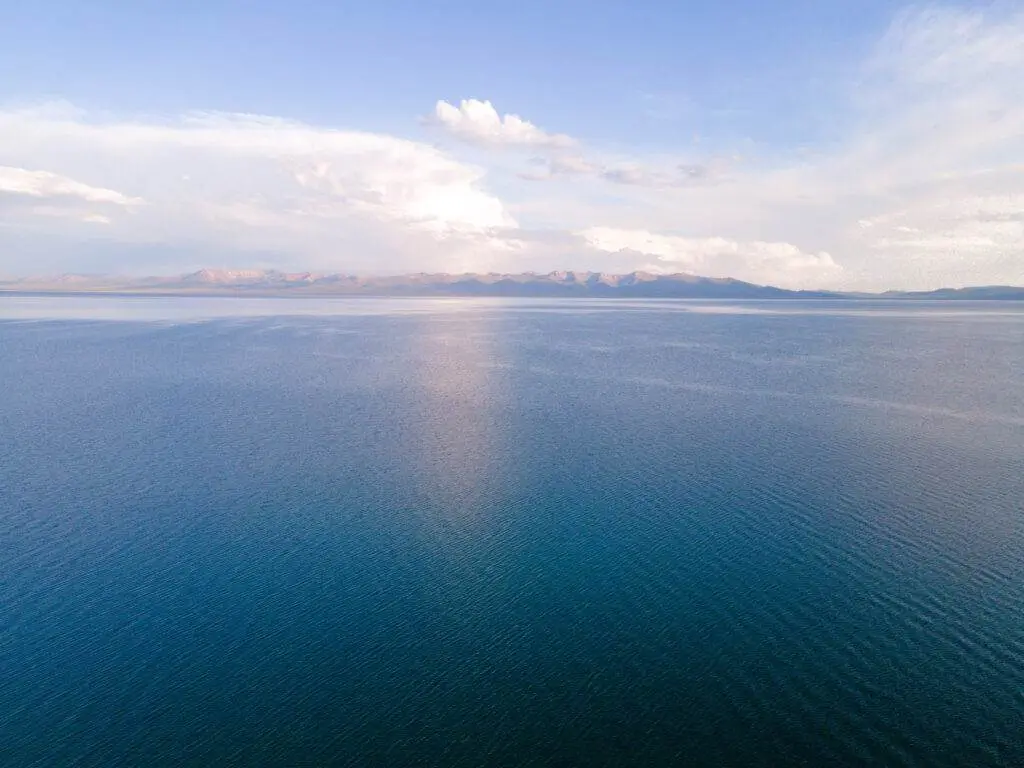 The final location on this perfect two week trip in Kyrgyzstan is Song Kul. This alpine lake is just over 3000m above sea level, with water as clear as glass. This was another one of my favourite stops on the trip. From Tash Rabat the drive is 4 hours, however, the road to Song Kul isn't very well made, so allow extra time. 
Although this is the final stop, it does not disappoint. Song Kul is completely detached from the rest of the world with no phone signal and the only accommodation options being family run yurt camps. The lake is the perfect place for walking/hiking, horse trekking or simply relaxing by the water. 
The terrain is relatively hilly but a great place to wander, passing more herds of wild horses and enjoying the views of the lake below. Alternatively, if you were looking at doing another horse trek, most yurt camps own their own horses so can organise a trek for you when you get there. 
where to stay in song kul
During my time in Song Kul I stayed at Yurt Camp Azamat. This camp was my favourite accommodation from the whole trip and the family who ran the camp was unbelievably welcoming and helpful. The yurts were comfortable, the food the family cooked was delicious and they had a proper functioning toilet rather than a squat toilet. There is also a shower facility you can use which other yurt camps don't have. 
At the end of your trip you can choose to spend one night back in Bishkek before departing Kyrgyzstan. The drive from Song Kul back to Bishkek takes a while as the road to Song Kul is incredibly mountainous and not very well made. The drive is around 5 hours, but it's best to leave more time for the poor roads and traffic coming back into Bishkek. 
If you don't have a flight till the evening, you may choose to stay an additional night in Song Kul rather than back in Bishkek. An additional day would leave you more time for an all day horse trek or taking your car and driving further around the lake.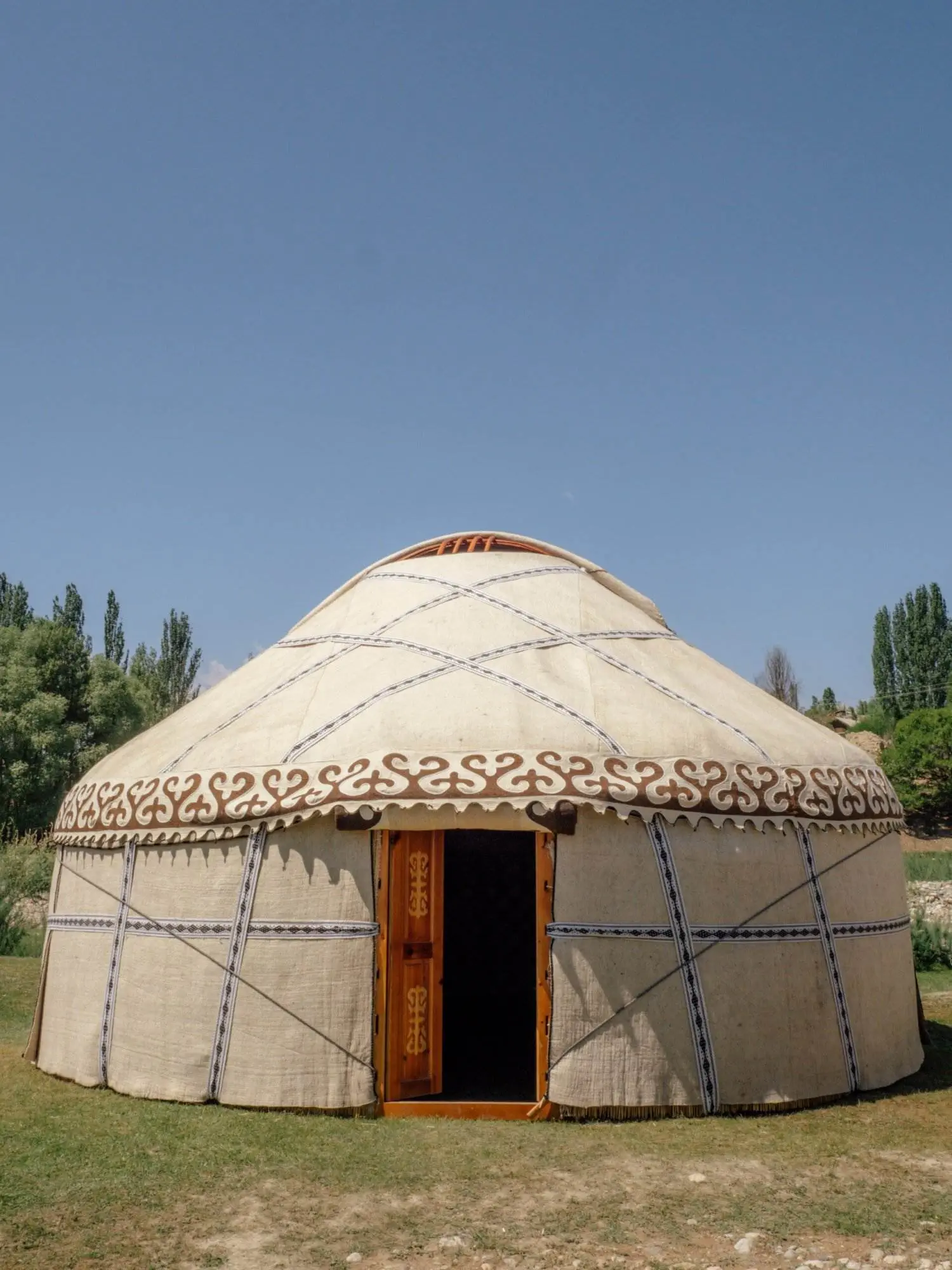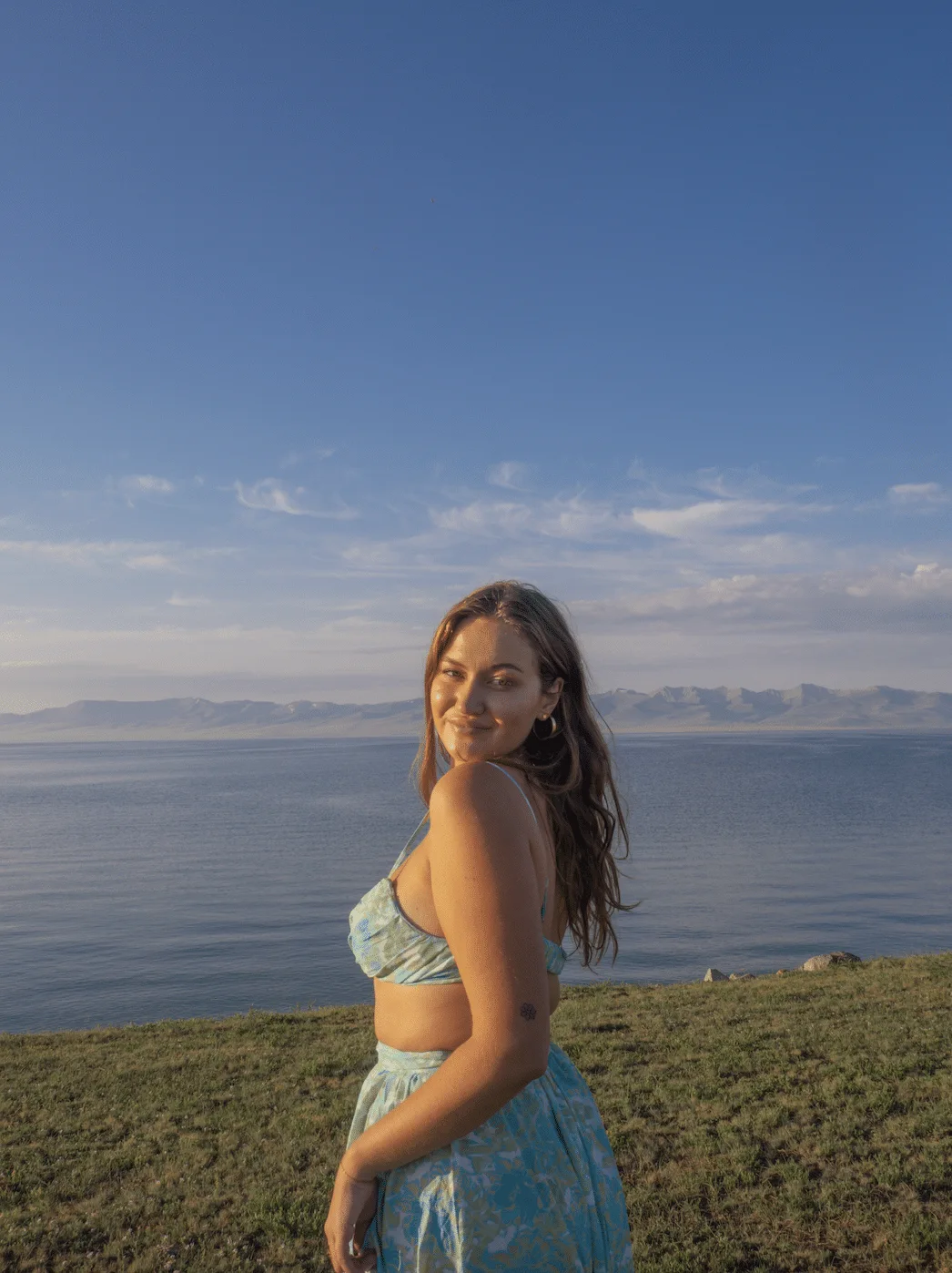 Kyrgyzstan completely blew me away with its untouched landscapes and unique culture. There is so much to see packed in to this tiny country, however this perfect two week itinerary gives you an opportunity to scratch the surface and see some of the best bits within those days. The snowcapped mountains, rolling hills, roaming horses and soaring eagles couldn't have been more perfect for this trip.