*this post contains affiliate links, which means if you purchase anything through the links provided I will receive a commission at no extra cost to you!
Mostar is an absolute gem tucked away in the Balkans. As the most popular and touristy city in Bosnia and Herzegovina, it's definitely busy, but for good reason. The city packs so much charm, with a mix of Ottoman and Austro-Hungarian influence,  Mostar has a lot to discover. With a population of only 100,000, the city is walkable, safe for tourists and incredibly quaint, making it the perfect spot for a few nights away. 
To fully discover Mostar and surrounding areas you only need a couple of days, as the old town is very compact and easy to see in a few hours. Whether you're looking for history, scenery or the unique sights Bosnia and Herzegovina has to offer, these 20 unmissable things to do in Mostar will fill out your Mostar itinerary beautifully!
The currency of Bosnia and Herzegovina is Bosnian Marks, however a lot of places also accept Euro and will show prices in Euros.
Bosnia and Herzegovina is an affordable country, and you can expect to spend around €35 – €55 per day in the city. For a restaurant meal out you can expect to pay between €8 – €15, Bosnian coffee is €2 – €3 and accommodation is between €10 – €25 per night.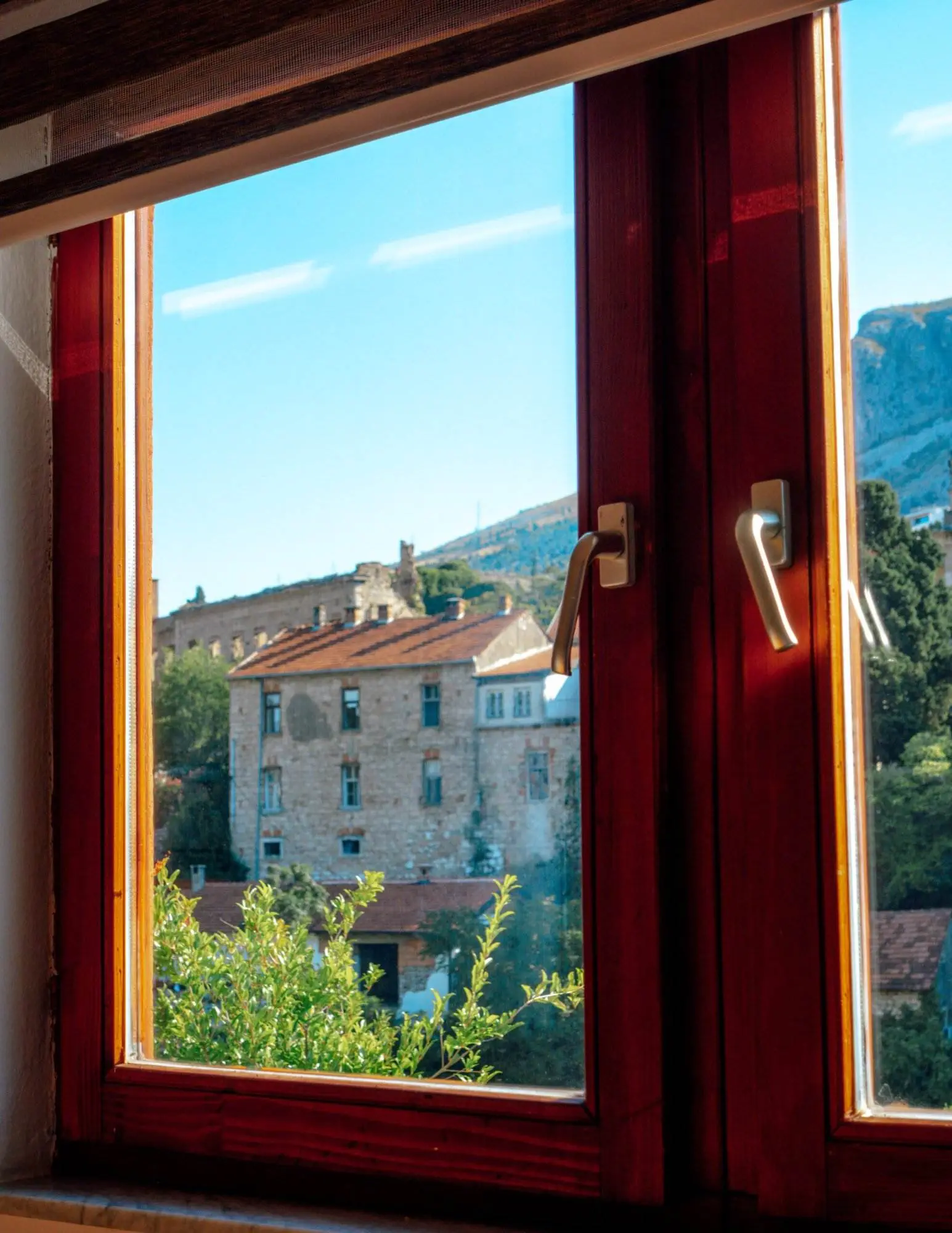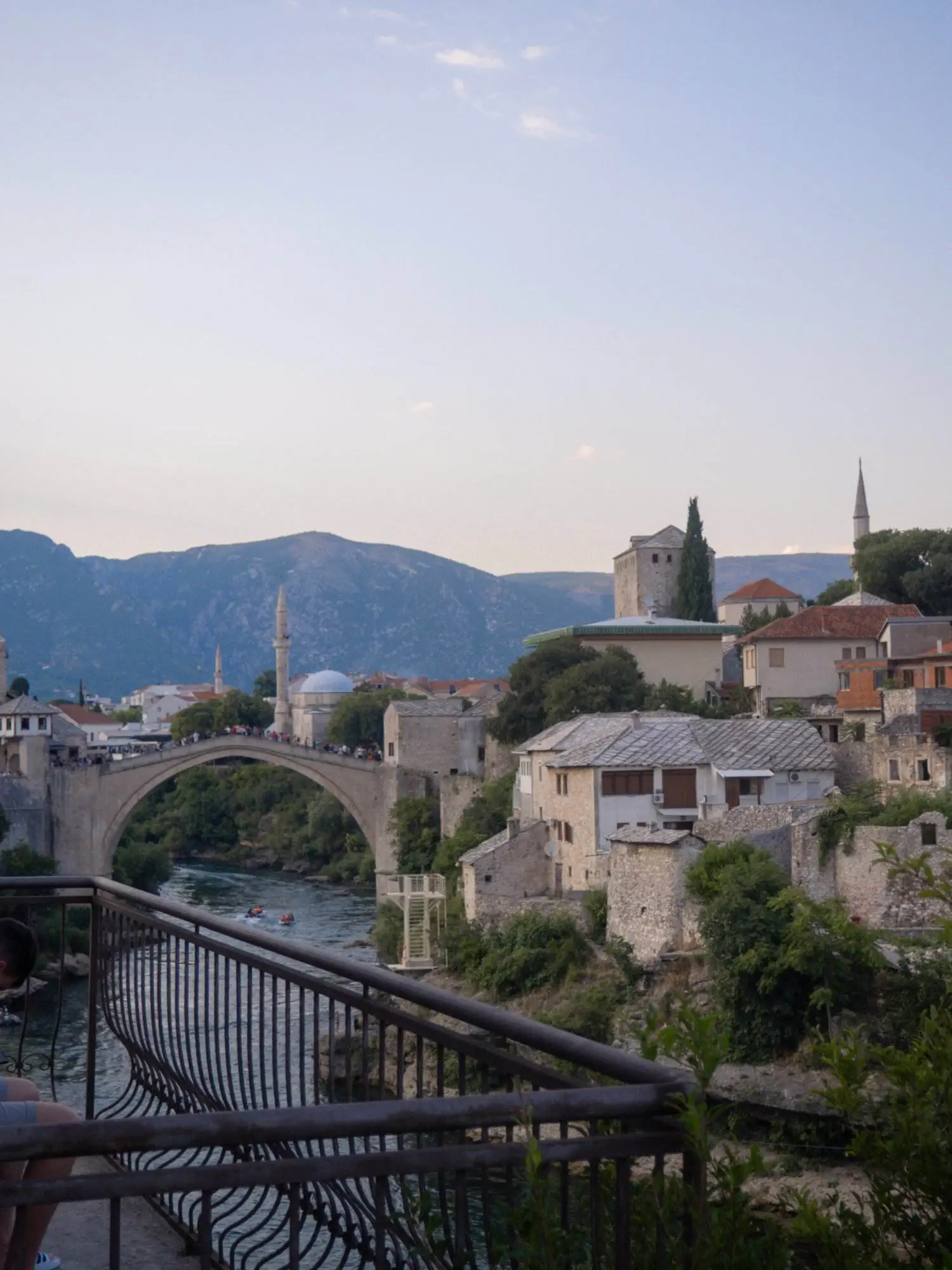 There are two options I would recommend, and I absolutely loved both. First is Goa guesthouse. This beautiful guesthouse overlooks the Neretva River and Mostar Bridge. Considering the incredible location, a 5 minute walk from the Old Town, and the great view, I paid £25 a night. The accommodation was relatively basic with a shared bathroom, but the rooms were spacious and comfortable, plus the guesthouse offered breakfast. For such an incredible view and warm hospitality, I definitely think this spot made my trip to Mostar really special.
Book your stay at Goa Guesthouse here 
The second choice is Nina hostel. This hostel is family run and opened in 2004, so they definitely know what they are doing. There is a really lovely host that makes you feel right at home, and the Grandmother cooks free breakfast every morning. The best part about this hostel is their day tour. It takes you to all the best spots in Herzegovina, including Kravice Waterfalls, Počitelj and Object Buna (an abandoned aircraft hangar used in the Bosnian war). The tour price is €40 and covers many of the unmissable things to do in Bosnia. I paid £25 for a private room with a shared bathroom, and the room was comfortable with everything you need. 
THE 'AURA' LIGHTROOM MOBILE PRESET COLLECTION
Transform your photos with the perfect preset (filter) collection
UNMISSABLE THINGS TO DO IN BOSNIA & HERZEGOVINA
The shining symbol of Mostar is Old Bridge, also known as Mostar Bridge or Stari Most. The bridge is a rebuilt 16th century Ottoman bridge that stands 29m above Neretva River. The bridge is 25m tall and provides great photo opportunities. When you're in Mostar you also can't miss watching the local men jump from the bridge, which happens throughout the day when they collect €50 donations.
2. koski mehmed pasha mosque
If you're wanting incredible views of the bridge and Old Town, Koski Mehmed Pasha Mosque has unbelievable views you can't miss. To enter the mosque costs €4, however, you definitely can't skip out on the minaret, which costs €7. The views over the city are absolutely breathtaking and it's the perfect photo spot.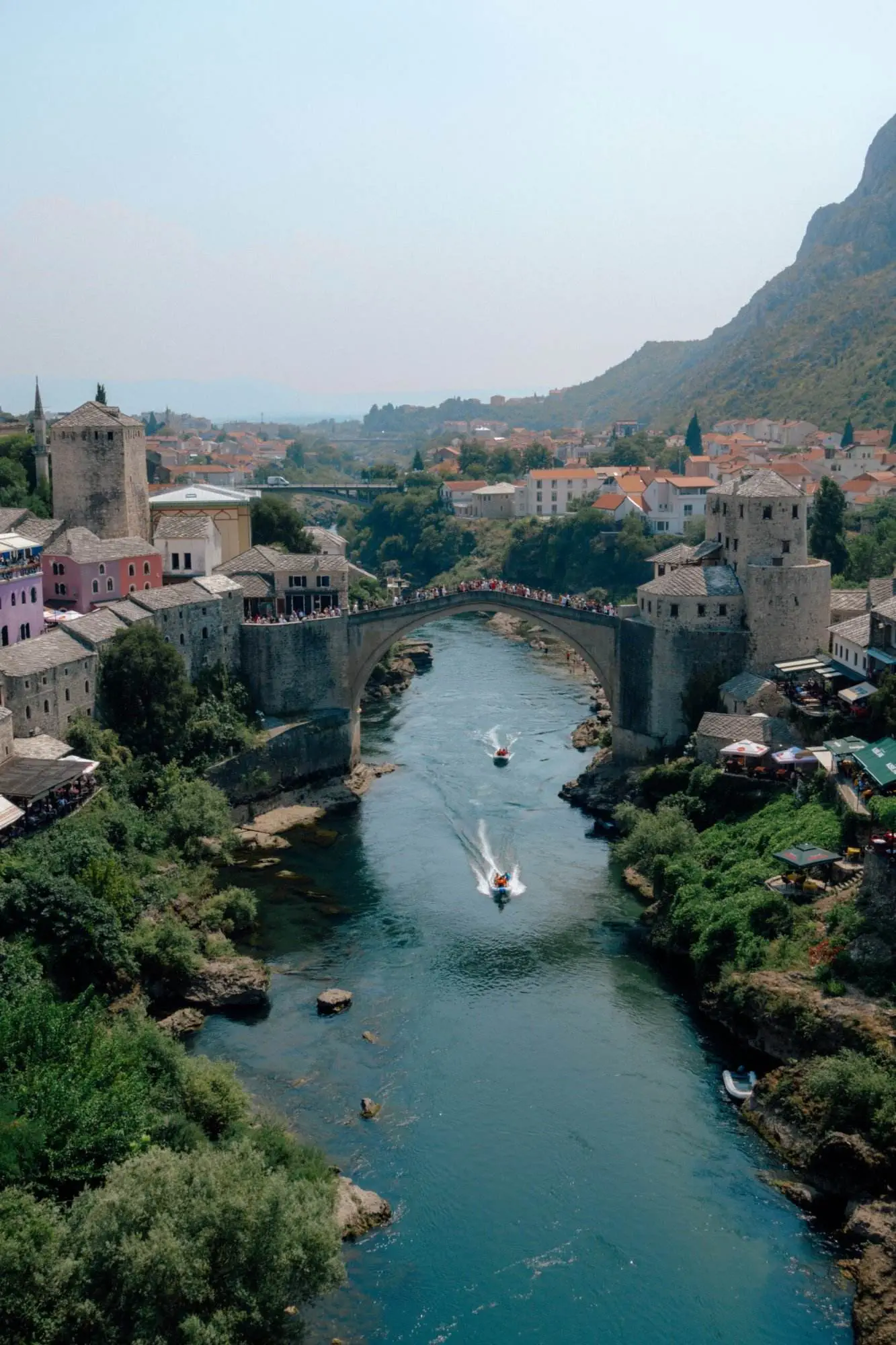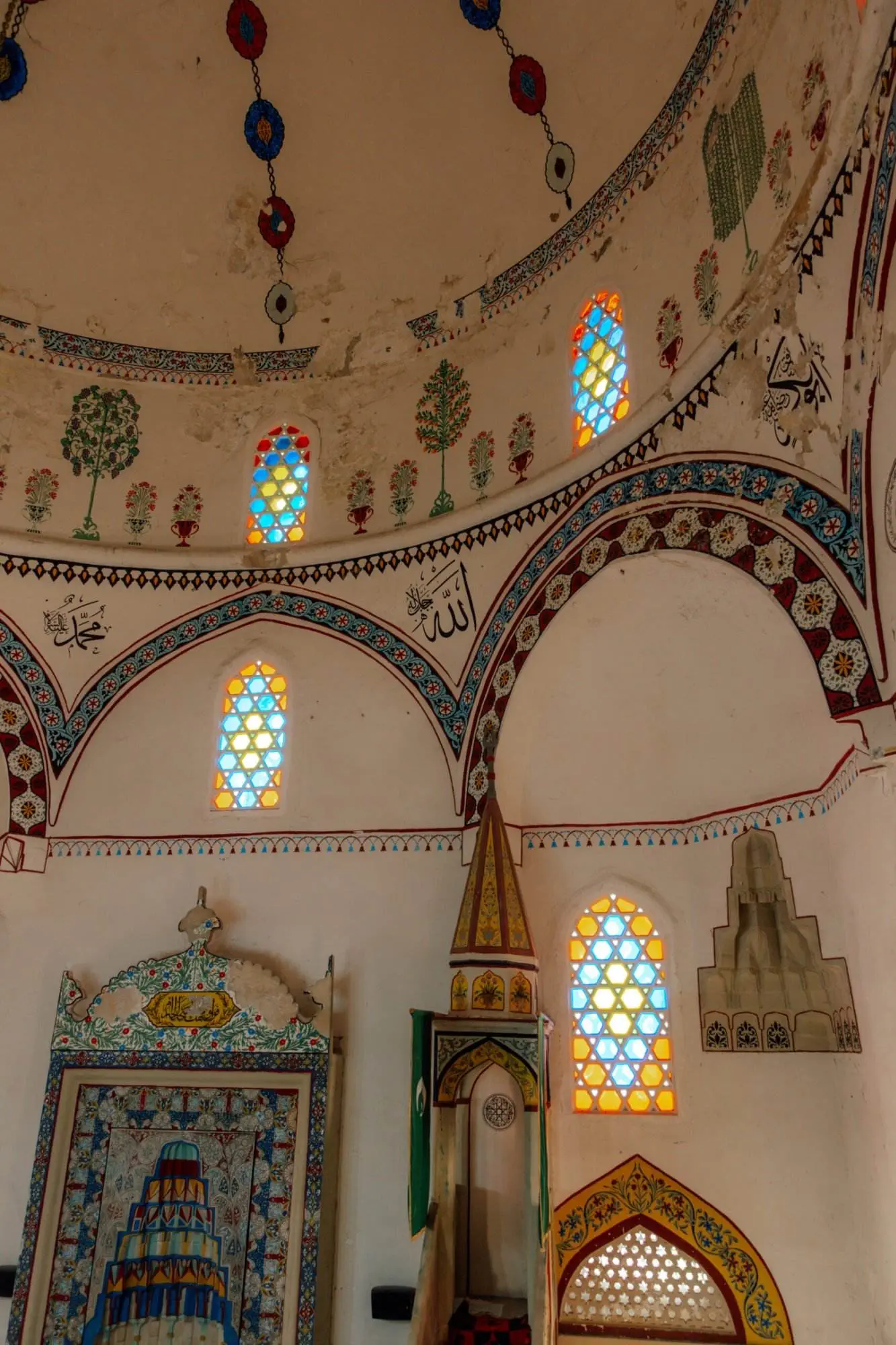 Another breathtaking spot just outside of Mostar is Blagaj. This small village sits on the river Buna and has a mix of Ottoman and Mediterranean influences. Blagaj is namely famous for its Tekke Dervish House, which dates back to as early as the 15th century. Even now you can watch Dervish Dhikr and Zikr praise-chanting at Tekke, although you have to arrange this before your visit via their website. 
It is free to walk around Blagaj, however, if you're interested in entering Dervish house tickets cost 10 BAM (€5). 
Another common thing to do while at Blagaj is to drink the fresh water from Buna River. The water is nearly at the source of the spring, so is safe to drink and you can find everyone dipping their bottles or hands into the water for a sip.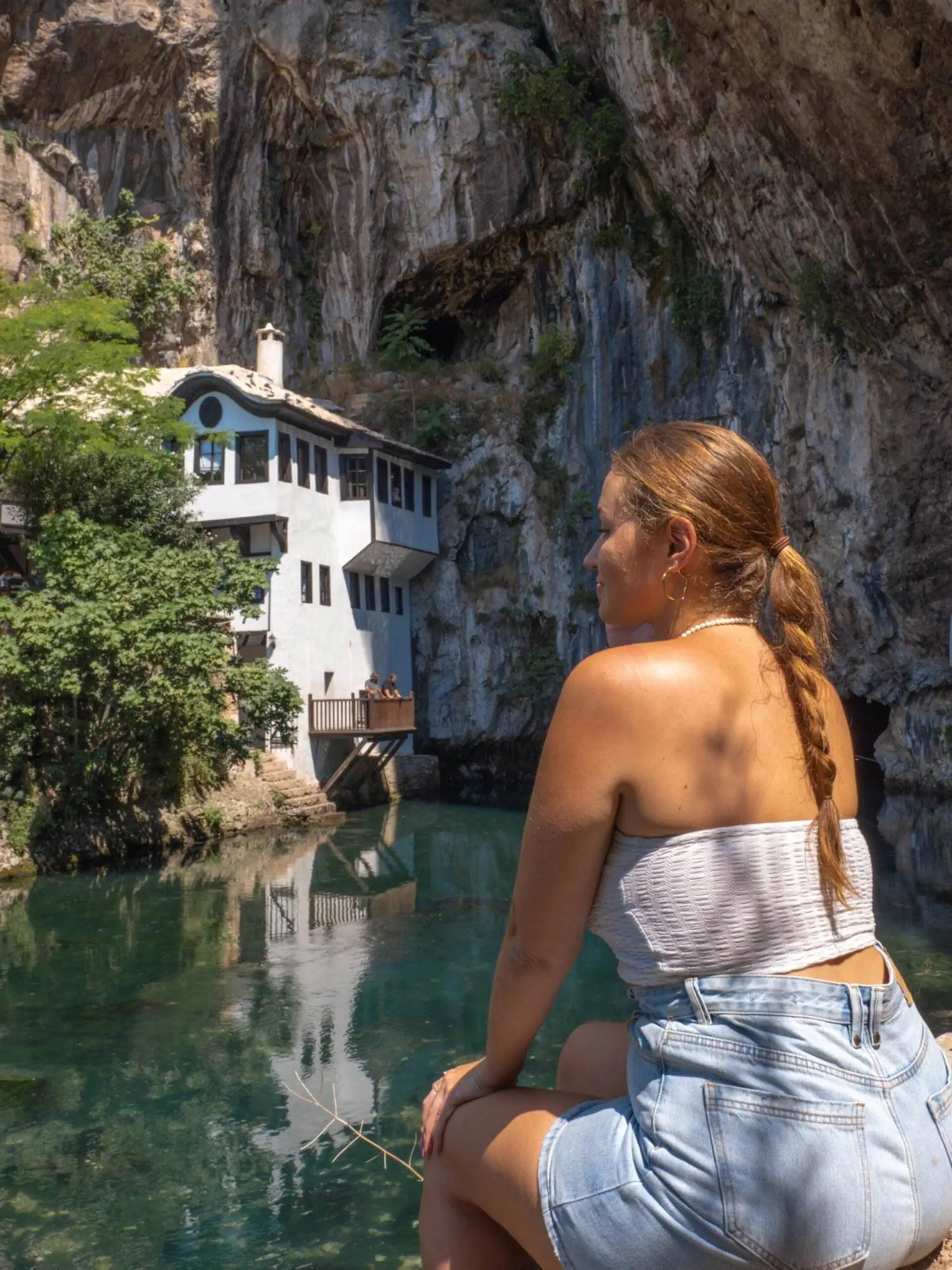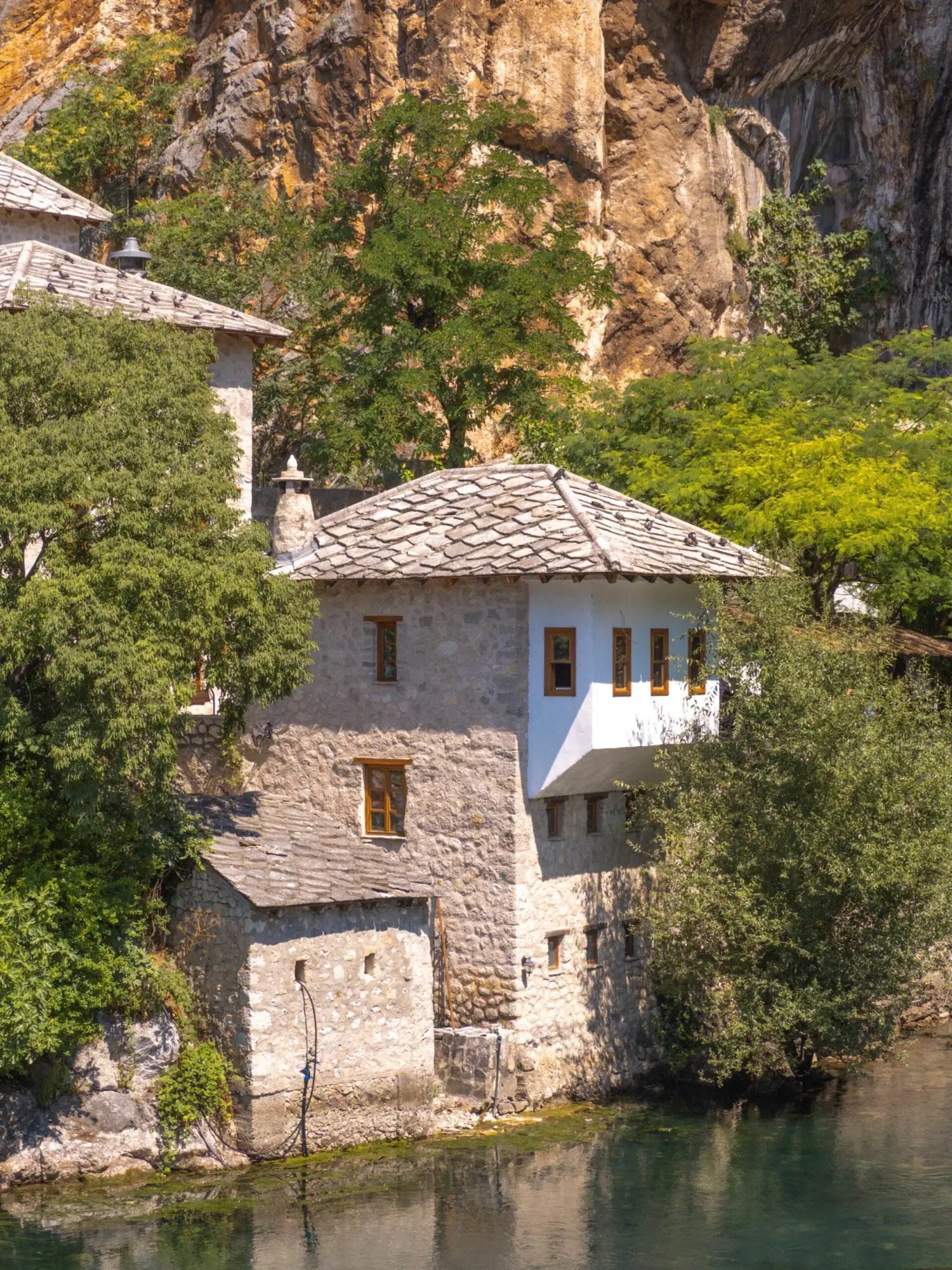 One of the best spots to eat in Mostar is Urban cafe. This cafe hosts some of the best views directly over the Bridge and Old Town, as well as delicious food. I came here for both breakfast and lunch and definitely wasn't disappointed. I particularly recommend visiting for breakfast as they serve a typical Ottoman breakfast, including: fresh breads, cheeses, eggs, pastries and fruit. This platter costs 20 BAM (€10) and can be for one or shared between two for a lighter breakfast, just make sure to get there early to avoid waiting and to get a table with a great view.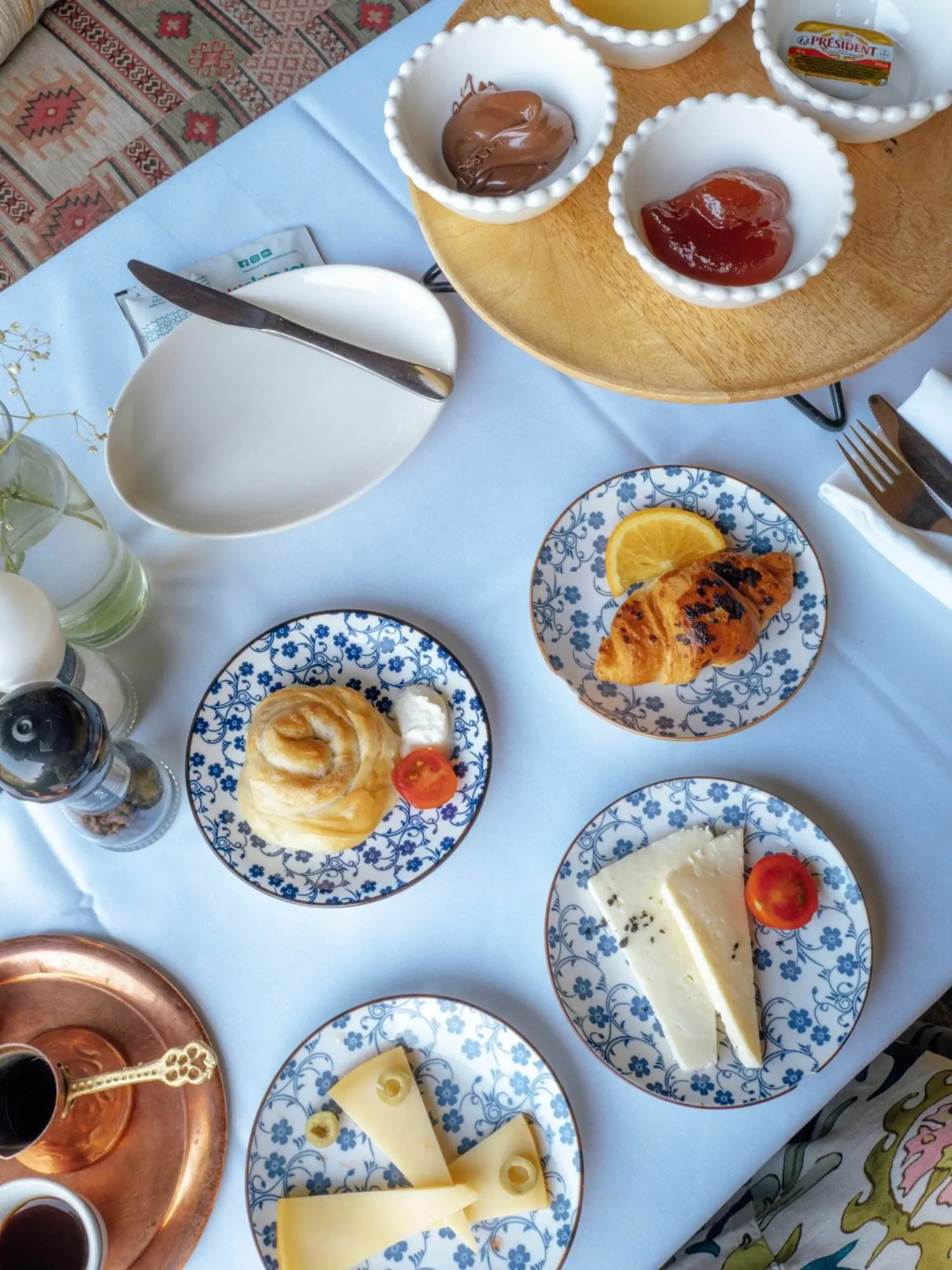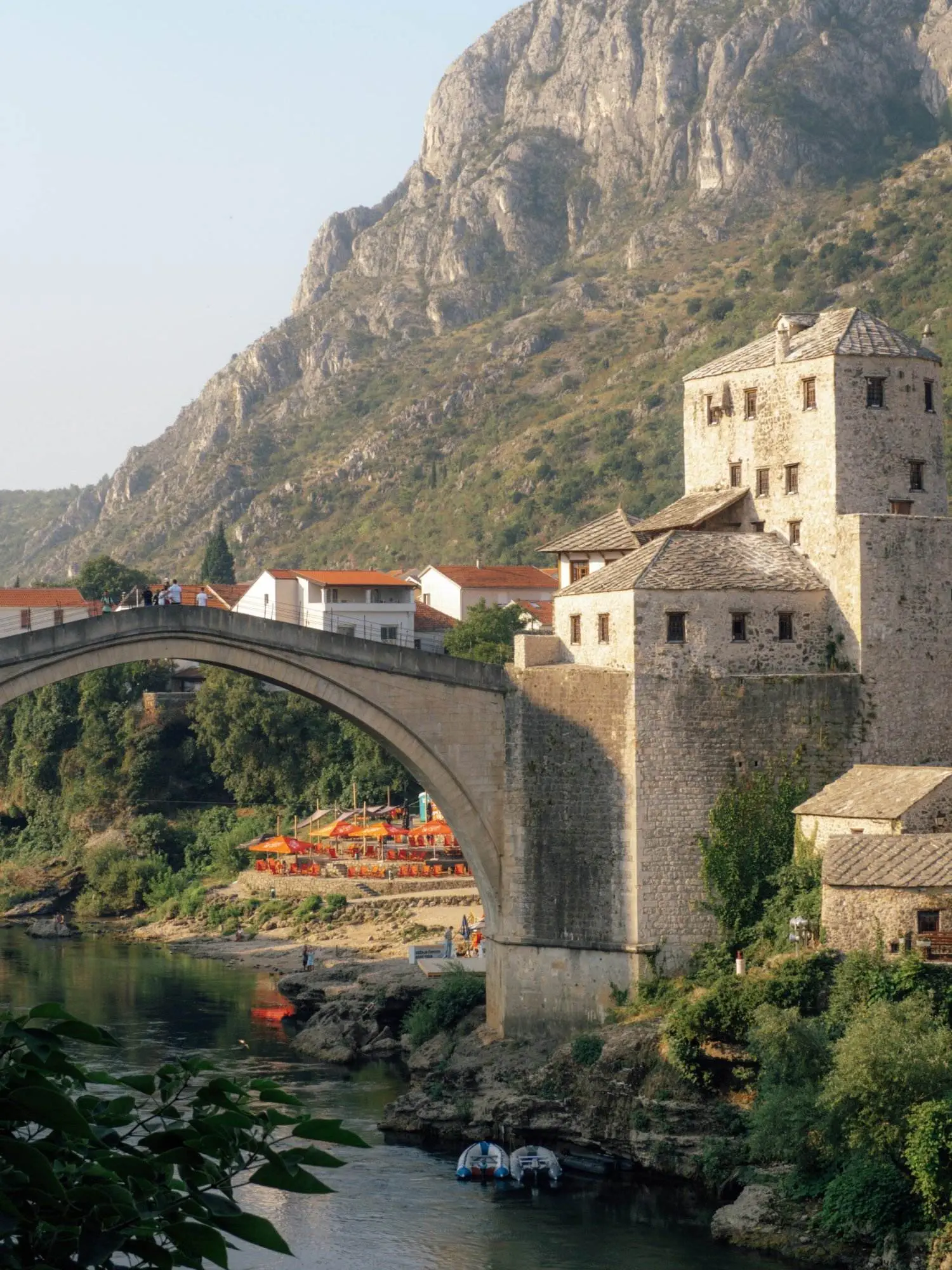 Bosnia has such a dense history and to fully grasp it's complex past join a walking tour. There are a few different free ones you can join, however, the one that is highly recommended by everyone in Mostar is the free walking tour with Sheva. The tour is around 3 hours, so fairly long, however, he is one of the best walking tour guides you will come across. In the summer there are two tours daily, one in the morning and one in the evening, and during winter/off season there is one tour daily. You can find out everything you need to know here and where to book. 
All coffee lovers will love Alma Cafe and it is a must for when you're in Mostar. The cafe hosts coffee demonstrations of how to make Bosnian coffee and it's a lovely place to sit and enjoy a cup or two. The cafe is tucked away down a small alley, so it's a great place to escape and relax.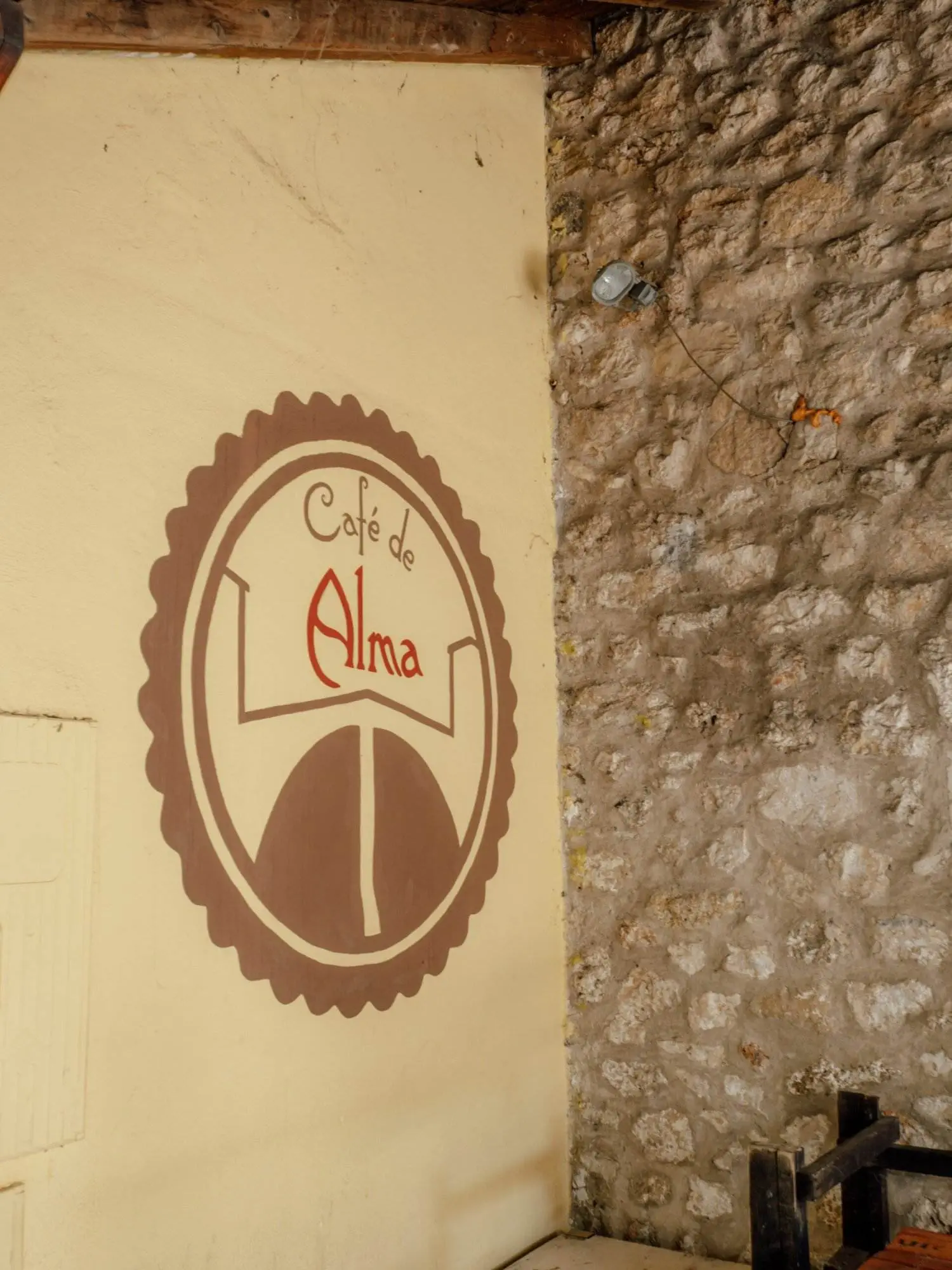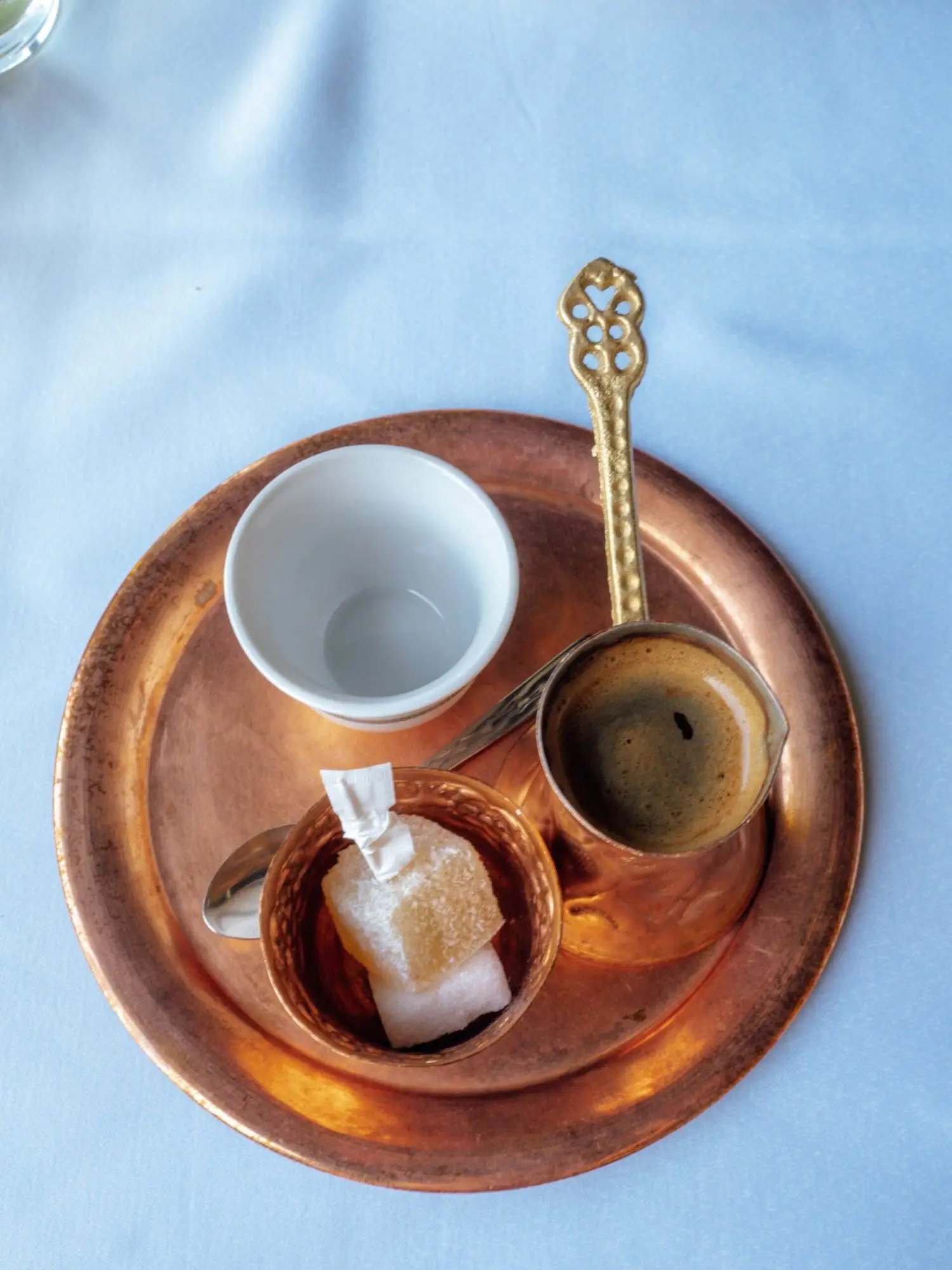 Located around 40 minutes away from Mostar is Kracive Waterfalls. One of the most beautiful things to do when you're in Mostar is visit Kracive, which is a national park with lush greenery and 20m waterfalls cascading down around you. These waterfalls are open to swim in and offer the most refreshing cold water, which is perfect for the hot summer days in Mostar. The scenery looks similar to Plitvice Lakes in Croatia, which is just as beautiful, however, you can't swim, so a great option when you're in the Balkans.
The entrance to the waterfalls cost €10/20 marks. Inside there are a few restaurants and stalls, so it's a great place to spend the entire day, or you can join a Herzegovina day trip. It is not possible to get here via public transport, so the only options are to rent a car, or taxi or to join a day tour.
8. ottoman premium delight
Bosnia and Herzegovina holds a strong Ottoman influence, and because of that, you can find baklava and Turkish delight pretty much everywhere! Ottoman Premium Delight is a great spot that has a good selection, however, you definitely need to try baklava with Turkish ice cream, it's the ultimate combination. 
Built during the Bosnian war, Object Buna is an old aircraft Hangar that now sits abandoned. The Hangar is completely dark and very eerie, but opts for a good spot to explore, definitely go in a group if you're a bit scared! 
It's free to enter and there is an entrance where you can park your car, or if you fancy doing it in a group then Nina hostel takes you here as a part of their day tour. You can find the location on the map here.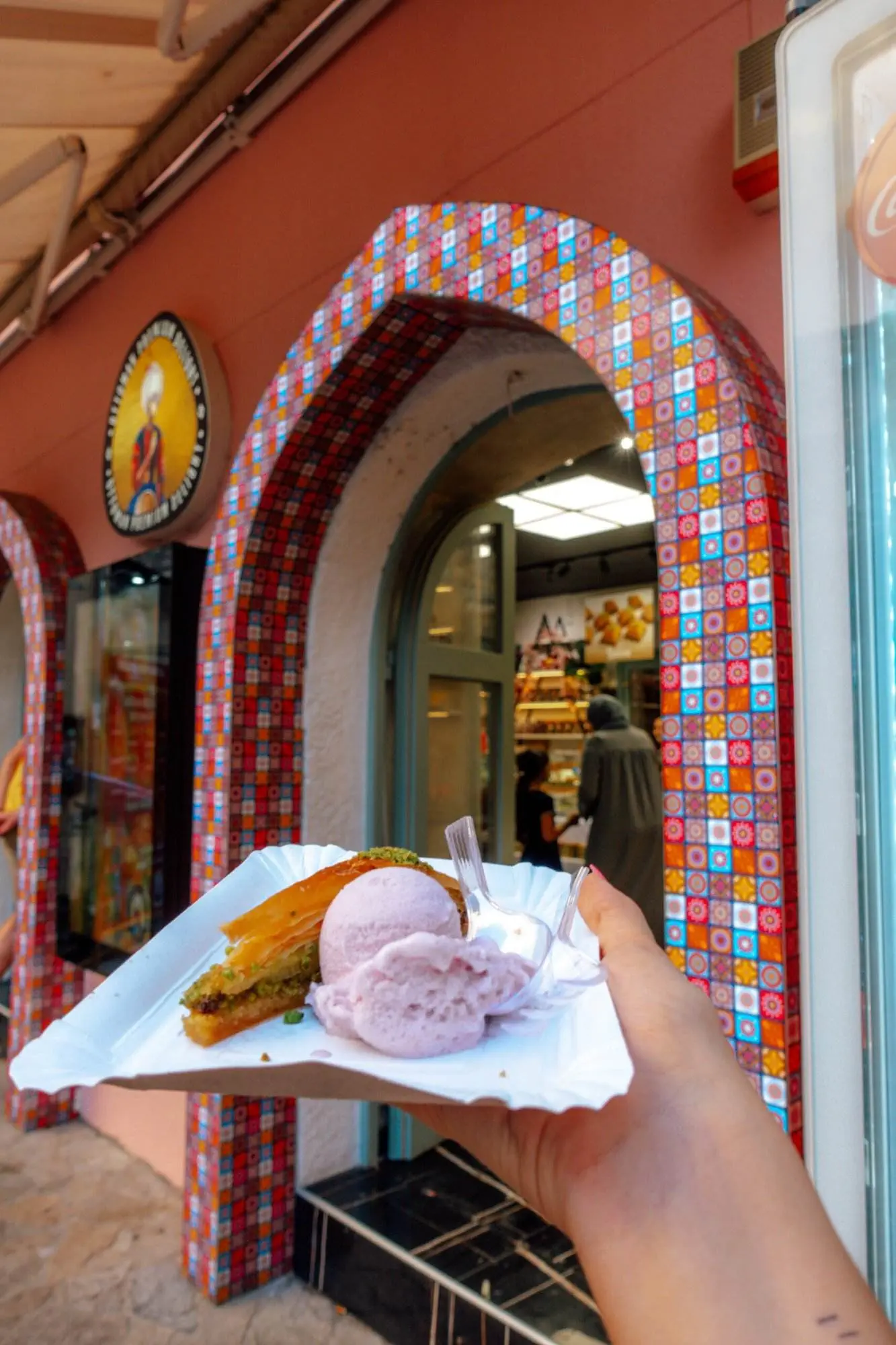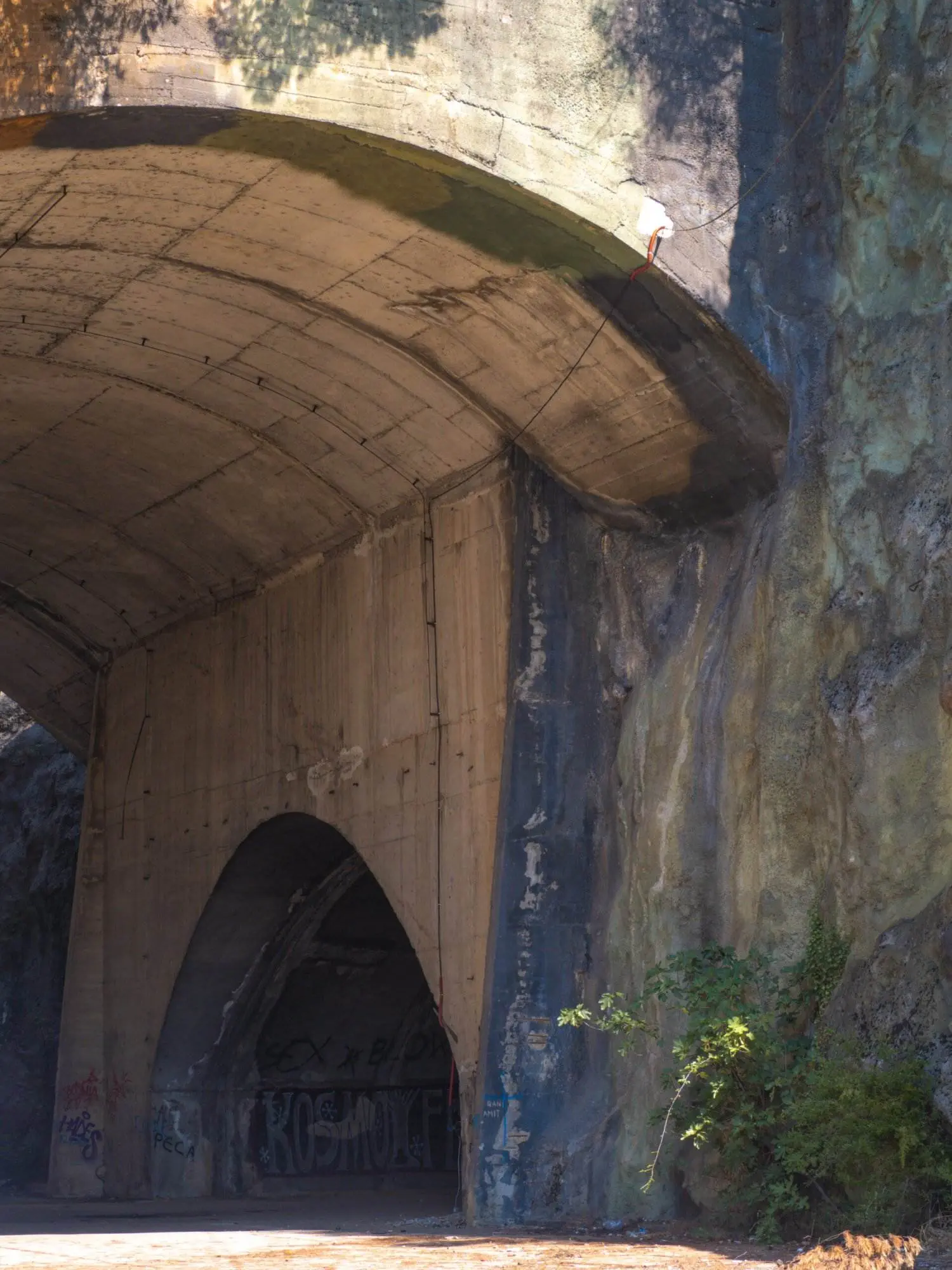 Počitelj is a historic settlement 20 minutes outside the centre of Mostar and is an open air museum dating back to the 15th century. This little village is a great place to explore, make sure to visit Šišman Ibrahim-immersed Mosque (tickets are €1.50) and climb the fortress for views over Počitelj. 
Here you can also find ladies selling fresh homegrown pomegranate juice, which is a refreshing treat during the hot days! There is also a little restaurant and stalls you can look through. To get to Počitelj you can join a day tour, self drive or catch the bus, you can find more info on this Wander-Lush blog post here.
For a great view over the city then you need to visit Fortica. The skywalk gives you panoramic views over the entire city and surrounding mountains, which look great from above. It's free to visit and you can either drive or if you're up for it, hike! The hike is around an hour and a half each way and is pretty steep, so don't forget water. 
At the top, you can find the skywalk along with a restaurant and a zipline which spans 570m long.
The Sniper Tower is an old Yugoslavian bank that never opened due to the Bosnian war. The building complex was used as a sniper location during the war and now is abandoned. The building hosts some cool graffiti and you can climb to the rooftop for a great view over the whole city. 
There is no official route into the building, but there are a few ways to climb over the wall and then there is a staircase you can use. Just be careful on the rooftop as there is no railings. 
13. museum of war and genocide
Bosnia's history is intricate and complicated, with such a recent genocide in the 1990s. Visiting the Museum of War and Genocide is a great way to gather some context about the recent war and the fall of Yugoslavia. The ticket costs 15 Bosnian marks (€7). 
Crooked Bridge is only a couple minute walk away from Mostar Bridge and is a miniature version of the city's famous monument. This spot in Mostar tends to be a lot less busy and is a nice place to sit with a gelato or walkthrough, plus they bring out tables in the evening so you can stand and have a drink right next to the bridge. 
One of the oldest streets in the city is Kujundžuša Street. You can find this street adjacent to Mostar Bridge, and here is a great spot for photos as well as souvenir shopping. A lot of the shops sell copper Bosnian coffee tea sets and lovely hand painted artwork, which are lovely to look through or take home as memories!
16. bosnian cooking class
Have you ever wondered what Bosnian food is like? Well definitely embark on a Bosnian cooking class to see what kind of cuisine is popular in the area. The class is around 2 and a half/three hours and you get three dishes included, namely the famous 'Bosnian pie', also known as Burek, which is a common dish throughout the Balkans.  
Another great way to see the city is by the water. Along Neretva River you can ride a speed boat up and down the river, which shows great views of Mostar Bridge and the surrounding Old Town. 
For 4 people it costs €20 or €5 each for a 10 minute ride. To book this experience you can head down to the riverside right by the Mostar Bridge and book on the spot. 
Another great spot for shopping is the Old Bazaar. The Bazaar is tucked away from the hustle and bustle of the main crowds and dates back to the 16th century, situated in one of the oldest parts of the city. 
Here you can find similar products to Kujundžuša Street, as well as some lavender products that smell incredible! A lovely souvenir to bring home from Mostar. 
19. try your luck jumping
While you may not want to try your luck with the 25m jump, there are some smaller jumping platforms you can try out if you're feeling brave, or just go for a quick dip in the river. The jumping platforms range in height but the highest are 8m and 12m, so definitely achievable for the average person!
The best spot in town for classic Bosnian coffee as well as a great spot for people watching directly over Mostar Bridge is Najstariji Kafić. Visited by the like of King Charles, this spot directly overlooks the Old Town and Neretva River and it's one of the best spots in the city to relax. A Bosnian coffee costs 4 BAM (€2), plus they offer baklava and Turkish delight too.