Italy, a country renowned for its rich history, delectable cuisine, and unparalleled beauty, holds a special place in the hearts of travellers worldwide. Northern Italy, nestled at the crossroads of Europe, offers a mosaic of diverse landscapes, culture, and history that can't be missed on your next trip. In this Northern Italy travel guide and itinerary I will share the perfect route and some of the best things you can do during your time.
From the intricate architecture of the Duomo in Florence, delectable food choices of Bologna, cruising along the waters of Lake Como and getting lost in the alleys of Venice, this itinerary is a great introduction to Italy's North.
5 DESTINATIONS 
12 – 14 DAYS
FLORENCE (3 NIGHTS)
BOLOGNA (2 NIGHTS)
MILAN (1 – 2 NIGHTS)
LAKE COMO (2 – 3 NIGHTS)
VERONA (2 NIGHTS)
VENICE (2 NIGHTS)
The cities included in this northern Italy travel guide and itinerary ranged in terms of daily budget. The cheapest places were Bologna, Turin and parts of Lake Como (namely Como town), while Venice and Milan are known to be notoriously expensive. Accommodation is fairly expensive in Italy, and for hostels you can expect to pay between €40 – €60 per night, while hotels are more like €60+ a night. 
Fortunately, you have a bit more of a range when it comes to food choices, starting from the cheap (but always very tasty) grab-and-go options like focaccerias, bakeries or pizza places which can start prices off between €5 – €10. For a sit down restaurant meal prices range between €20 – €35 in most of the major cities included on this northern Italy itinerary. 
Public transport is very affordable in Italy and the cheapest journeys range from €5 – €25. Definitely check Trainline for the best options throughout the day! 
On average, including activities and food, you should have a daily budget of €50 – €70 spending money for your time in Italy. 
how to get around northern italy
Italy's train system is among one of the best in Europe and getting around via train is a great option. Trainline is a great website/app that I recommend using to book your trains beforehand, it's also great for other countries within Europe. Typically buying the train ticket prior saves the hassle of trying to find the machine or ticket desk at the station, and it also helps with trip planning and saving money (booking in advance is always recommended so you can find the cheapest prices for trains throughout the day).
It's important to note there are 2 main train companies that run in Italy, Trenitalia and Italiarail. Both of them have red logos with green and white accents, which I found quite confusing, so in the event that you need to book a ticket at the station or collect a ticket from the ticket machine, make sure you're looking for the right company!
An alternative to train travel is buses. Flixbus is the most commonly used bus company within Europe and they offer plenty of different routes within Italy for affordable prices. These journeys take a little longer than trains, however, you can save some money by doing the budget option! 
Car rental is the final option for getting around northern Italy. Typically rental prices are between €30 – €60 per day depending on the season and vehicle, so it's a much more expensive option compared to the first two, however, it gives complete freedom with the itinerary. 
Car rental isn't really needed for the large Italian cities because the public transport system is so good, although if discovering some of the more rural parts of the country is of interest then getting a car is a great option.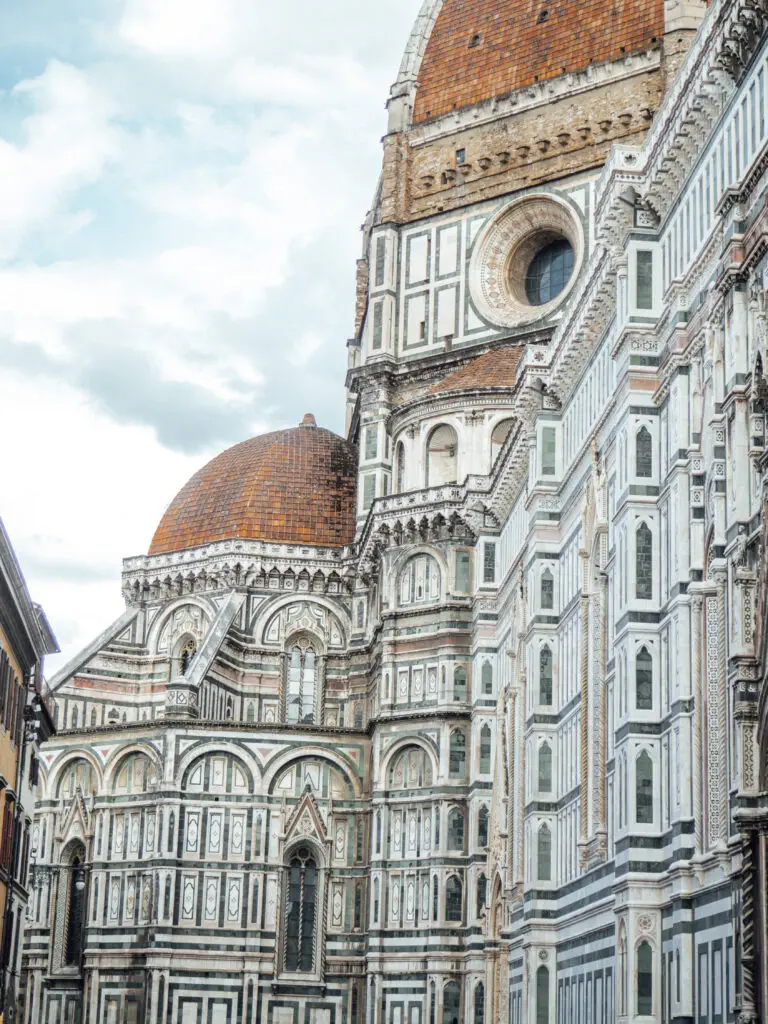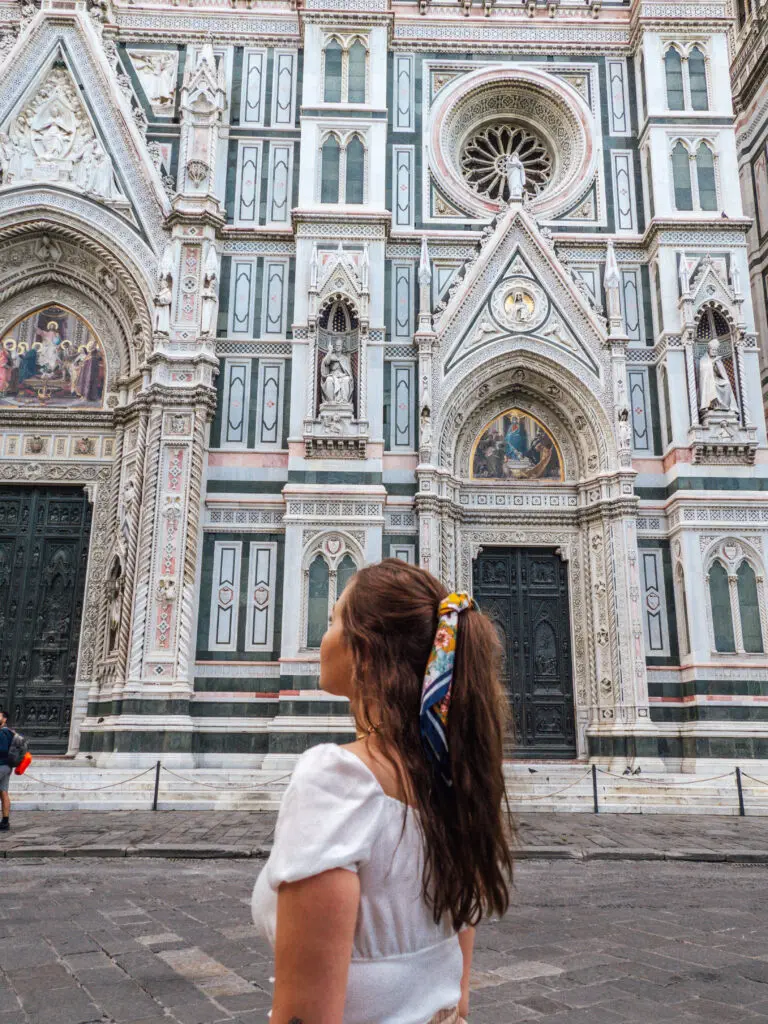 To start this northern Italy travel guide and itinerary, Florence is the perfect city to begin your trip. As the capital city of the Tuscany region, it is home to many masterpieces of Renaissance art and marvels of architecture. In Florence, you can not only find iconic sights like Michelangelo's David, The Birth of Venus, and The Last Supper, but the city is a hub of great food spots, viewpoints and activities. 
Florence is a large city with a lot of ground to cover, and you need a minimum of two days to even scratch the surface of activities and food. While Tuscany's capital is home to a lot of galleries, if art isn't really for you the city provides a lot of other activities that you can't miss.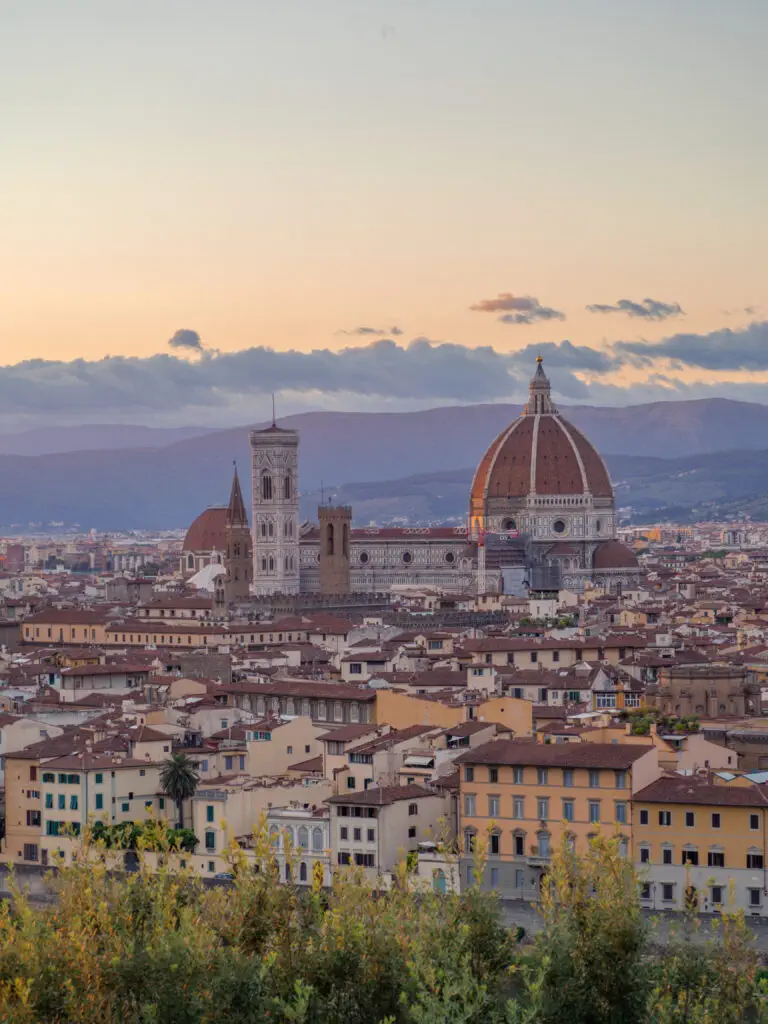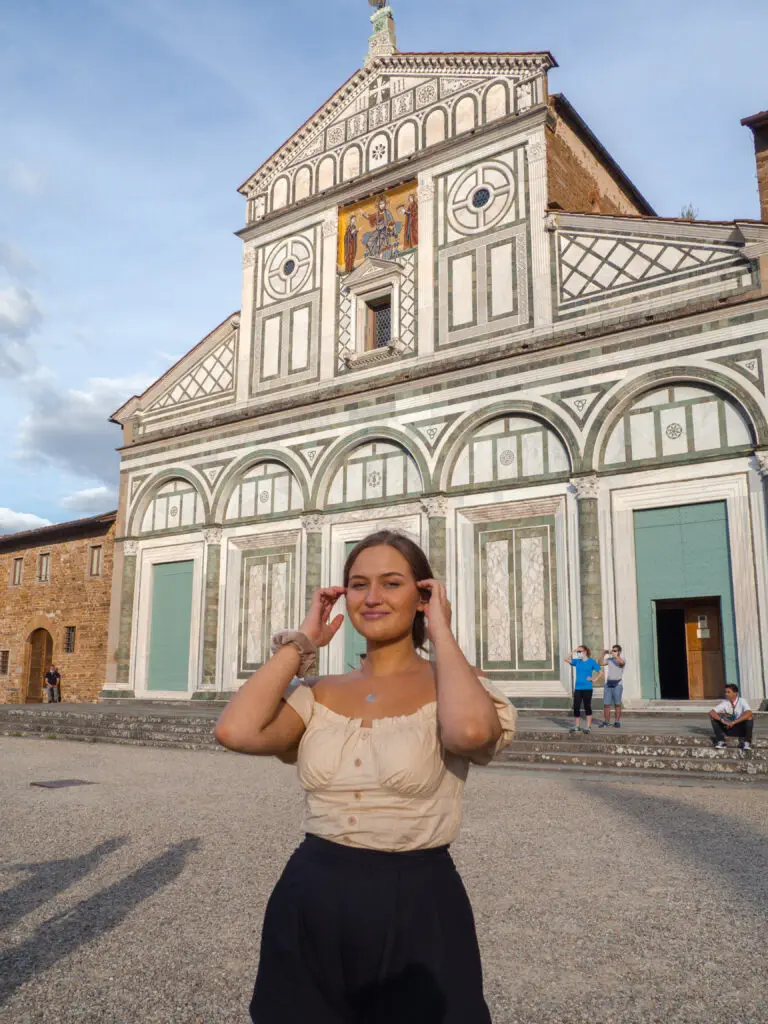 CATHEDRAL OF SANTA MARIA DEL FIORE
The heart of Florence is the Cathedral of Santa Maria del Fiore. Completed in the 15th century, the Cathedral's dome is the largest brick dome ever built and reaches a height of 144m. Florence's Cathedral can be spotted across the city and is one of the highlights to explore during your visit.
The Duomo and exterior of the Cathedral are free to explore, however, I encourage you to venture inside to see the grandeur of the interior and climb the Bell Tower. Tickets sell out quickly during peak season, so it's best to buy a slot beforehand. It also saves you from waiting in the queue.
Get your cathedral tickets here (unguided)
Get your cathedral tickets here with a guide, including Brunelleschi's Dome, Giotto's Bell Tower and Baptistery
PONTE VECCHIO 
Ponte Vecchio is not only the oldest bridge in Florence but the oldest stone bridge in Europe, with the first traces of the bridge dating back as early as the Romans. While the bridge has been destroyed throughout its time due to floods, it's the only bridge in Florence that remained intact after WWII during the bombings. Now, Ponte Vecchio is now a marketplace where you can shop for trinkets and souvenirs.
PIAZZALE MICHELANGELO 
For the best view over Florence, Piazzale Michelangelo needs to be on your itinerary. This lookout is situated in the Oltrarno district of the city around a 30 minute walk from the Duomo and every evening at sunset crowds of people gather to watch the city turn orange and pink. With live music, food stalls and a few places to sit, it's the perfect place to watch Florence light up.
SAN MINIATO AL MONTE
Sat at the top of one of the highest points of the city is San Miniato al Monte, one of Florence's Basilicas. It has been described as one of the finest Romanesque structures in Tuscany as well as one of the most scenic churches in the country. From the church you can get a full panoramic view of Florence, which is especially beautiful in the afternoon light. The church officially closes at 7 pm but they close the gates slightly earlier so people can't enter after around 6/6:30 pm. It's only a few minutes walk from Piazzale Michelangelo, so these can be done together. 
PASTA AND GELATO MAKING CLASS
Learn how to make fresh pasta and homemade gelato at this hands on cooking class. The class takes 3 hours, as you're guided through step by step by a qualified chef with a tasting at the end. A unique and very fun experience to try out while in one of Italy's food capitals. Check out the experience here. 
WINE TASTING
Enjoy all that Tuscany has to offer with this wine tasting excursion into the heart of the Tuscan countryside. On this tour visit two authentic wineries and try some of the local wines, along with cheeses, olive oils and balsamic vinegars. The experience is around 5/6 hours and you sample 7 different wines. Check out the Tuscany wine tasting tour I recommend here (the best seller!).
WALKING TOUR
A walking tour is always a good way to orient yourself around a city. I love doing walking tours to get a brief overview of the history and to see what places I'd like to revisit in my own time. GuruWalk hosts free walking tours in Florence and all other major cities, you can check out what Florence walking tours they have on offer here.
If you want to do your own walking tour, see Visit Florence's 3 self guided walking itineraries you can do.
UFFIZI GALLERY
Discover one of the world's greatest art galleries and see masterpieces like Botticelli's 'Birth of Venus'  and others by Michelangelo along with other masters of Italian Renaissance. It's best to buy a ticket beforehand so you can skip the line into Uffizi.
ACCADEMIA GALLERY
Another gallery to add to your Florence itinerary is the Academia Gallery. Here you can see the world famous David, along with Venus and Cupid and the Abduction of Sabine Woman. Tickets for the Academia Gallery sell out in advance so you can grab your tickets online here.
WINE WINDOWS
In Florence, there are 149 ancient wine holes to be found. These little windows are hidden in Florence's walls around the city and here you can order wine or Aperol through the window, only to be delivered by a mystery hand.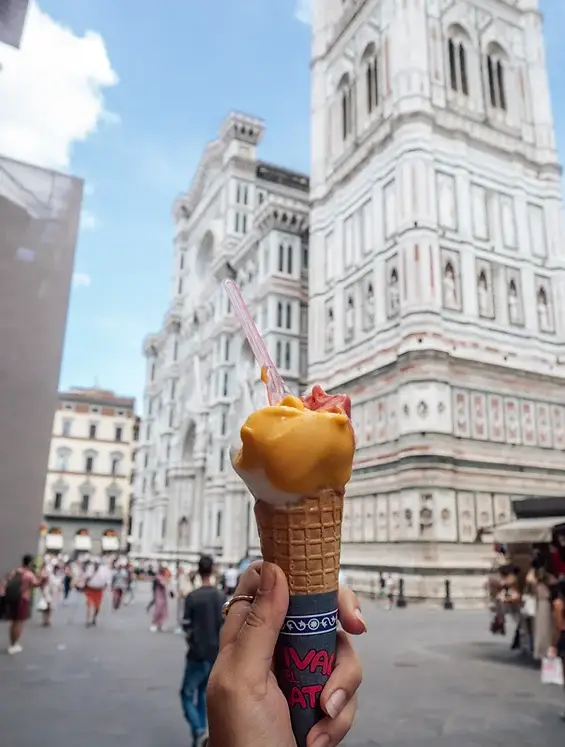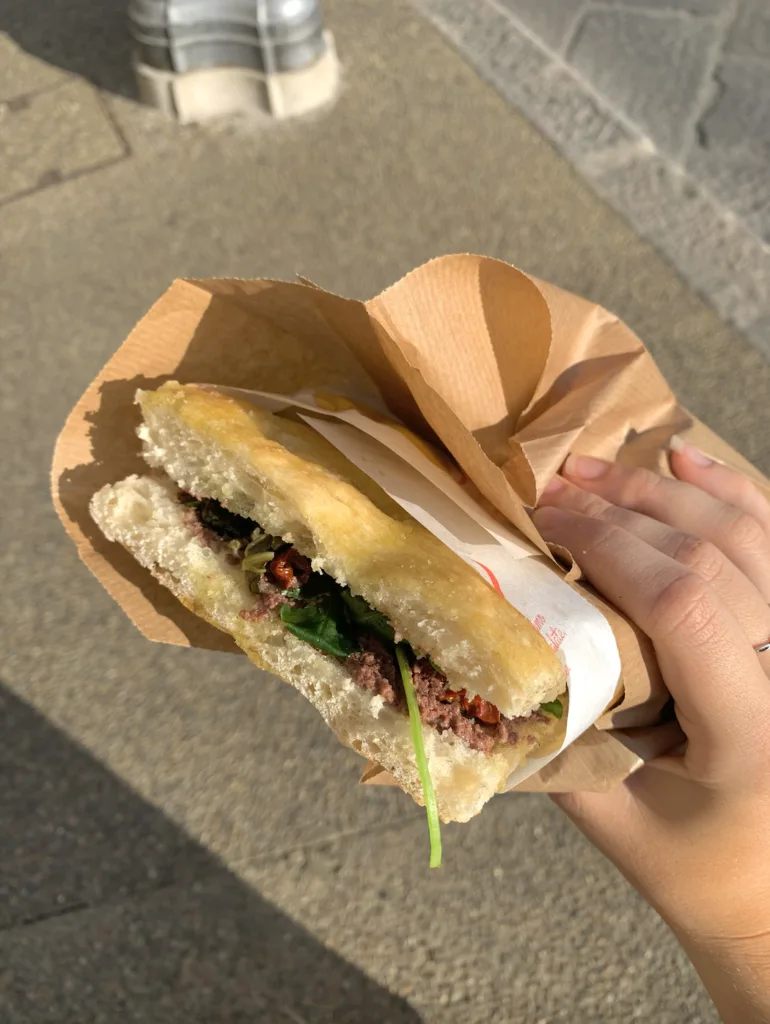 Italy is a haven for foodies, and Florence is no exception. There are so many options at all different price ranges, here are some of the best spots in the city. 
IL GELATO DI FILO
This is by far one of the best gelato spots on the whole trip. Located right near Piazzo Michelangelo, this little hole in the wall shop is as authentic as they come. I went for peach and dark chocolate and could have definitely gone for seconds… and thirds. 
FESTIVAL DEL GELATO
Another great gelato shop is Festival del Gelato, which is right near Duomo. It's a little more touristy but offers a great variety of flavours, with a whole section of non dairy/vegan options. 
VECCHIO FORNO
This little bakery is a little out of the centre but has some of the best bakery goods in Florence. Plus it's incredibly cheap! 
FORNO GASTRONOMIA SOPR'ARNO
Located across Arno River towards Piazzale Michelangelo and very close to Ponte Vecchio, this gastronomia does not disappoint. With a good range of options, including veggie/vegan choices, I opted for focaccia with leafy greens, olive tapenade, grilled veggies and fresh, crunchy bread, I was close to going back for seconds!
MISTER PIZZA
Although located right in the heart of the Duomo, Mister Pizza has very reasonable prices and tasty options. You can sit right by Florence's Cathedral while enjoying a deliciously fresh pizza for €9.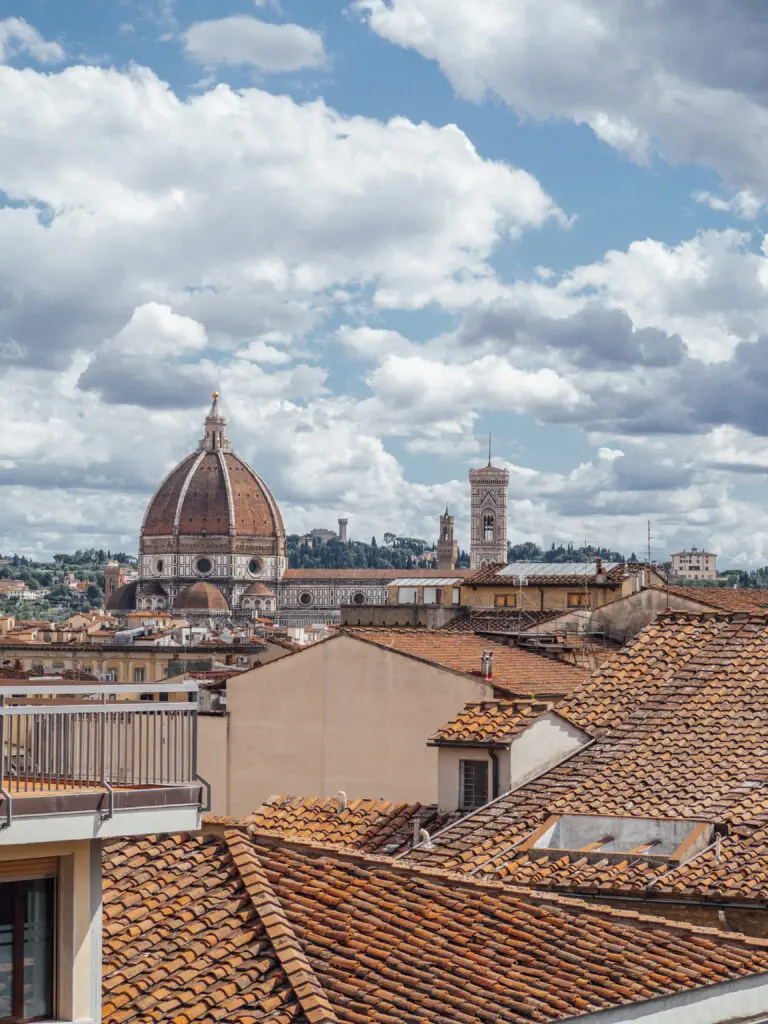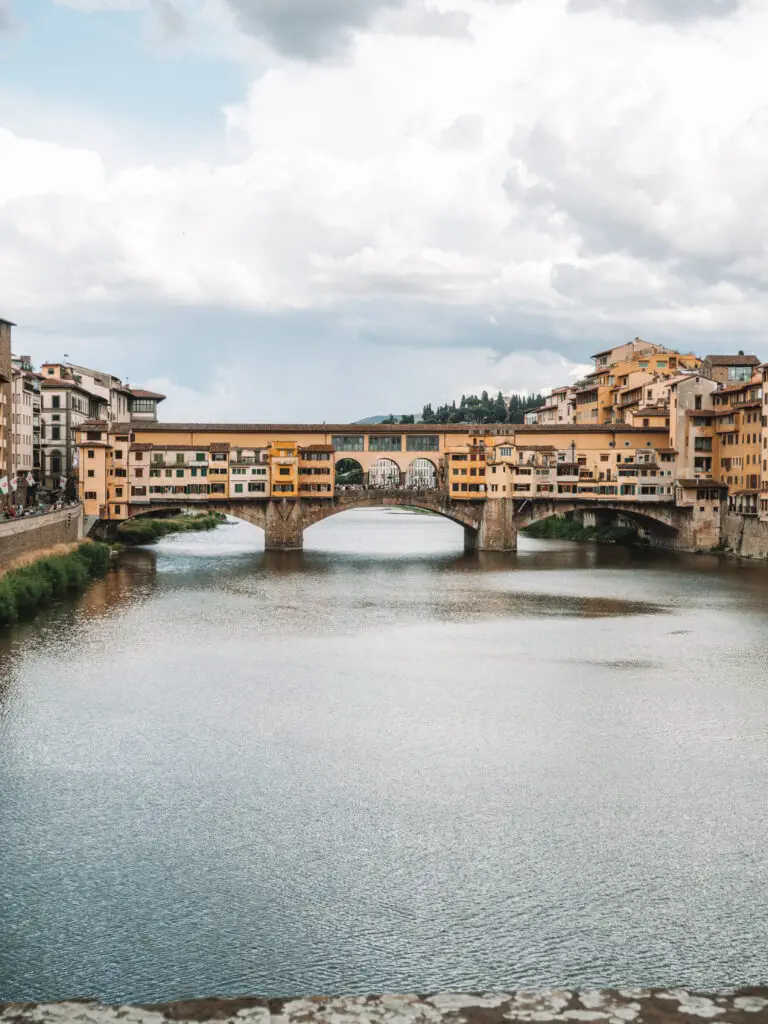 where to stay in florence
One of Florence's highlights is being able to spot its Cathedral along the skyline, so picking accommodation with a rooftop is a must. For a midrange option that is still affordable, the Residenza Conte di Cavour is a beautiful hotel with a rooftop overlooking the Cathedral of Santa Maria del Fiore, and it's only £70/€80 a night. 
For the budget option PLUS hostel is 20 minute walk from the centre but has a rooftop with great views across the city. Dorms start from €20 a night and the hostel also includes a pool, bar, a few common spaces and more. Check out my blog post with 150+ hostel recommendations and reviews for more suggestions for your next trip.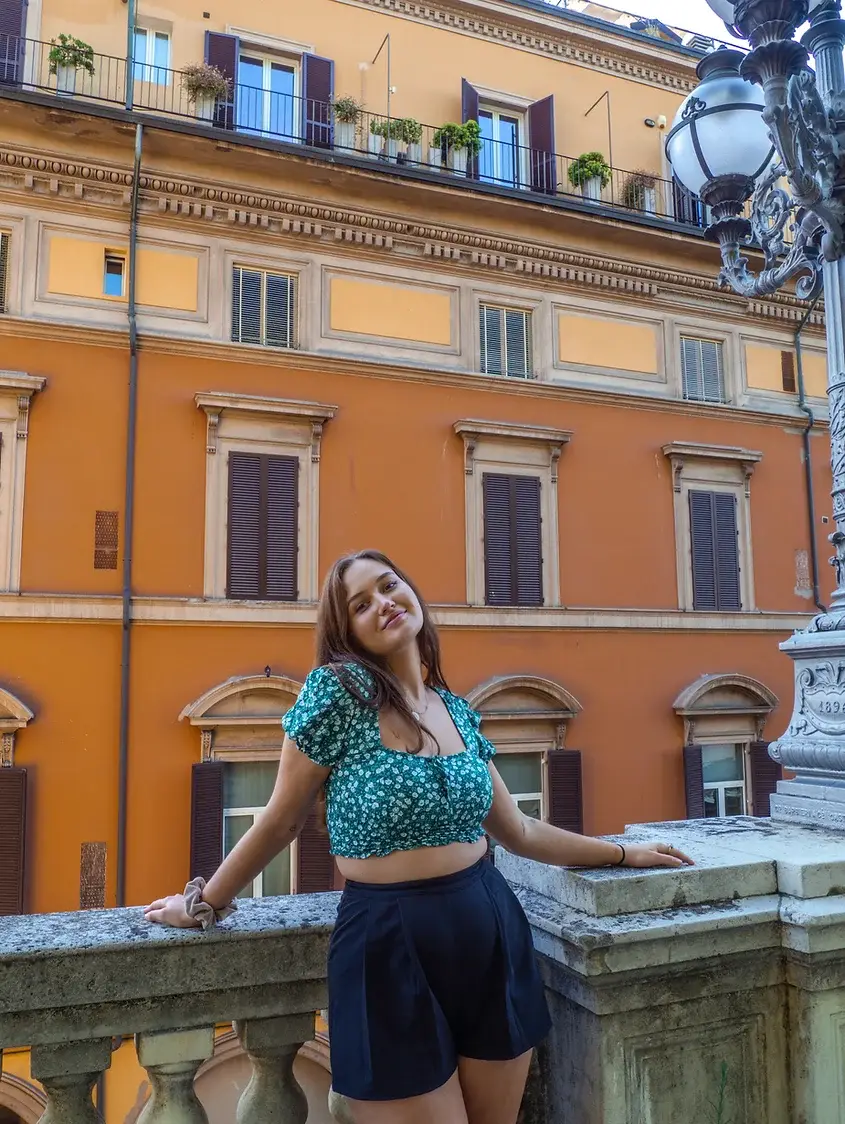 The next stop on the Italy itinerary is Bologna. A city often overlooked but as one of the country's food capitals and an important hub of culture, it's a great addition to your trip. As the name would suggest, Bologna is also the home to Bolognese, along with many other culinary delights waiting to be tried. 
The city is very charming, and as you wander through Bologna's elegant piazzas and narrow alleys, you'll discover the fusion of medieval architecture and contemporary Italy. From Florence the journey is only 40 minutes to reach Bologna by train. After the roaring crowds of Florence, Bologna is a nice change of pace and it feels a lot quieter than the first itinerary stop.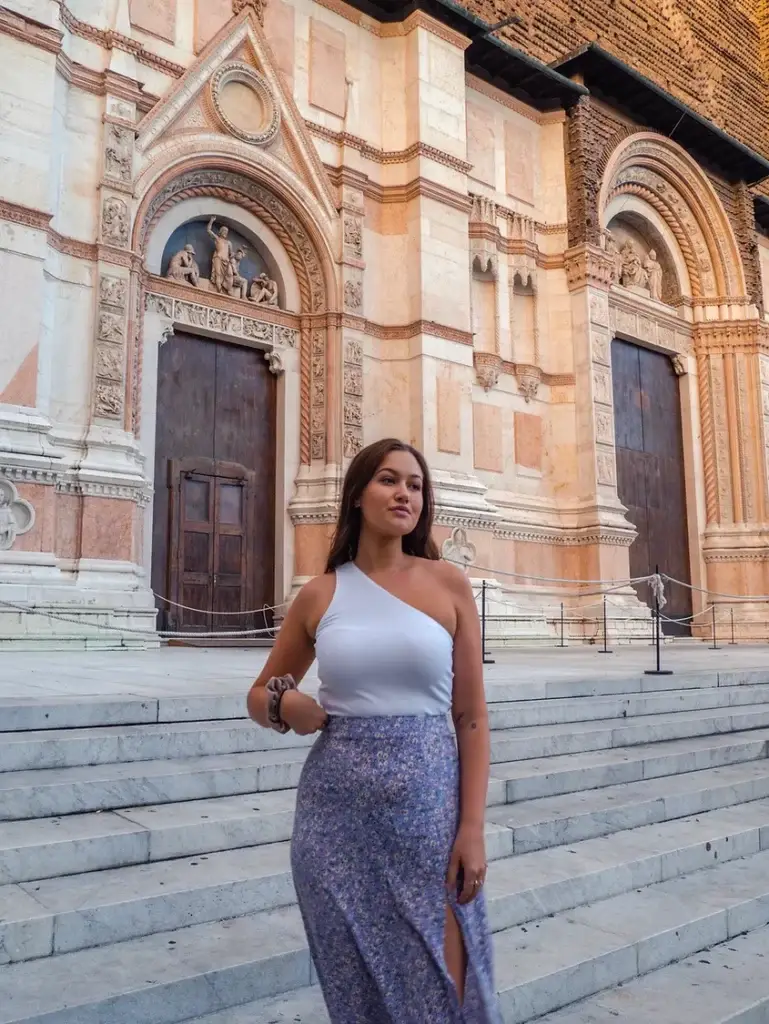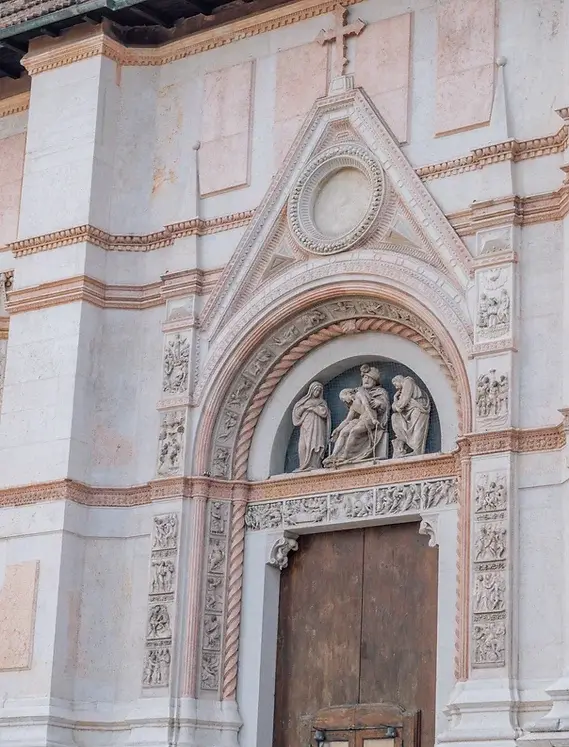 PIAZZA MAGGIORE AND BASILICA SAN PETRONIO
Right in the heart of the city is Piazza Maggiore, the main square of Bologna. It is home to Basilica San Petronio and a short walk away from fountain of Neptune. Bologna's Basilica is dedicated to the saint of the city, Saint Petronius and takes up most of the square. During the day people sit on the steps and hang out, then during the night there is live entertainment, and even films played on projectors in the summer.
FOUNTAIN OF NEPTUNE
Built in 1564, the Fountain of Neptune was given by Pope Pius IV to the city of Bologna as its first public fountain. Sitting in Piazza del Nettuno, right next to Piazza Maggiore, this fountain is a symbol of the city. Don't forget to take a photo with the mermaids around the base of the fountain!
DAY TRIP TO CESENA 
A 50 minute train ride from Bologna is the small regional town of Cesena. If you're looking to escape the business of the big Italian cities then Cesena is perfect to experience the slow Italian lifestyle. The quaint little town is drenched in orange, with cobbled streets and a very relaxed atmosphere. Spend the afternoon here and check out Vineria del Popolo, a delicious restaurant right in the heart of the town. 
If you have a car and have time to do some more exploring, the picturesque town, Santarcangelo di Romagna, is the perfect place to visit off the tourist trail. One of the best restaurants I've ever eaten at can be found here – Dai Galletti. 
BOLOGNESE COOKING CLASS
While visiting the birthplace of bolognese, of course indulging in a bolognese cooking class is a must on your Italian itinerary. This cooking class takes you through the step by step of how to make tortellini and 'tagliatelle al bolognese', the classic dish of the region. 
GUIDED TRADITIONAL FOOD TOUR
Another option for Foodies is a guided traditional food tour. This tour takes you to four different local spots, where you'll get to try some fresh, regional dishes hand picked by your guide. 
WINE WALKING TOUR
The Tuscan region is not only known for its food, but wine too. This wine walking tour takes you to a few different spots in the city with a local sommelier. Test out some of the regional wines and learn a little more about the history of Bologna and the surrounding area. 
TWO TOWERS
The Two Towers are a symbol of Bologna, both leaning and reaching a height of 97m. You can choose to marvel at these Towers from the exterior or climb the interior 498 steps of Asinelli Tower (the taller of the two) for €5. You can get tickets here.
ARCHAEOLOGICAL MUSEUM OF BOLOGNA 
The Archaeological Museum in Bologna has some of the most important archaeological finds in Italy, along with one of the best ancient Egypt collections in Europe. Tickets cost €6 or €4 if you're under 25.
LA SORBETTERIA CASTIGLIONE
You can't visit one of Italy's food capitals and not indulge in some traditionally made, delectable, delicious gelato. Located a little out of the city centre this spot had an amazing range of flavours, including a good range of non dairy options. It was so good there was even a line out of the door to order!
 Bologna accommodation options are surprisingly more expensive than you would expect. However, this central hotel is affordable and very comfortable, plus is within walking distance from all the main attractions. 
For a more affordable hostel option, Dopa Hostel is a great choice. Feeling small and homely, with a fully equipped kitchen, this hostel has everything you need. I stayed here during my time and really liked what the hostel had to offer, although it's not directly in the centre, it's still very accessible by foot and from the train station.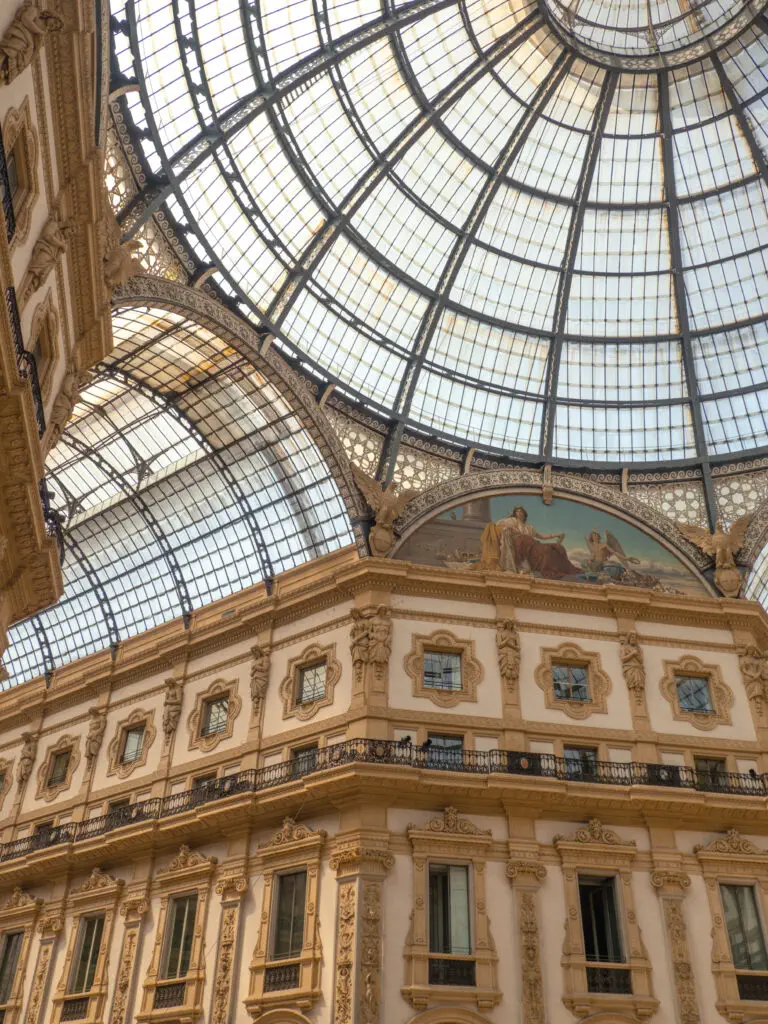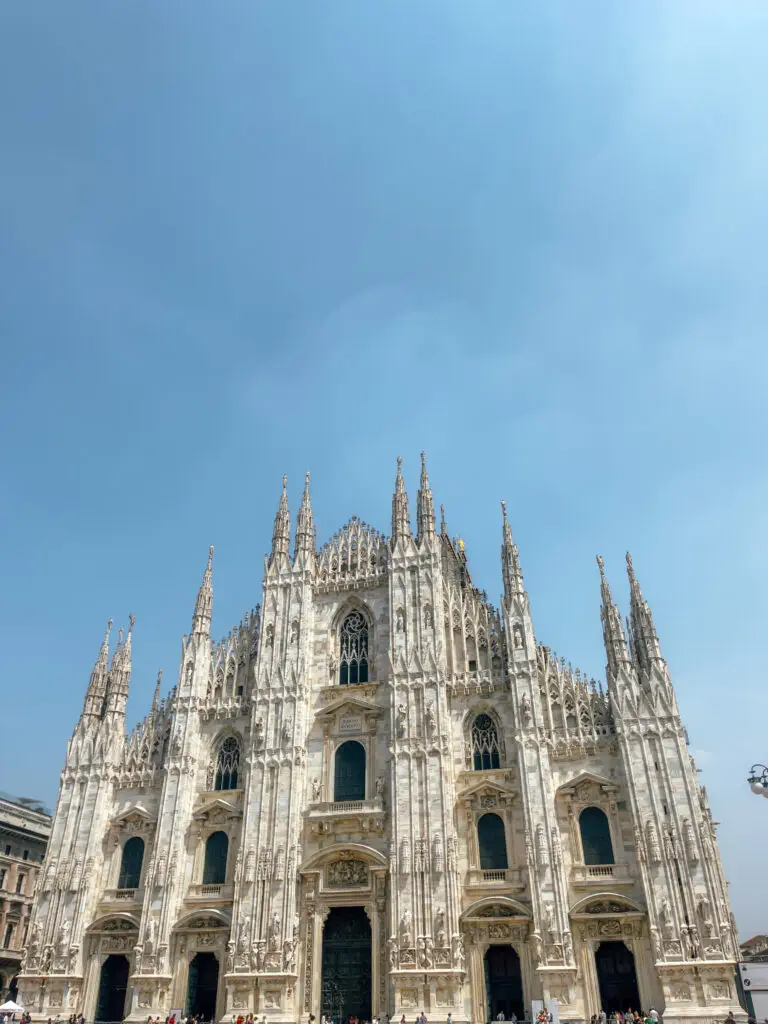 Italy's fashion capital is the next stop on this Northern Italy itinerary. Milan is a bustling city with a variety of art galleries, museums and designer stores to window shop. Outside the centre of the Duomo, the city has exciting neighbourhoods and plenty of lovely coffee shops and markets, so it's the perfect addition to your trip. 
Milan is a city you have to delve a little deeper to find the best parts. While the Duomo and central tourist area is a must visit, I actually much preferred the outer neighbourhoods that were a little quieter. Milan is a beautiful city, but compared to Florence or Verona, I feel doesn't hold the same charm. It's still great to explore for a couple of days and works perfectly as the central hub to reach the rest of the locations on this travel guide.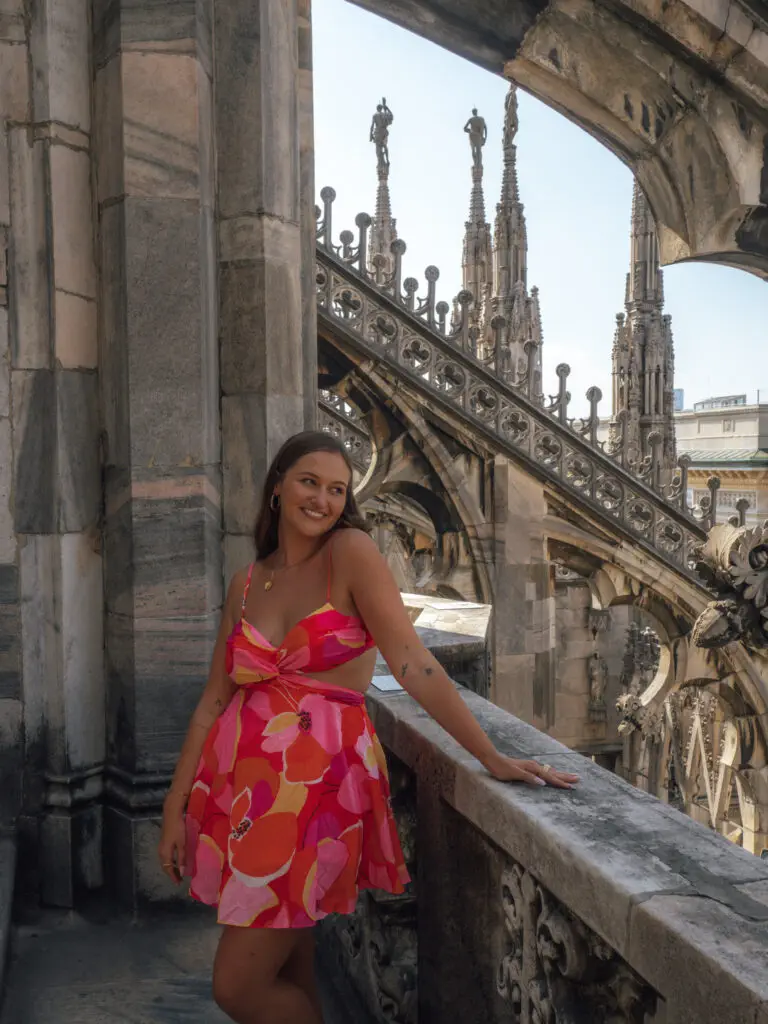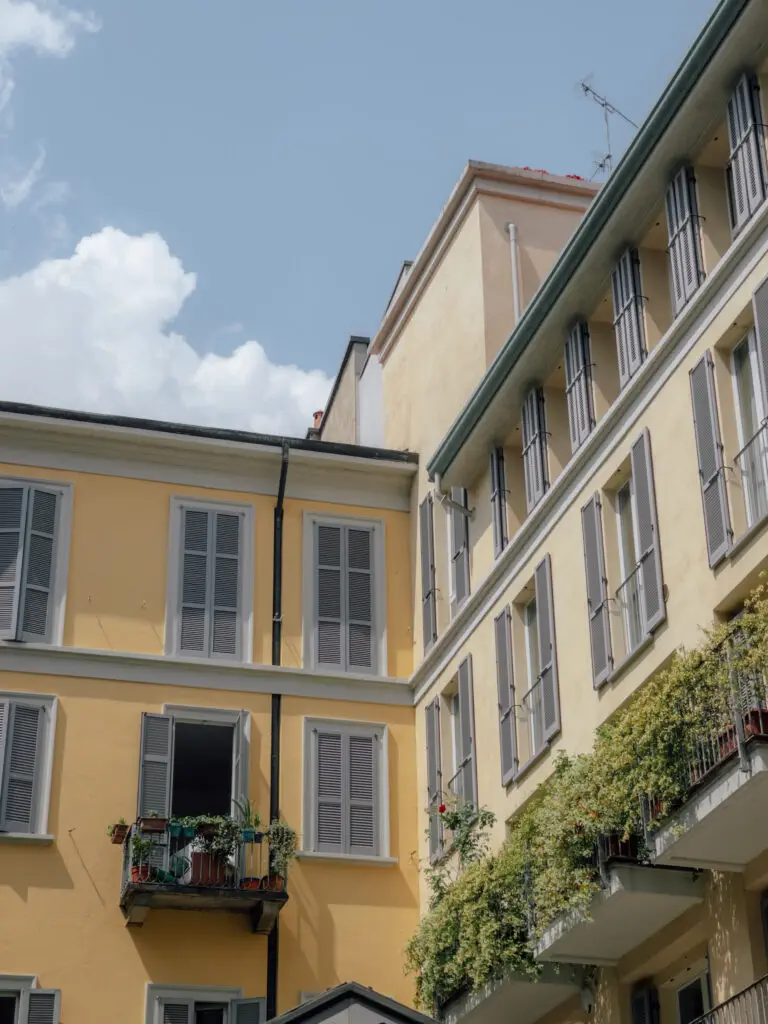 DUOMO DI MILANO
The Duomo holds century's worth of faith and art. Dating back to the 12th century Milan's Duomo is the iconic sight to see in the city and I recommend also visiting the interior and climbing to the rooftop for great views. You can buy a skip the line ticket here.
Please note that you will not be allowed into the Cathedral if you don't have your shoulders and knees covered.  
GALLERIA VITTORIO EMANUELE II
Galleria Vittorio Emanuele II is the oldest active shopping gallery in Italy, dating back to 1861. Walk through the gallery for some window shopping or even a sit down drink/meal (although expect the prices to be very expensive).
NAVIGLI NEIGHBOURHOOD
My favourite neighbourhood in the city. Navigli is 25 minutes walk from the centre of Milan but is definitely worth it. The neighbourhood sits on several canals, with beautiful street art, live music and plenty of cafes and restaurants to choose from. 
SFORZESCO CASTLE
Built in the 15th century, Sforzesco Castle is a medieval fortification that now hosts a museum. Explore the castle on your own or get your ticket beforehand here that includes Leonardo's Vineyard and Sforzesco Castle for £23 (with optional audioguide).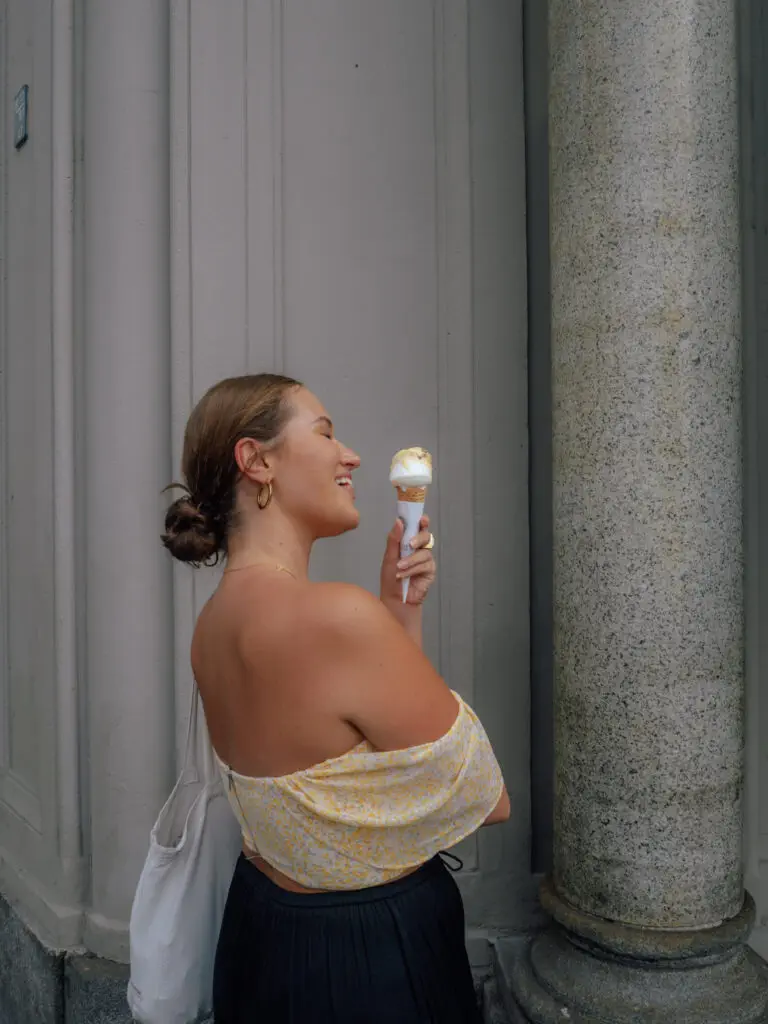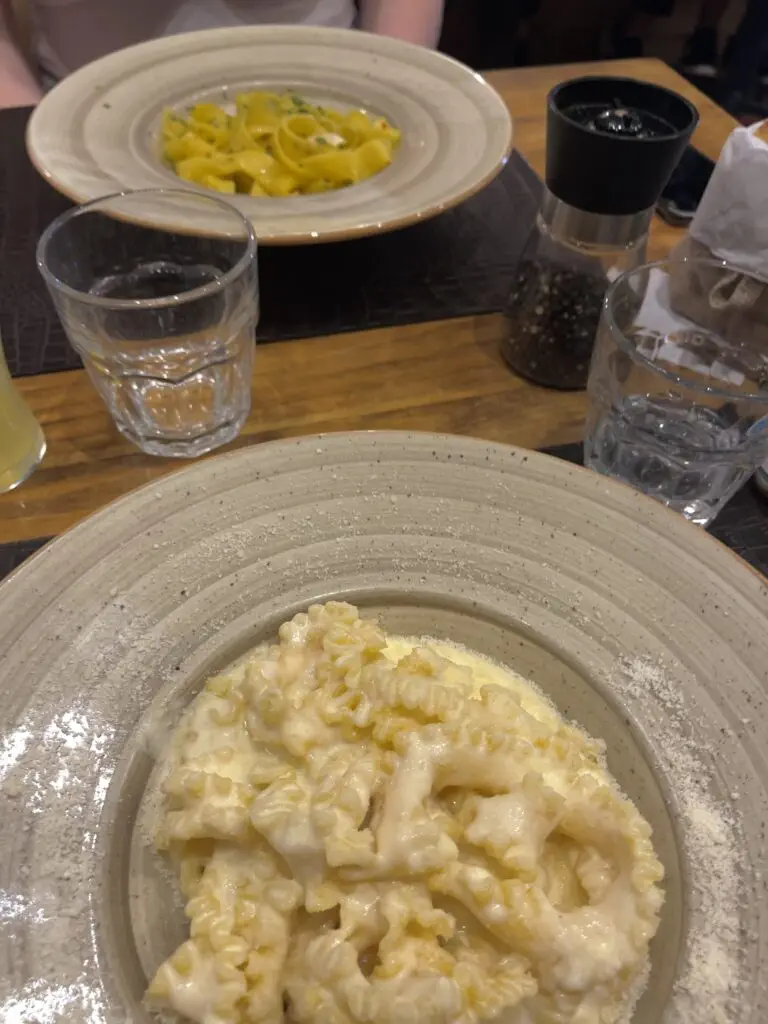 GELATERIA LA ROMANA
Some of the best gelato I have ever had! Very authentic with delicious flavours. They are all in Italian, so you know it's going to be good! 
CANNOLERIA GOURMET
Try a sweet (or savoury) cannoli at Cannoleria Gourmet! A Sicilian classic, these are delicious. 
PASTA D'AUTORE
Some of the best pasta in Milan, this restaurant often has a wait but it is definitely worth it. 
PORTNOY 
Try out a €5 Aperol Spritz and sit and people watch
B CAFE
Delicious, quick and affordable sandwiches are a must try from B Cafe! There is a great atmosphere in here and it gets lively later on.
Milan has plenty of accommodation options for all differing budgets, however, this is what I would recommend. For your own apartment, this beautiful, spacious apartment is right in the heart of everything and very affordable. If you're looking for a midrange hotel instead, Hotel Zara is perfect with everything you need.
For a good hostel choice, Combo hostel is great. It's situated in the Navigli district of the city, which was personally my favourite area. The hostel has its own cafe and is very spacious with a gorgeous courtyard. There is a weekend market right outside the hostel too!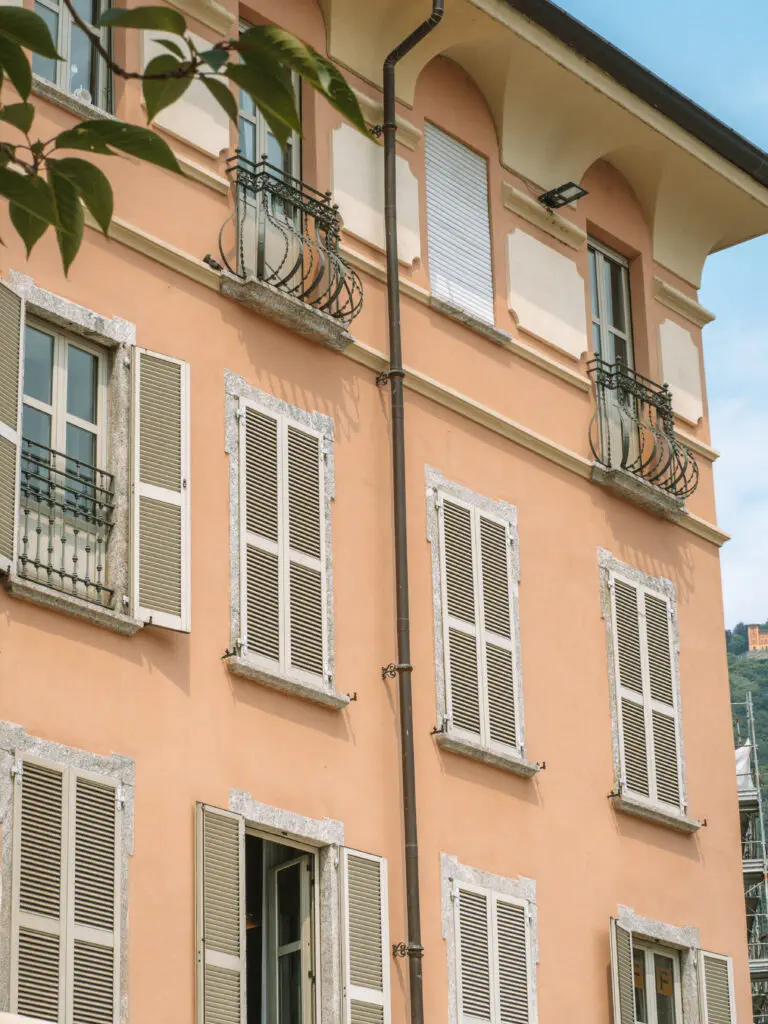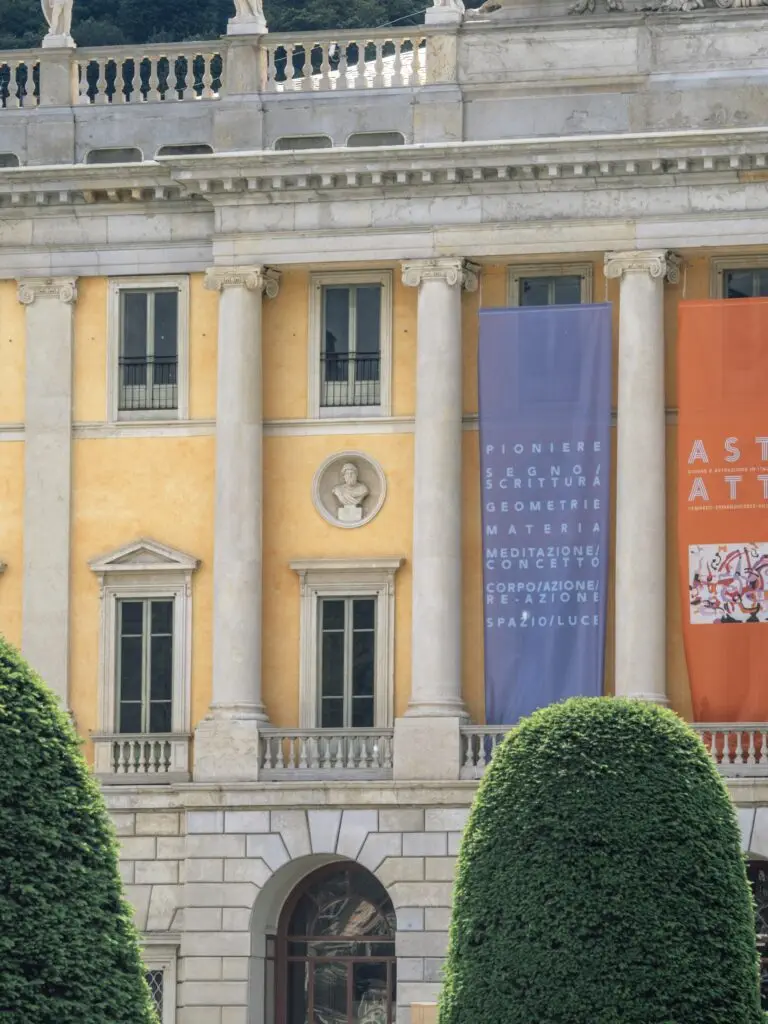 Next on the northern Italian itinerary: Lake Como. This enchanting destination, often hailed as one of the most stunning lakes in the world, hosts opulent villas along the shoreline, vast mountains and deep blue waters. The journey from Milan takes only an hour to Como Town, which is the main and most accessible town along the lake. 
There are several different choices of towns you can either visit or stay at, however, Como Town is the most affordable and works best for public transport. Como Town is the largest along the lake, with plenty of restaurants, viewpoints and accommodation options to choose from. Although the other towns along Como are beautiful, without a car it can be quite limiting to where and when you can explore, making Como Town ideal for your few days on this Northern Italy travel guide.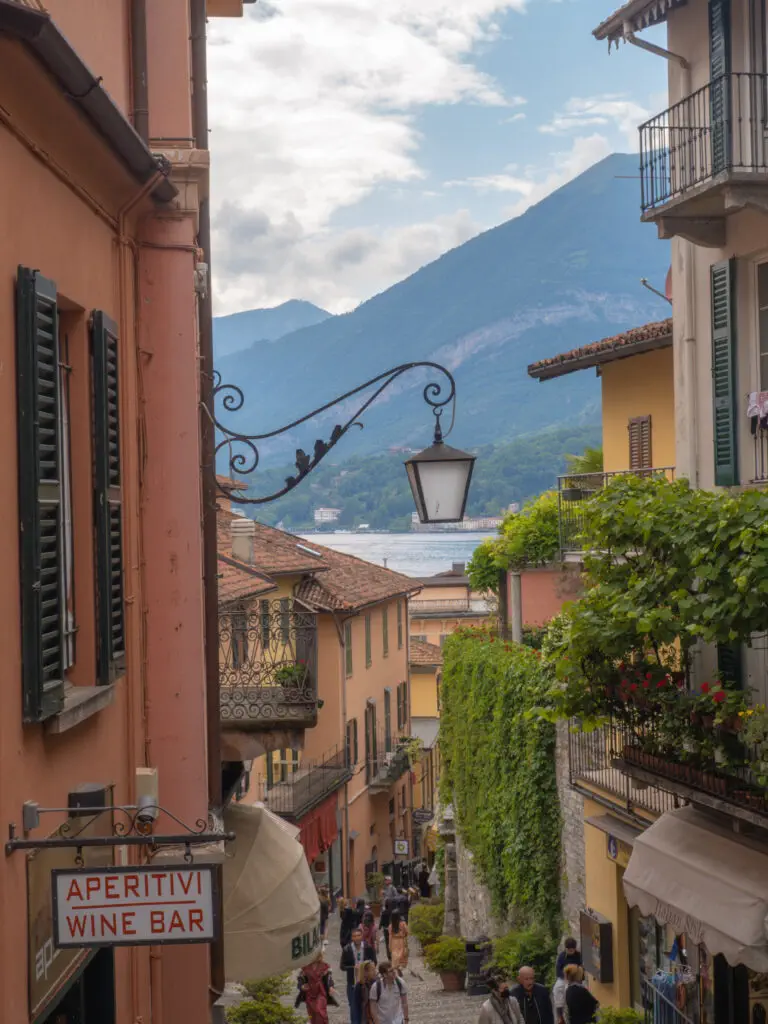 EXPLORE LAKE COMO'S TOWNS
There are roughly 40 different towns along the shorefront of Lake Como, and while there won't be enough time to visit all of them, there are a few that are easily accessible for the day. Some of the most popular towns tourists visit are:
Bellagio
Lecco
Menaggio 
Mezzegra
Bellagio is arguably the most famous and popular choice to explore for an afternoon, with the fast ferry only taking 40 minutes from Como. The alternative is the slow ferry, which takes between 2 – 3 hours for €8.30, compared to €14.80 for the faster option. Alternatively, there are buses that run around the lake, just remember to purchase a ticket beforehand. 
Bellagio is a small town with small cobbled lanes and elegant buildings, a true representation of what Lake Como represents. Once hopping off the ferry there are only a few streets to wander down and explore as the town itself is fairly small (this means the streets can get quite packed with tourists). An afternoon is more than enough time to walk around and explore the quaint streets, and if you have a little extra time stop off at Cava Turacciolo Enoteca Wine Bar for some local wine. I got a glass for only €5!
VILLA OLMO
Villa Olmo and its gardens are a lovely place to sit and relax while taking in the surrounding view. You can also visit the interior for free. 
VOLTA'S LIGHTHOUSE
Volta's Lighthouse sits above Como town and overlooks a wide stretch of Lake Como. To reach the top you can either walk directly from the town or get a funicular partway up the side of the mountain and climb the rest of the way. This costs €5.50 return and I recommend this to save you some time. The walk involves a steep incline, so wearing good footwear is a must, but at the top you'll be greeted by spectacular views of the mountains and of course, the lake. On a clear day you can even see over into Switzerland!
LIDO VILLA OLMO
In Como Town there aren't really any free 'designated' places for you to swim in the lake, unless you walk 30+ minutes outside of the town. However, there is Lido Villa Olmo, a public recreation centre that offers an outside bar, pools, grass or lounge chairs for you to sit on and access to the lake. Throughout the day it costs €9 to enter and after 3:30 pm it's €6. I visited two afternoons during my time in Como and it's a great way to relax, or if you bring some friends it's a great place to socialise. 
WHERE TO EAT IN COMO TOWN
L'ORA DELLA PASTA 
This little pasta joint is not only delicious but very affordable. Located on 33 Via Lambertenghi, you have the option to choose what type of pasta, sauce and extras you want for under €7. The pasta is as fresh as you could imagine and it's a great option to grab and eat by the lake. 
GELATERIA GUIDI
This is the best spot in Como Town for gelato. Their flavours change daily and everything is unbelievably fresh. 
GELATERIA LARIANA
Another great gelato shop to not miss out on. If you're getting the ferry you can grab one from Gelateria Lariana before waiting in line!
MAYA COFFEE
A quick and easy coffee spot that serves a classic Italian breakfast spread such as coffee, pastries, and other baked goods. Although their bruschetta is also worth trying! 
OSTERIA DEL GALLO
A highly raved about restaurant is Osteria del Gallo. This spot has some of the best freshly made pasta that you can't miss out on.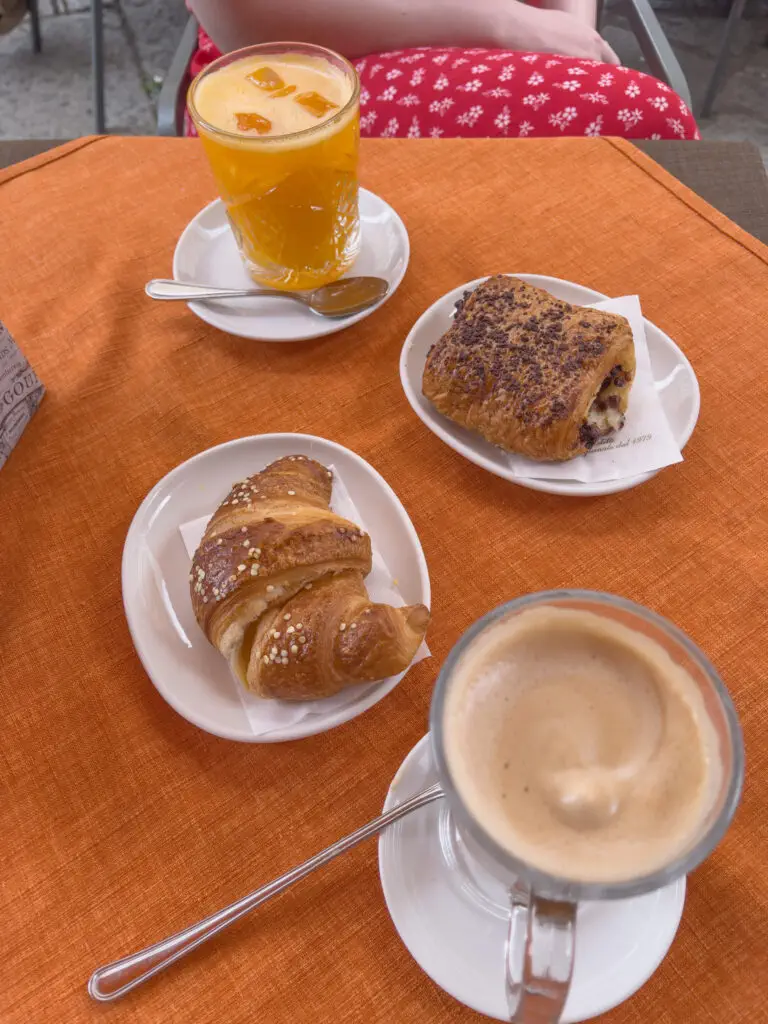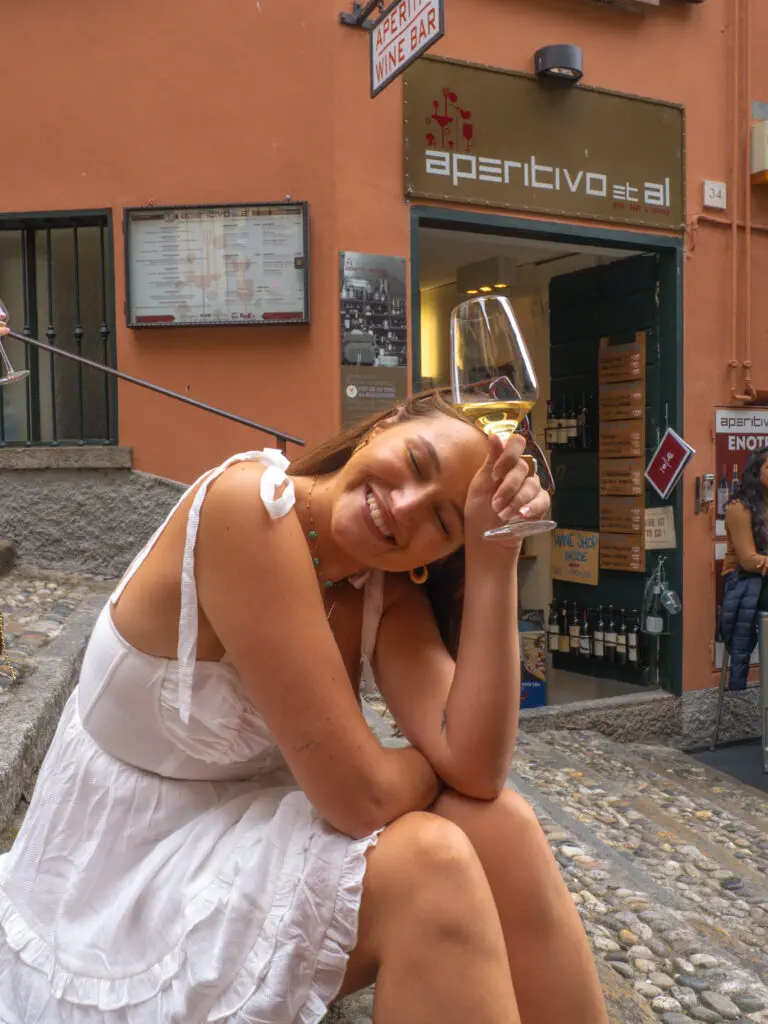 WHERE TO STAY IN COMO TOWN
During my time at Lake Como I stayed at Ostello Bello hostel, a hostel chain that has several locations throughout Italy and Myanmar.  Firstly, it was in a perfect location, 5 minutes from the train station, 5 minutes from the lakeside and a 30 second walk to the super market. I really enjoyed my stay here, partly because there was a great group of people to hang out with, but there was also a large courtyard in the front, a garden in the back and my room had the most gorgeous view of the mountains. The bunks were three tiered so getting up to my bunk on the top was a bit of a mission but it was an adventure all the same! I spent 4 nights at Ostello Bello and paid between €17 – €20 a night (it was more expensive over the weekend).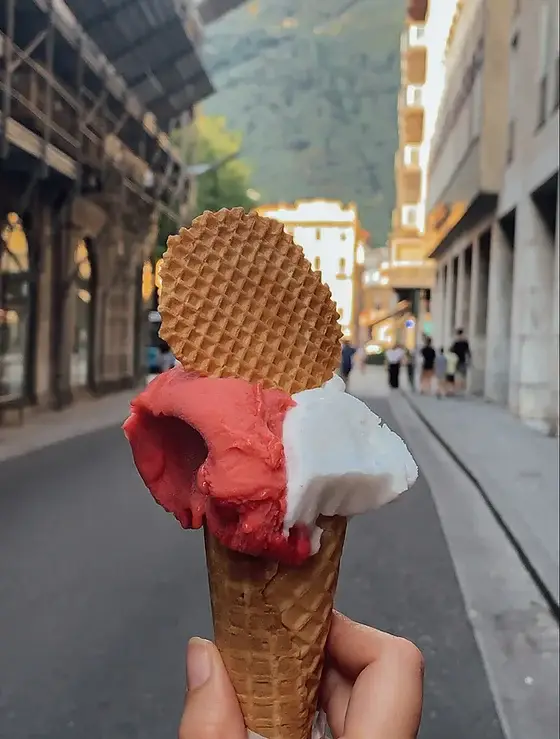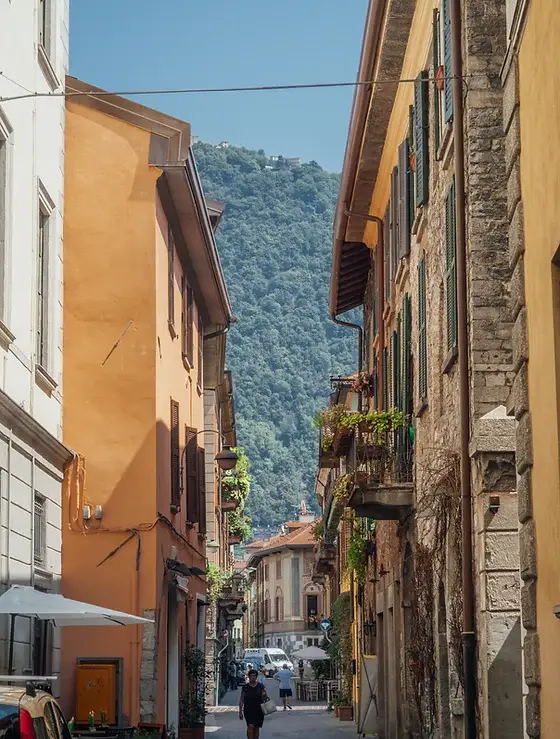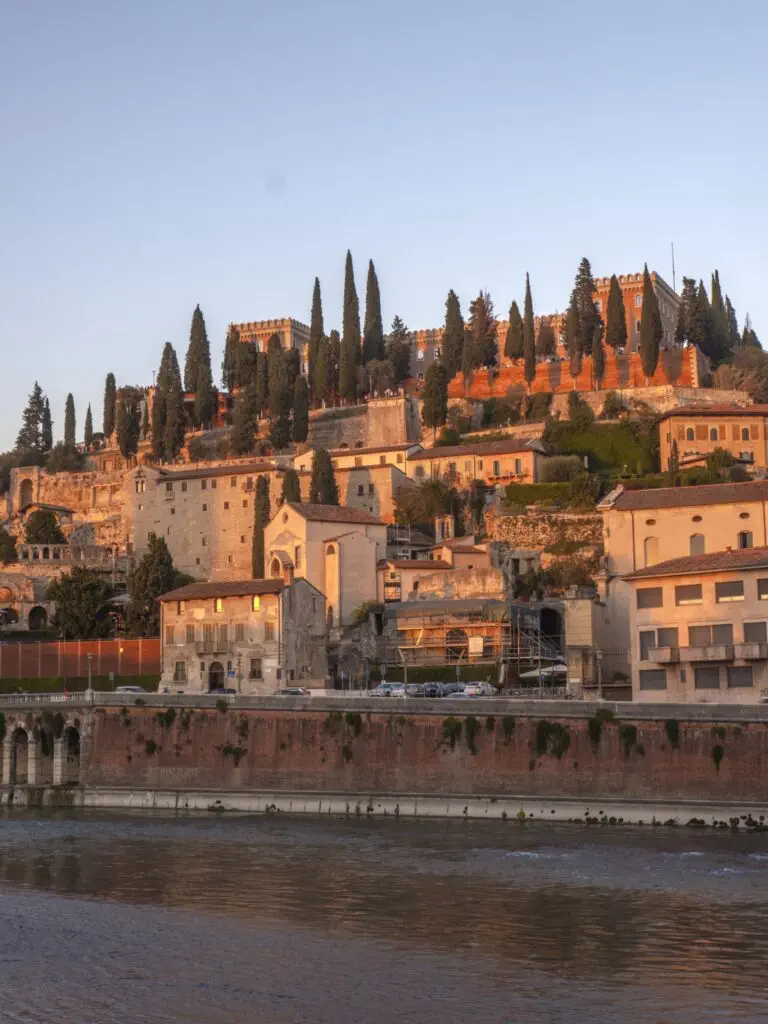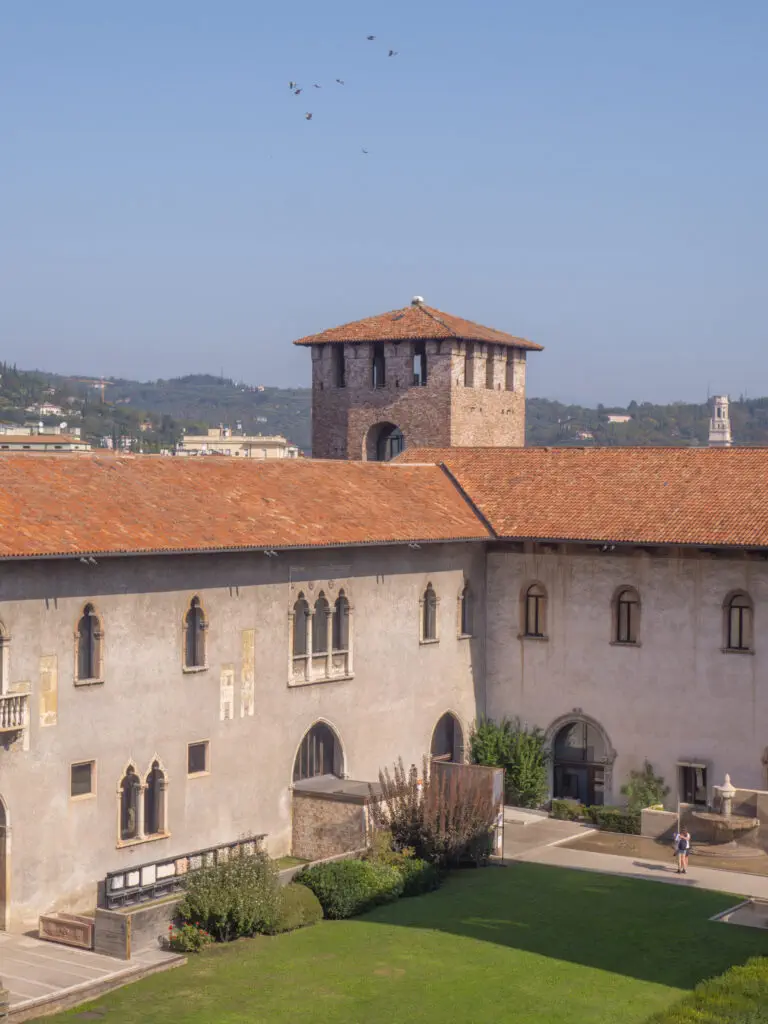 Verona, often hailed as the "City of Love" and the setting of Shakespeare's timeless tragedy, "Romeo and Juliet," is a city that exudes romance and history. Its well-preserved Roman ruins, including the magnificent Arena di Verona, stand as a testament to its ancient past. But Verona is more than just its historic splendours; it's a city that pulses with life, offering vibrant markets, delightful cafes, and a warm, welcoming atmosphere.
Verona is a city that completely surprised me and I really enjoyed my time here. While you don't need long, a day or so is enough, the city feels very underappreciated compared to other places in northern Italy. You can also check out my affordable and underrated destinations in Europe for more locations like this. 
CASTEL SAN PIETRO 
This is one of the best things to do in the city. Every night at sunset people gather to watch the sun drop over Verona, with lovely vibes and sometimes even live music, this is unmissable. And it's free! 
JULIET'S HOUSE
Shakespeare's novel, although fiction, brings millions of people to Juliet's house in Verona. It is free to enter but there is often a queue out the door to see the balcony and statue of Juliet. To go atop the balcony and walk through Juliet's house tickets cost €6. 
VERONA ARENA
Verona Arena is a Roman Amphitheatre built in 30AD. The Arena is still used to this day for concerts and if you're interested in entering you can find tickets here. 
CASTELVECCHIO MUSEUM
This museum shows an eclectic range of art from medieval times and the Renaissance period. Tickets can be bought at the door for €11. During your time here there's also a chance to explore the grounds and see views across the Adige river. 
PONTE PIETRA
One of the key bridges that spans over the Adige River is Ponte Pietra. Built in 100 BC, this bridge has stood the test of time.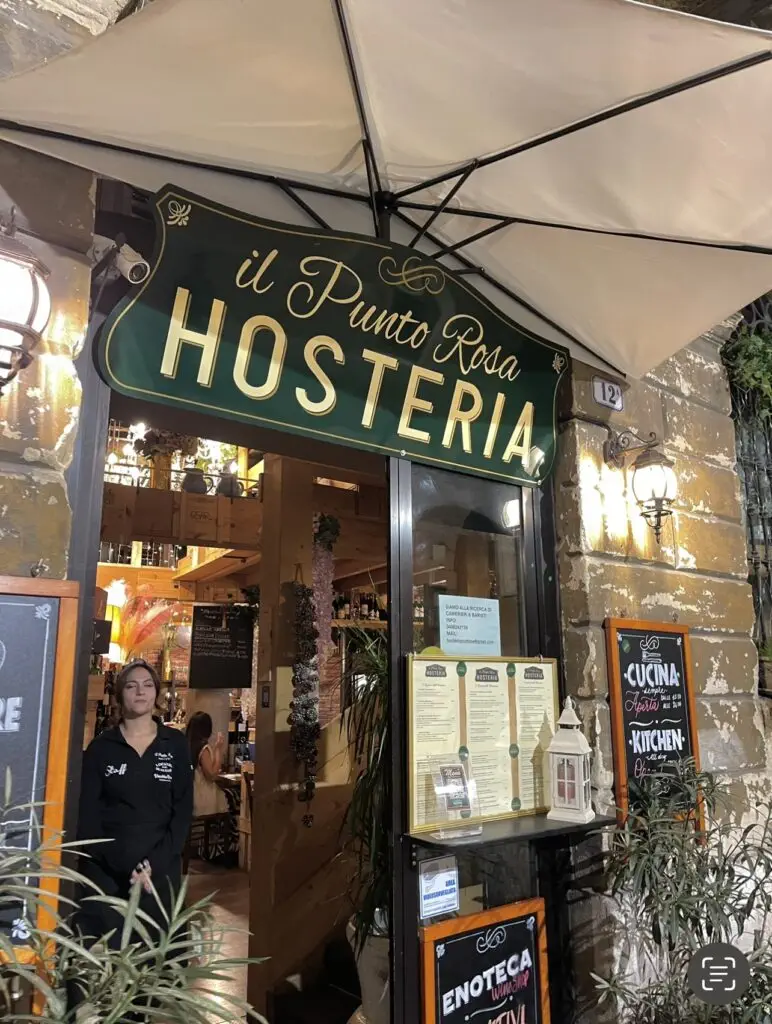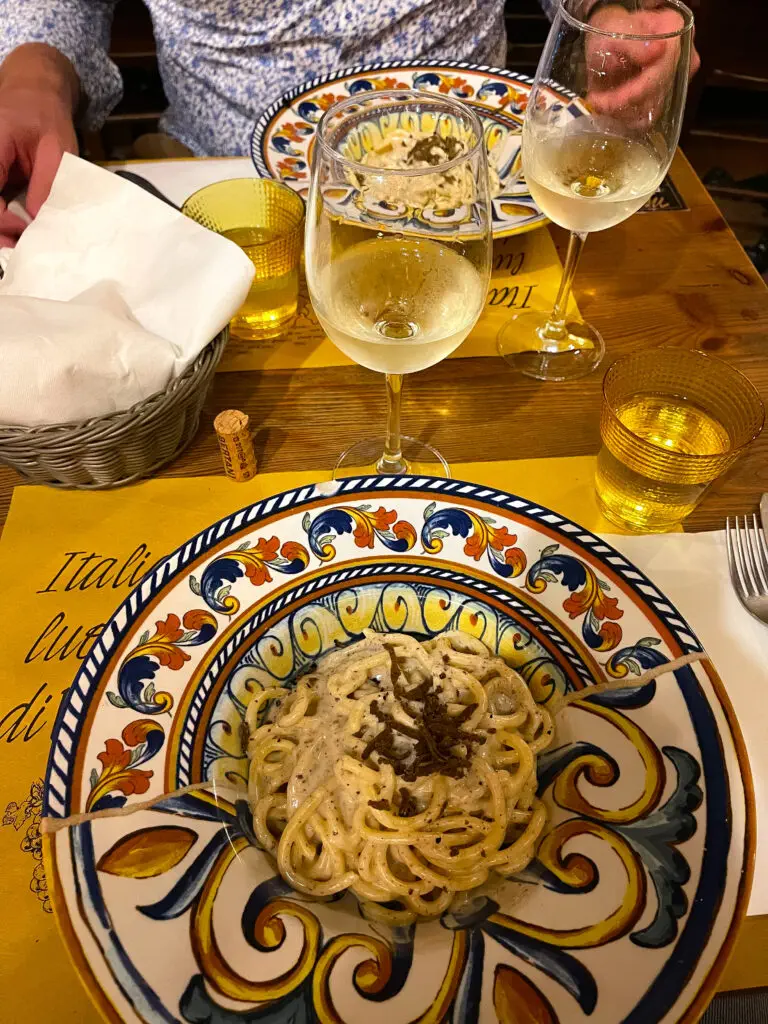 GELATERIA LA ROMANA
This is the same chain as you can find in Milan, and just as good!
MISCUSI
An easy, no fuss quick pasta restaurant where you can choose your pasta shape, sauce and additional toppings. 
IL PUNTO ROSA
A classic Italian spot with some incredible pasta on offer, I definitely recommend trying the cacho el Pepe.
GELATERIA SAVOIA VERONA
Another great gelato shop is only a few minutes away from Verona's Arena.
PASTICCERIA FLEGO
A beautiful cake and pastry shop that can sustain you for your walking through the city.
There are two hotel options I recommend during your time in Verona – Hotel Firenze and Boutique Hotel Scalzi. Both of these hotels are central and reasonably priced, perfect for your time in Verona.
For a hostel option, check out Hostello, which has great reviews and only €40 a night!
The final stop on this Italy itinerary is Venice. As one of the treasures of the country, there is a unique atmosphere to the city that entices you. The city is designed for getting lost, and you could spend hours wandering down the winding alleyways in search of new canals and photo stops. 
Although Venice is a marvel of architecture and one of the most unique cities in Europe, there isn't a lot to do other than walk and explore, so one full day is more than enough time to see the best bits of the city. It's also an affordable option to fly out of!
From Turin trains take between three and a half and four and a half hours, changing in Milan.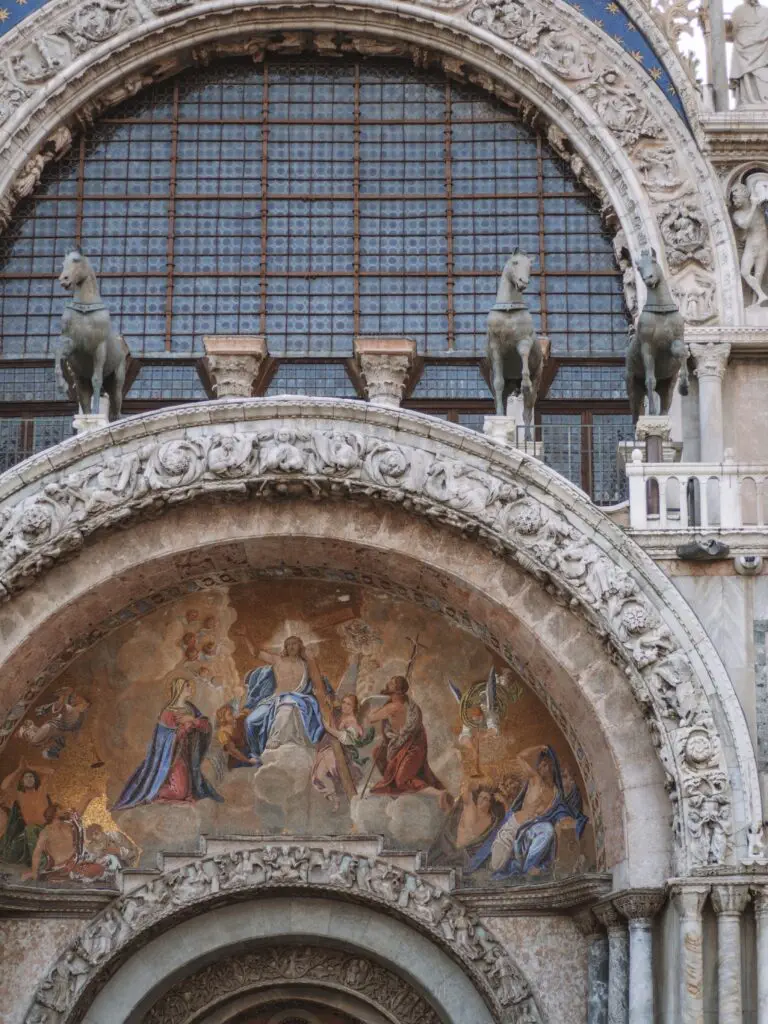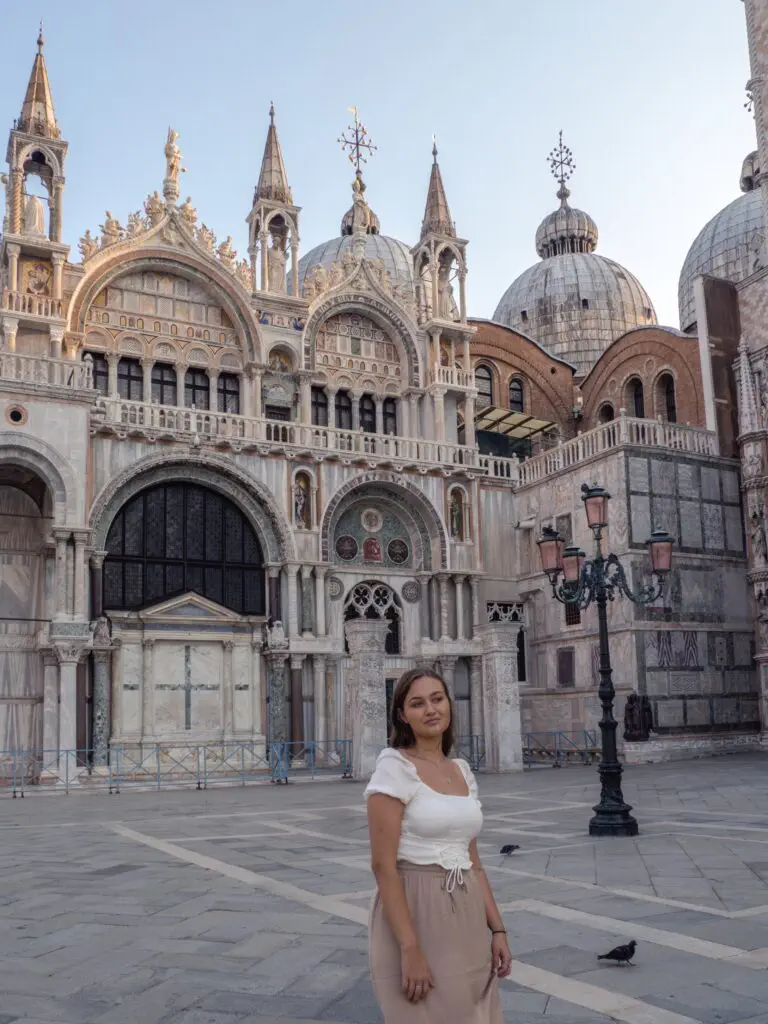 ST MARK'S SQUARE
St Mark's Square is one of the main tourist hot spots in Venice that is perfect for photos and wandering. In the square you can find St Mark's Basilica, Doge's Palace, Campanile, and Torre del'Orologio clock tower. The square gets very busy during the day, so try and visit early. 
ST MARK'S BASILICA 
While the exterior of St. Mark's is something to marvel at in its own right, the interior is just as magnificent. To avoid the crowds and queues it's best to prebook your ticket. Here is a tour that includes entry into St Mark's Basilica, along with terrace access and Doge's Palace. 
BRIDGE OF SIGHS 
The Bridge of Sighs was adorned this name as this was the last sight of Venice convicts saw before being imprisoned. Now, it's a great photo stop and a chance to marvel at the Renaissance architecture.
GRAND CANAL
The Grand Canal is the largest waterway in Venice and separates one half of Venice from the other. Walk along the walkways or find a cafe to sit in and watch as the boats, gondolas, and people move past you. 
GONDOLA RIDE
Venice's gondolas are an iconic staple to the city and if you choose to do one of these rides, then you'll get to experience a whole new perspective as you glide through the canals. Gondolas are unfortunately quite expensive and the starting price is around €60 per person. You can prebook a tour which is a little cheaper, here is a shared gondola ride for only €40.
SEE THE COLOURFUL HOUSES OF BURANO
Burano is one of Venice's 1000 islands and is a must visit on your itinerary. This island is home to picture perfect colourful houses and century's old traditional lace making. Join a boat tour to explore both Murano and Burano, two islands within short proximity to Venice and learn more about glass and lace making, while visiting the colourful streets of this Venice treasure. This boat tour is the best option!
HIDDEN VENICE TOUR 
The best way to get to know a place is with a local guide, and this hidden Venice tour takes you away from the busy tourist trail and to how the locals live in Venice. Including daily life, lesser known gems like Rialto Bridge and glass making stores.
Much like any major cities there will be some spots that are designed for tourists, which are accompanied by tourist prices, so to save your budget a little more try venturing out of the 'hot spots' like the main canal and try and find a little back alley restaurant to dine at!
GELATO DI NATURA 
This Italy travel guide wouldn't be complete without yet another gelato shop to absolutely drool over. There are a few gelato di Natura's spotted around Venice, all with delicious flavours for you to try, I personally went for peach and the vegan vanilla.
BELLA & BRAVA
I stumbled across Bella & Brava while walking around trying to find a spot for dinner. They offer a vegan pizza with vegan cheese, which was absolutely divine! I was also a big fan of their octagon shaped boxes.
Staying on the island of Venice comes with its price tag, and honestly, there are plenty of great options across the bridge for a fraction of the price. The most affordable option is ANDA hostel, a 5 minute walk from Venice Mestre train station. Although not on the island of Venice, it only takes 10 minutes on the train to reach Santa Lucia train station to explore the city. 
For an affordable option in the heart of Venice Santa Croce guesthouse is a 10 minute walk from Santa Lucia train station. It's the perfect, homely choice for your time in the city.