*this post contains affiliate links, which means if you purchase anything through the links provided I will receive a commission at no extra cost to you!
Plitvice Lakes is one of the oldest and largest national parks in Croatia. This park reaches across 300km of land and is a UNESCO Heritage site, and definitely needs to be on your itinerary when visiting Croatia. The national park is situated in the northeast of the country, close to the border of Bosnia and Herzegovina, and this is exactly how to get to Plitvice Lakes without a car.
There are two options to choose from to get to Plitvice Lakes, depending on how much time you have. Firstly, if limited on time the Lakes can be visited on a day tour, there are plenty of different companies that offer day trips from major cities across Croatia, which saves having to drive yourself. While discovering the best parts of the National Parks in a few hours. 
Alternatively, if you have a bit more time on your hands you can stay close to Plitvice Lakes. There are a couple of different options via bus, which means you can add Plitvice to your itinerary easily and without going too out of the way. 
TRAVELLING TO PLITVICE ON A DAY TOUR
So, what's the best way to get to Plitvice Lakes without a Car? For reference, Plitvice is roughly a:
3 hour drive from Split
1 hour and 45 min drive from Zadar
2 hour and 15 min drive from Zagreb
With that being said, day tours can easily be booked from all these major Croatian cities. Booking a tour would include a coach transfer to and from Plitvice Lakes, and these tours can either be done guided or unguided. Guided tours will take you through the park with a guide, this can ensure you see all the best bits and learn a little more about Plitvice Lakes from a local. It can also take away the stress of navigating yourself through the park, which can see up to 10,000 people a day in the summer months.
Unguided tours still include the transfer from whichever city you're travelling from, however once you're in the park you'll be given free time to explore on your own. You don't need to worry though as you'll be given a map and instructions on which route to follow and the timings you need to be back, as well as a WhatsApp group in case you have any questions.
The price of the tour will range depending on where you're coming from and if you choose a guided or unguided tour, however you can expect to pay between £30 and £90. The cheaper tours that are unguided tend not to include the entry fee of €40 in their price, however this must be paid before entering the park. More expensive guided tours tend to include the price of the park in their initial tour cost. 
PLITVICE LAKES TOUR OPTIONS
You can check out the tour options below:
I came from Split and opted for the unguided tour, which I preferred and allowed me to go at my own pace through Plitvice. We were instructed to follow the 'H' route, which is very well signed so it's difficult to get lost. 
what to expect doing a tour
Doing a day tour generally means you'll start your day between 7 – 8 am. The drive will depend on where you're coming from, but typically day tours arrive at the park around 11 am – 12 pm. This gives you roughly 4 hours at the park before heading back on the coach, however, this is definitely enough time to see the best bits, take some beautiful pictures and stop for a quick lunch spot.
One of the other perks to doing a day tour is the included boat ride when you're at Plitvice Lakes, often this is included in your ticket and takes you on a relaxing 30 minute ride through one of the larger lakes in the Park. After the boat, you can find a large picnic spot with a few different cafes, a souvenir shop and bathrooms. 
STAYING NEAR PLITVICE LAKES
The second option for getting to Plitvice Lakes without a car is to stay close to Plitvice Lakes. Although the lakes are a little out of the way, there is still reliable public transport, which would save renting a car. The best way to get to the lakes without a car is by bus, Flixbus has multiple direct services from Split, Zadar and Zagreb that run daily. You can expect to pay between £13 – £20 each way for these services and they run from 6 am.
If Plitvice Lakes is part of a larger itinerary, use the national park as a halfway point. For example going from Zagreb, to Plitvice and then down to Zadar or Split. Although it's not completely direct it's a nice break in the journey and can save you the long day out on a day trip. 
Check out my 20 Unmissable things to do in Mostar, Bosnia & Herzegovina for more Balkan itinerary ideas.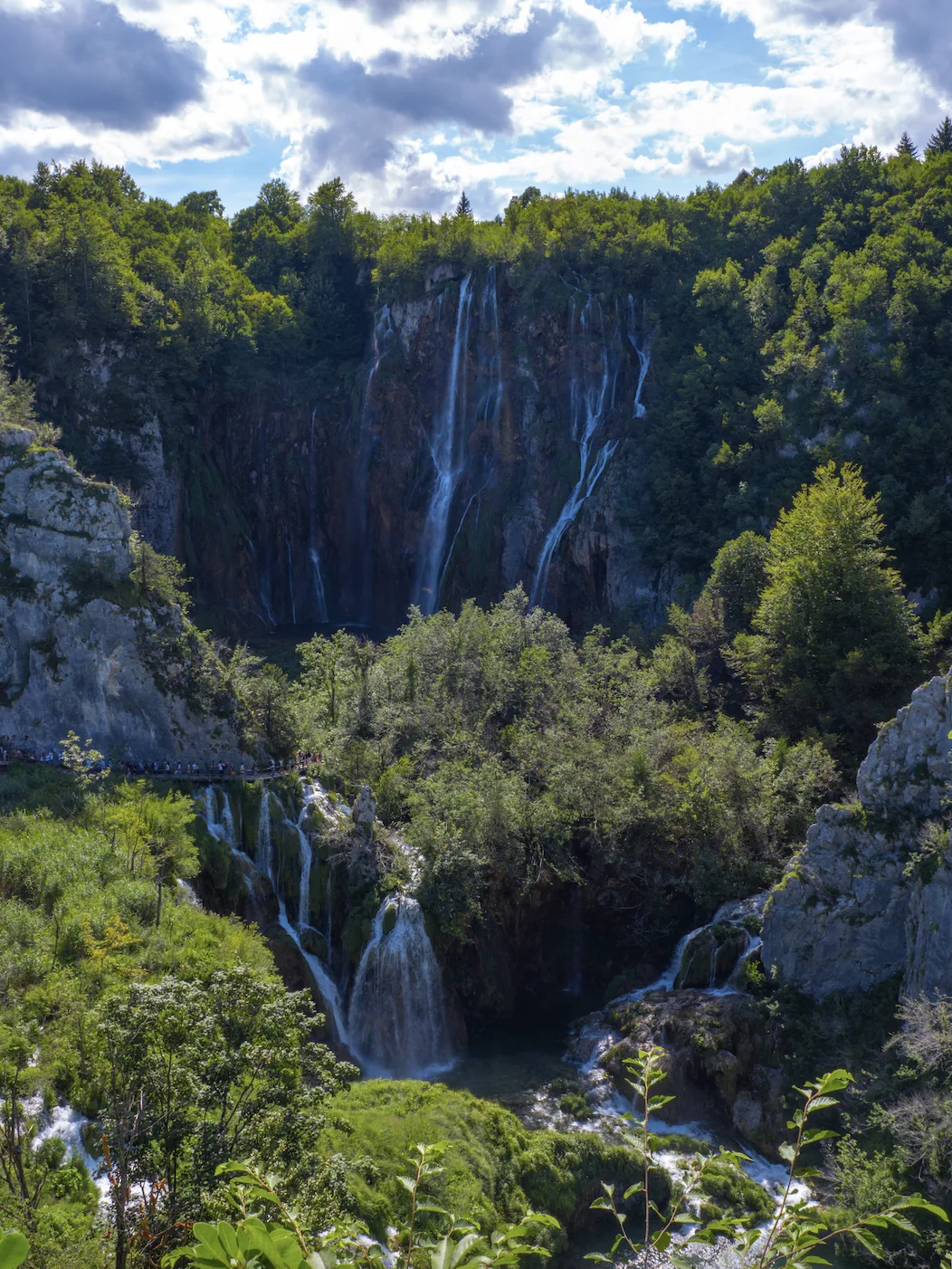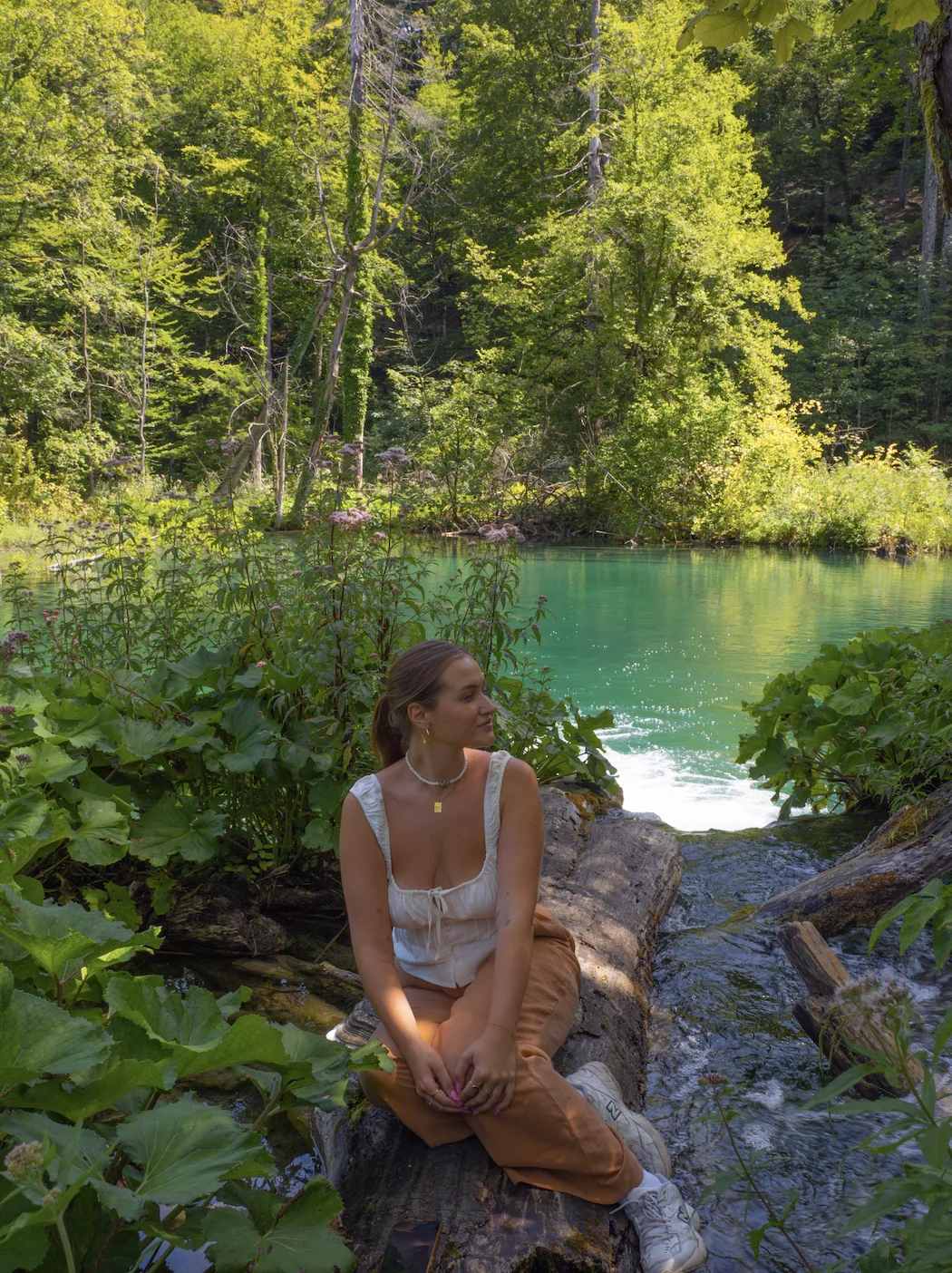 where to stay near Plitvice Lakes
There are plenty of different accommodation options close to Plitvice Lakes, however without a car some may be a little harder to get to. It's best to choose accommodation that offers a shuttle service to and from the park or alternatively, there are taxi services that run in the surrounding area of Plitvice. You can prearrange transport from your accommodation or ask if that's an option, alternatively if not, Taxi Eagle has a taxi service that specifically runs around the Plitvice Lakes area. 
Falling Lakes Hostel is a great option for those looking for an affordable option that is close to the national park. The best part about this hostel is that it offers a shuttle service to and from the Lakes every day, so you can stay close by and head in early before the crowds.
Book your stay at Falling Lakes Hostel here!
Alternatively, check out my Hostel Recommendations + Reviews blog post for more hostel inspiration. This includes the over 140+ hostels I've stayed in all over the world and everything you need to know about them.